About us
The RCPCH Epilepsy Quality Improvement Programme (EQIP) is a bespoke training programme that supports paediatric epilepsy service teams to identify sustainable improvements within their services to improve upon the care provided for children and young people with epilepsy.
Background
The Epilepsy Quality Improvement Programme is an NHS England funded project, commissioned by the HQIP and run by the Royal College of Paediatrics and Child Health who also manages the national clinical audit Epilepsy12. Despite progress shown in the Epilepsy12 audit data, the provision and quality of specialist epilepsy care continues to vary between Health Boards or Trusts in England and Wales, particularly around adequate staffing and timely delivery of care processes. Given the complexity of the epilepsy spectrum of conditions, quality care requires holistic support, including mental health, educational and community awareness support.
Consequently, improvement in care cannot be confined to just clinical processes, but also include other parts of the health service, schools, charity and community organisations. It requires a patient-centred approach, involving co-design and shared ownership of the care experience and outcome between service providers and patients and their families.
One of the activities of the audit was to set up a support system for QI activities to be undertaken by epilepsy services in the 16 regions of the Organisation of Paediatric Epilepsy Networks (OPEN UK). Given this aim, and in the wider context of the priorities set out in the NHS Long Term Plan, Epilepsy12 project and OPEN UK networks worked in collaboration to set up a Quality Improvement project supporting epilepsy services and utilising the epilepsy regional network structure. In collaboration with OPEN UK, recruited a group of specialist epilepsy nurses representing the OPEN UK regions, to act as advisors in the development of a QI project supporting the results of the Epilepsy12 audit, we planned and delivered a pilot of a national training programme.
RCPCH EQIP pilot
On 17 June 2019 we launched the first paediatric epilepsy QI collaborative pilot in England and Wales. The RCPCH EQIP has supported paediatric epilepsy service teams to identify sustainable improvements within their services for children and young people with epilepsy. Our pilot provided 12 paediatric epilepsy teams with practical training and support and helped them uncover the gaps in service provision and develop interventions that meet their specific needs.
Since then, in 2021-2022, we have successfully continued to train a further 17 paediatric epilepsy services, including an integrated care system (ICS) made up for six NHS Trusts.
Programme aims and objectives
Our training package was created to help to build high performing 'service' teams working together for continuous improvement in the care of children and young people with epilepsy.  We encourage teams to adopt attributes that make a high performing team.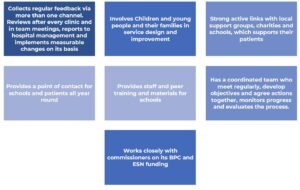 The RCPCH EQIP has the following aims and objectives:
support paediatric epilepsy services to identify and address gaps in care provision, including forging or strengthening links with other parts of healthcare service, schools and support organisations,
enable information sharing and operational integration between services and across regional networks.
In particular, the project objectives are to:
assess the training and support needs of paediatric epilepsy services in order to optimise care,
provide needs-based training to epilepsy teams to equip them with skills and capabilities to improve care,
provide ongoing advice and support to teams implementing service improvements, ensure collection of intervention measures to assess impact,
enable information and good practice sharing via the OPEN UK network,
Programme vision
Epilepsy services are equitable and underpinned by the principles of continuous improvement for all children and young people regardless of background, material status and location. Epilepsy services are recognised as a high priority area within the government health agenda and the health service on the national through to local levels. Child health practitioners, who specialise in epilepsy, are recognised, supported and empowered to work across geographic and service boundaries, including transition between paediatric and adult service provision. Children and young people with epilepsy enjoy clear access to the treatment they need and have a say in how it is designed and delivered.
How do we achieve this
Participant teams are given the tools to successfully develop their service, so it delivers highly reliable person-centred care and sustained improvement in clinical outcomes for children, young people and their families.
Training facilitators provide support for each of the teams in designing, implementing and monitoring their project interventions alongside monthly coaching sessions Ultimately, each member of the teams will feel a sense of empowerment and gain leadership skills in spreading improvement in their networks, following the programme's completion.
Programme benefits
Working with the Epilepsy12 Audit team, Open UK networks and the National Epilepsy Programme board the QI Facilitators are to develop relationships encourage change and offer support to unit's multi-disciplinary clinical teams.
Specifically, the QI activity of the Audit and Facilitators should provide;
Achieve new skills and knowledge on QI methodology and how to make incremental changes,
Using local and national data to identify gaps in service provision,
Gain a greater understanding of how to become a high-performing, cohesive team,
Develop lasting sustainable practices that will help to maintain improvements within your paediatric epilepsy service,
Learn new approaches and how to engage effectively with patients and families,
Network and share learning with other teams in England and Wales in a safe learning space,
Showcase your achievements via the EQIP end of programme shared learning event, RCPCH events and other channels.
Access presentations QI projects implemented by EQIP teams whilst on the programme