York Teaching Hospital NHS Foundation Trust
Project aim: To improve epilepsy communication for our children and young people with the aim of improving their care and reducing risk.
Project aim
Aim:
To improve epilepsy communication for our children and young people with the aim of improving their care and reducing risk.
How:
To create an alert for the individualised emergency seizure plans on the electronic medical records
To develop and test patient held epilepsy passport incorporating an individual epilepsy care plan
What by When:
All patients with individualised emergency seizures plans to have an alert on their electronic patient record by June 2020
To have a fully developed passport in use for 5 patients by June 2020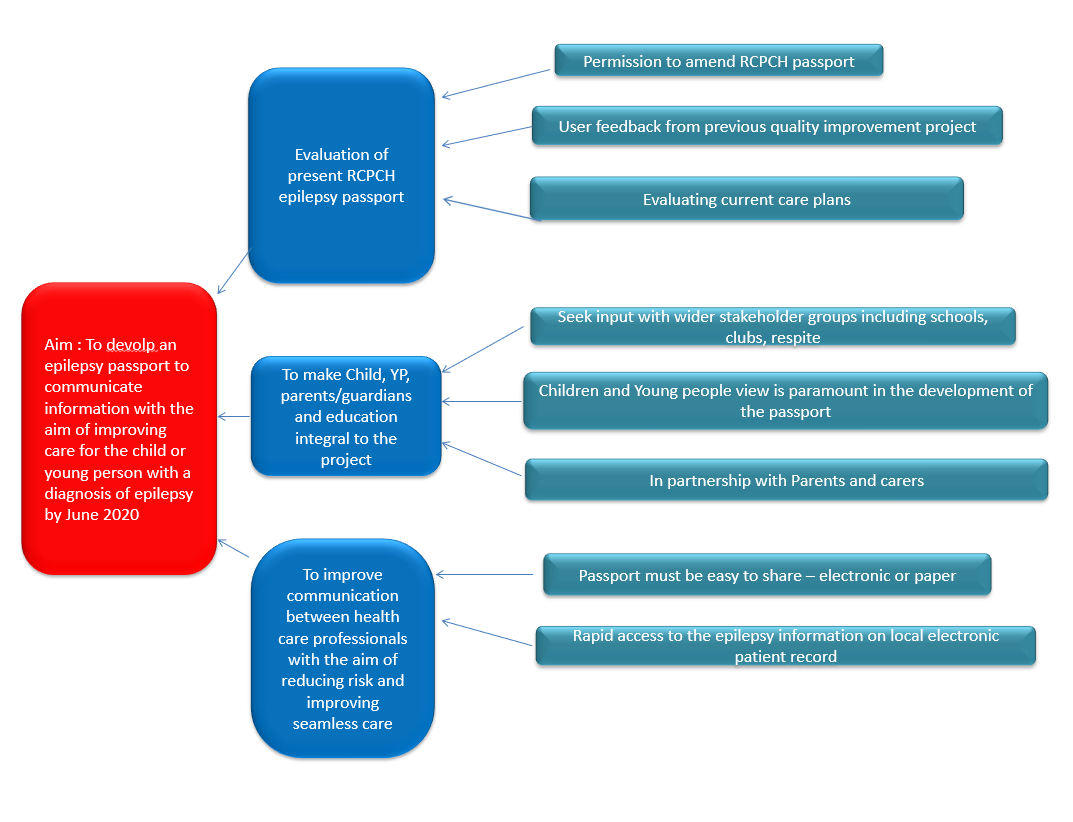 Background
A 2 year with complex epilepsy who has an individualised emergency seizure plan for status was brought by her grandmother into the emergency department seizing. Her grandma informed the team she had an individualised emergency seizure plan but she did not have a paper copy with her. The team spent over 10 minutes trying to find it on the electronic records system. Due to delay in initiating the individualised treatment, she was treated as per APLS guidelines. Unfortunately she required an intensive care admission.
A young boy diagnosed with Dravet syndrome is regularly admitted to the Emergency Department. He has life-threatening seizures, requiring rescue medication plus oxygen in the community and acute admission to hospital. In the Emergency Department there is a folder which contains a paper protocol outlining his treatment and risks.  This protocol is on the hospital system but takes time to find as there is no defining 'alert'. We want to improve this so that when the paramedics ring through to ED, the boy's protocol can be accessed from the drop-down 'Active Alerts'.
Only 70% of families asked felt they held sufficient information on their child's epilepsy and that the information was shared appropriately.  Only 20% felt our current system was helpful to the child and only 30% felt the schools found the current communication useful (Medical student project 2016)
When asked if a passport would be an improvement 80% strongly agreed it would help parents and carers; 90% strongly agreed it would help the child. (Medical student project 2016)
Tests, changes and what was learned in the process
December 2019
To have individual emergency seizure plans easily accessible on electronic records
Six doctors and senior nurses at both sites were asked to find an individual emergency seizure plan for two children on the electronic database. They were given the child's name and NHS number. It took between 6 and 11 minutes to find the plan (2 nurses gave up at 13 minutes unable to find them). The delay in finding the emergency seizure plan was due to them being filed without any identifiable alert.
Seizures need treating within minutes of a child arriving in ED.  Any delay in finding an individualised emergency seizure plan will mean the search is either abandoned and the child gets a less ideal treatment or there is a delay to starting the correct treatment.
The same medical and nursing staff were asked to find the allergy status for the same two children and these searches took between 20-40 seconds. The allergy status was found in both children by all staff.  The reason this was so fast was because there is a brightly coloured alert in a dedicated area for allergy status on the main page of the child's electronic record.
The data from these simple tests was presented to the IT development team and the patient safety lead was informed. There was immediate agreement for an alert to be placed next to the allergy alert to sign post the date the individualised emergency seizure plan was uploaded. This enhances accessibility.
The original tests were repeated and the time taken to find the individual emergency seizure plan was less than 60 seconds in all cases.
To develop and test patient held epilepsy passport incorporating an individual epilepsy care plan
First step was to review an already developed passport; the RCPCH passport was chosen. Initial testing of the passport identified the following changes:
Text boxes were too small
Insufficient space for seizure description
Midazolam Oromucosal Solution instruction area too limited for those with more than one seizure
Permission given from the RCPCH to alter their passport, they requested viewing of the altered passport on completion.
Following changes were made once permission granted to alter RCPCH passport:
In order to keep it as a concise document the last page was redesigned to enable more space for seizure descriptions and expanding of  the more valuable parts such as emergency rescue plans
First PDSA cycle completed
January 2020
On the Scarborough site the same passport was tested for a child with intractable epilepsy with different seizure types. A different approach was taken with seizure types; just named not described. The passport was completed and the family given the passport. Feedback was that the parents found it "brilliant", loved the succinct nature of the information and the fact it folded into wallet size. They expressed they would use it in the ED and at Short Breaks. They requested it was updated at each clinic visit and it should include the last known weight of the child.
Result of the second PDSA cycle:  One Parent happy with the passport, conflicting views within the team, preceded to further tests.
February 2020
Altered RCPCH epilepsy passport with expandable text boxes was tested with 3 children in York and 3 child in Scarborough
Parents feedback:
Boxes remained too small
The sections for seizure syndromes and seizure types was repetitive; not adding anything from a parent of child perspective
The document was too clinical and not child/young person focused: all about the syndrome not the child!
Parent would only use the passport in the hospital setting and not for other communication in other settings e.g. school
felt it was suitable for a hospital/healthcare setting but not really applicable for schools
Medication should be in grid format
Result of third PDSA cycle: Make the passport more user friendly, the passport did not incorporate a clear individual care plan, it was not specific enough for the child. Too generic and aimed at the wrong target audience – this was more a document aimed at doctor to doctor communication not for helping a child in all their settings.
March and April 2020
Covid19 restrictions came in to place, NHS care refocused on emergency contacts only. Therefore planned testing for families put on hold.
May 2020
Epilepsy nurses used an Away Day opportunity to meet with a new senior manager and had a lengthy discussion about the project. This led to re-evaluating the current passport, using the PDSA model.  Being away from the project helped us refocus, rethink and redesign.
The consensus was the amended document was not working.  It was too medical, too lengthy, it did not cover relevant information and nor was it child/young person friendly enough.
Changes:
Medical language was simplified –removed the list of epilepsy syndromes as not helpful to parents, carers or education staff as most irrelevant to the child. Just a medical list
Added space for a detailed seizure description as this is necessary for non-medical carers and describes the child/young person's individual experience of their epilepsy.
Many non-essential parts removed – removed the doses of the medication as these become out of date quickly, removed previous medications used and previous side effects as this information is primarily for the doctors within the team. not the patient or family
Not child or young person friendly – make it a predominantly electronic document. It was initially envisaged that this would be a handheld document to be carried by the young person or in a parent or carer's bag. The passport should be electronically available on young people and parent's mobile devices.
Amalgamation of several different documents – first aid for seizures, midazolam oromucosal solution instructions with prescription and the individual health care plan into one document.
After discussion of all these changes, the first York Trust Hospital epilepsy passport was designed.
Passport tested initially by nurses – formatting meant the entire passport was un-writable. The formatting was re-written.
Schools and many other organisations were closed due to COVID-19 so unable to test in schools, activity clubs and short breaks facilities.
Result of fourth PDSA cycles: altered RCPCH passport abandoned for bespoke trust passport that was focused on being a digital document with a primary focus on information useful for the child and young person.
June 2020
The team identified that completing the tests and making the changes was slow. However, support from management and the ability to carve out time to get together as a team meant the tests and change cycle was completed faster.
Cross site epilepsy nurses started to test the new document – concentrated on:
Critiquing
Editing
Formatting
Wording
Electronic Links
Presentation
PDSA – loop after loop after loop!
Changes:
Developed two separate epilepsy passports, one for children who do not need rescue medication; one for children on rescue medication. The only differences being the inclusion of the rescue medication instruction and prescription.
Identified the need to gain permission from Buccolam to include their images for administration guidance (granted)
Identified the need for permission from Epilepsy Action to include their first aid for seizures advice (awaited)
Tested with further complex patient
Changes:
Formatting changes to keep document concise
Identified grammatical errors
Identified inconsistency in use of medical terminology
Change section on when to call an ambulance from "If you believe that the child/young person needs urgent medical attention" to "If you remain worried about the child/young person"
Lots of positive feedback – would share widely
Sent amended copy to consultants, amended further to:
Simplify non drug treatment section into one text box from 3 text boxes
Removed conflicting statements on seizure management
Electronic links to additional seizure information or print the same information if giving as a paper copy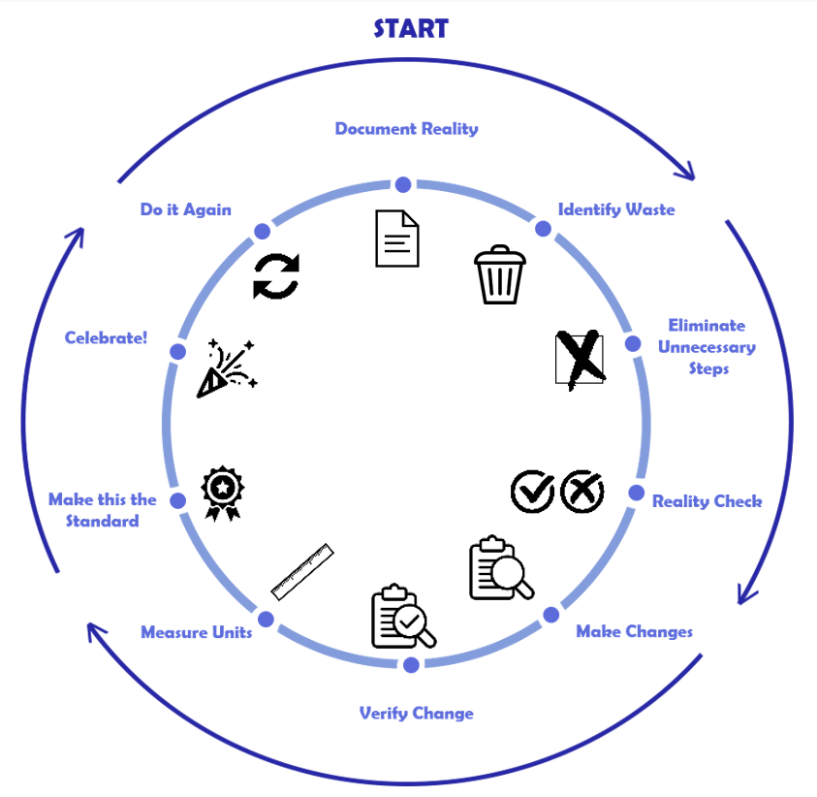 Challenges
Epilepsy nurses being moved predominantly off site during the pandemic proved a barrier to fast and effective communication.
In May there was recognised apathy about the project, having worked through the start of the coronavirus pandemic this project seemed of low priority.
Completing the tests and acting upon the changes was taking time due to cross site working, some staff now working from home, annual leave and the need for some face to face communication
IT skills were also a challenge!
Results
To have individualised emergency seizure care plans easily accessible on electronic records
IT have created an alert for individualised emergency seizure plans – this feels a fantastic step forward,  have now uploaded 100% of individualized emergency seizure plans. No feedback on the use of this yet as none of the children has come in acutely.
To develop and test patient held epilepsy passport incorporating an individual epilepsy care plan
Now have the structure and content of a locally developed and tested epilepsy passport.
Next steps
Project 1
Ensure all individualized emergency seizure plans are uploaded to CPD in the future
To roll out the epilepsy passport to all children on caseload, expect to be altering and improving it forever!
Test passports more with young people
The medical information removed from the original passport needs to be incorporated in an electronic care record.
Develop a more child/young person friendly epilepsy passport – one for child/ one for young people in partnership with the child/young person and their families/ carers
With the support of IT, upload relevant information provided by the Trust Epilepsy Service e.g. epilepsy passport, information leaflets onto the Trust website
Impact of COVID-19 on our service and team
Different ways of working that were introduced
We have continued to offer as much of our epilepsy service as possible, but like everyone have had to manage a number of constraints.  The impact on paediatrics in our trust from actual COVID cases has been small, but out of a wider necessity the entire department has had to manage a number of significant changes.
Telephone clinics and contact as limited 'face to face' appointments can be accommodated
Home working particularly for ESN as have the technology enabling them to do this i.e. laptop/phone
More communication to families via email/mobile/text
Guidance provided to families as needed regarding attending ED/GP
PPE used as guided by trust/nationally
Access to EEG initially not possible unless urgent
Impact on staff, patients, and families
Staff
Limited ability to have face to face appointments so concerns regarding making diagnostic decisions without actually meeting families
The need to work remotely can provide flexibility. However technology provided can be limited by external factors e.g. internet speed, connection speed etc.
Concerns about patient safety as well as personal safety e.g. provision of PPE in relation to COVID
Concerns regarding patient safety in both short and long term given constraints within system e.g. diagnostic delay, access to paediatric services such as MRI, CAMHS, vulnerable patients will be impacted more
Children, young people and families
Families concerned about attending ED for seizure management i.e. delayed attendance and then difficulties with streaming care once in ED
EEG has been limited and therefore potential delay in diagnosis and knock on effect and health concerns for child
Access to appointments, support limited for them due to constraints of 'face to face' meetings e.g. support groups, as well as medical reviews.  Vulnerable children more of risk of being under the radar
Children with epilepsy often have other disabilities so this may make them more vulnerable to all of the above issues
Changes made
Ensured 'face to face' appointments for new patients and others based on need
Worked in collaboration with our EEG colleagues to develop a robust system for priority EEGSs to be done to avoid diagnostic delays and reduce harm to children and young people
Ensured meetings have been able to continue remotely (including EQIP meetings!)
Feedback from staff, patients, and families
Families are generally very understanding of current constraints
Many families prefer virtual contact and this can be built on for the future
Families have contacted us when they have concerns and we have been able to manage these e.g. facilitated COVID test in a 15year old about to go into residential care was done at home, taken drugs out to patient home to avoid them coming to hospital
Team personal reflections and learning
We feel that we have worked collaboratively over this period and have been able to develop even better working relationships, despite the obvious difficulties.  In many ways virtual and remote working has been of benefit to both staff and families.  There are obviously many scenarios where there is no replacement for 'face to face' contact and as we reach a 'new normal' state we will continue to review changes made.
What tips/experiences can you share with other teams that describe your paediatrics epilepsy service 'new normal'? 
Collaborating with colleagues to implement change e.g. EEG
Continue to use virtual clinics and build on this technology
The passport we have developed will now be sent electronically to families with embedded links for extra information whereas previously this would be paper format
Stay positive as much as possible!
How do you envision using your Epilepsy12 audit data to inform future QI initiatives?
We have already explored how to access more psychological support for patients. Some agreement was provided that we would have access to peer discussion with psychology, but this has been put on hold through the pandemic.  Scarborough has already instigated a monthly peer discussion with psychology, though 'held' during pandemic.  We would like to look at this in more detail to develop a robust way of being able to discuss children/young people who we feel would benefit from psychology support.
---
Team presentations
Ms Ailsa Grassam, Epilepsy Specialist Nurse at York Teaching Hospitals NHS Foundation Trust presents: 'Improving epilepsy information on electronic records including emergency health care plans becoming more easily accessible via an electronic record.'
York Teaching Hospitals' team presentation from the EQIP celebratory event describing their journey and improvement project:
---
Would you like to know more about these projects? If you would like to contact any of these teams about their QI work then please get in touch with the EQIP faculty at eqip@rcpch.ac.uk