West Yorkshire & Harrogate Health and Care Partnership (WYH HCP) ICS
Project aim: To develop and implement a standardised First year epilepsy care pathway for all patients within the ICS by March 2022.
Project aim
The West Yorkshire & Harrogate Health and Care Partnership (WYH HCP) through WYAAT and the Children, Young People & Families Programme have worked with Paediatric Consultants and Nurses to develop a WYH First Year of Care Pathway for CYP Epilepsy Services.
The aim of this pathway is to:
Set out a logical, evidence based approach to the CYP with epilepsy including investigation and management
Support acute trusts to identify best practice, NICE guidelines, NHSE recommendations & Epilepsy 12 care standards
Clarity of the care pathway for clinicians and staff
A tool to empower patient families to understand what they are entitled to & for staff to use in discussions with them
Consistency of approach across acute trusts enabling patient families to experience a smoother transfer of care
Not everything will be relevant or appropriate to the individual patient, but it is an aide memoire of the key things to consider as well as to allow us to benchmark and appraise quality of care.
Background
West Yorkshire & Harrogate Health and Care Partnership Children, Young People and Families Epilepsy Group is an integrated care systems (ICS) in England. It brings together all health and care organisations in our six Places: Bradford District and Craven2, Calderdale, Harrogate, Kirklees, Leeds and Wakefield. It is not a new organisation, but a new
way of working to meet the diverse needs of our 2.7 million people living in our area of which 23% (570,000) are children and young people.
Building on local plans in our 6 Places, we have a shared commitment and a simple goal; we want everyone in West Yorkshire and Harrogate to have a great start in life, and the support they need to stay healthy and live longer.
The WYH CYPF Epilepsy Group recognised that there currently was not a first year of care for CYP with epilepsy in the 6 acute trusts or outside of WYH that fully captures the above. As a result, it was agreed to develop the first ICS level WYH CYPF First Year of Care Pathway for Epilepsy.
Participant Trusts within the ICS and team projects:
Bradford Teaching Hospitals (Transitions)
Harrogate and District NHS Foundation Trust (Mental Health Screening)
Calderdale & Huddersfield NHS Foundation Trust
Airedale NHS Foundation Trust (Initial Referral)
Leeds Teaching Hospitals NHS Trust (Initial Referral)
Mid Yorkshire Hospitals NHS Trust (Initial Referral)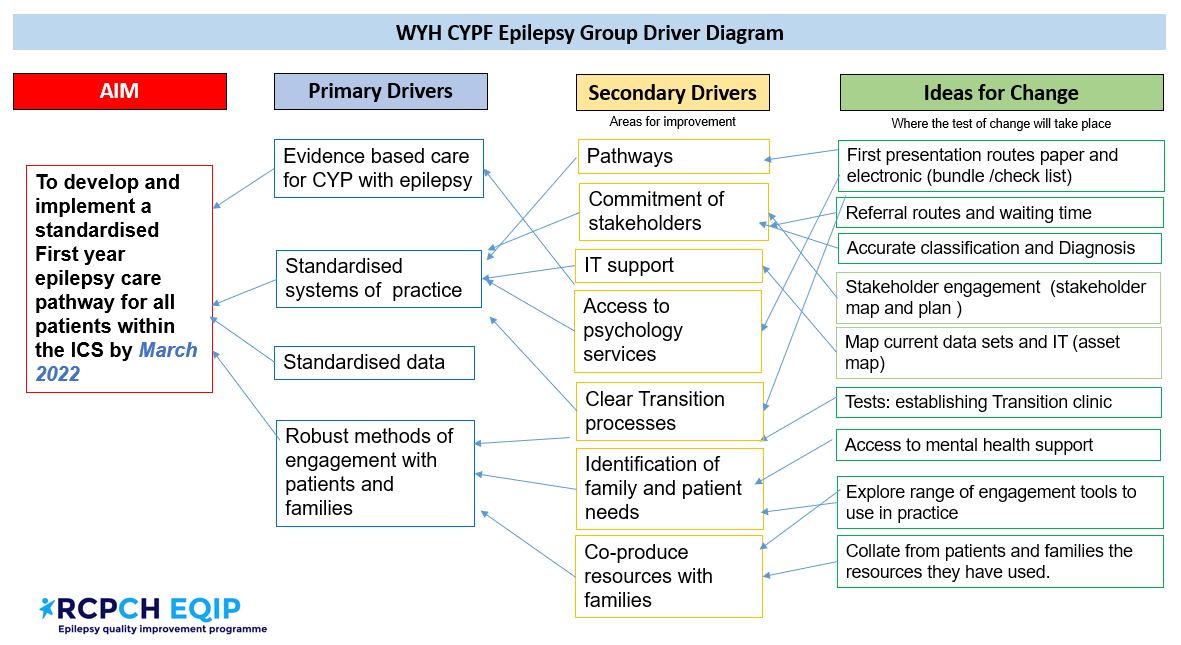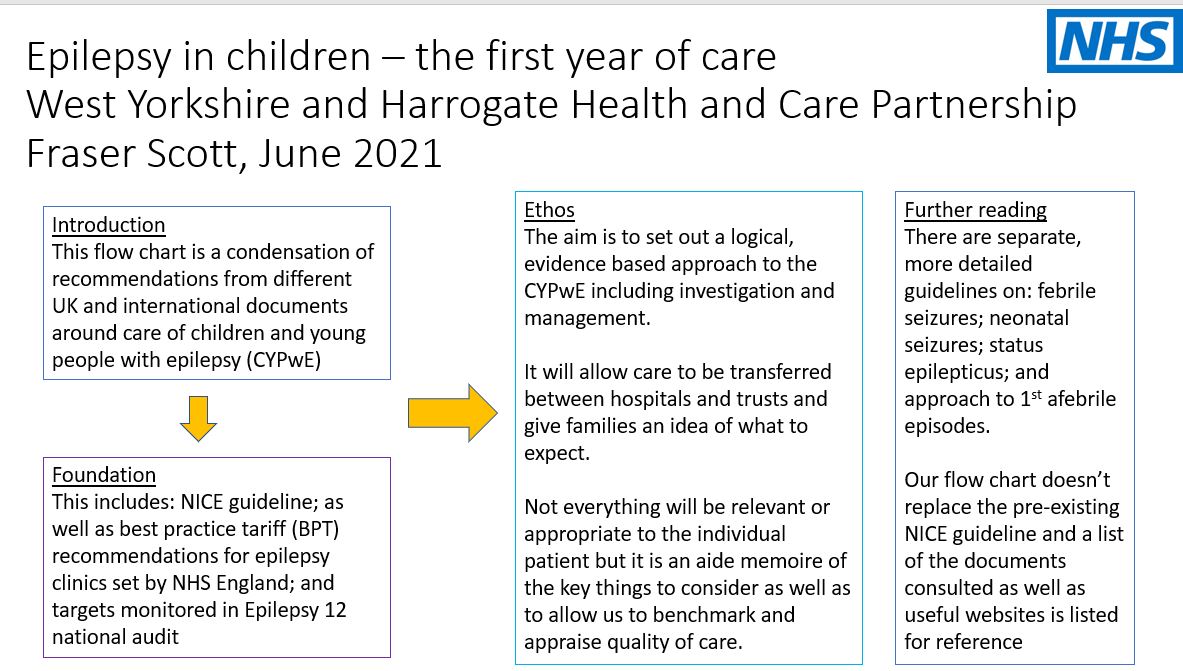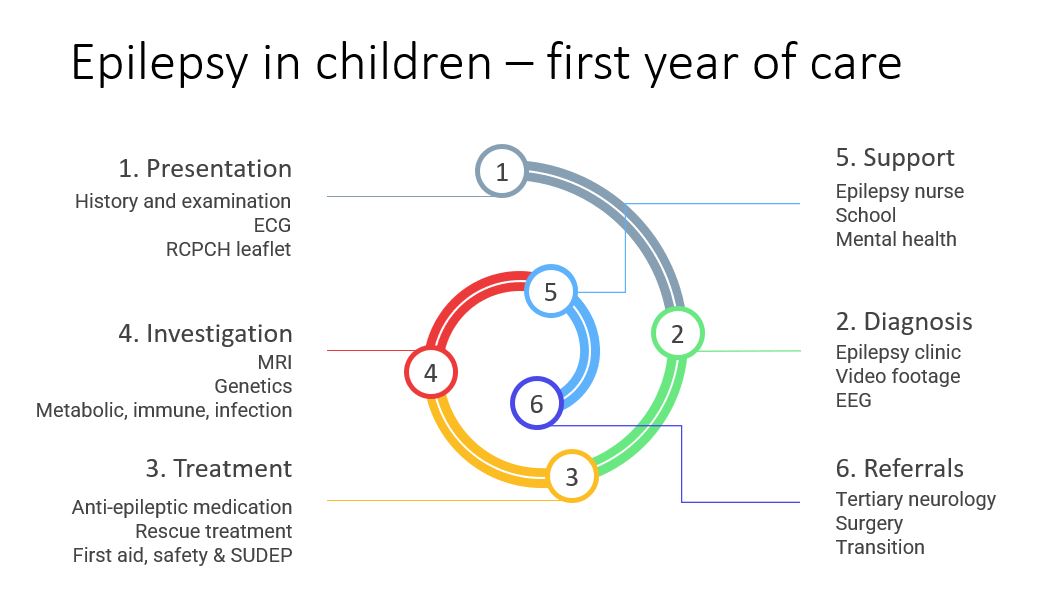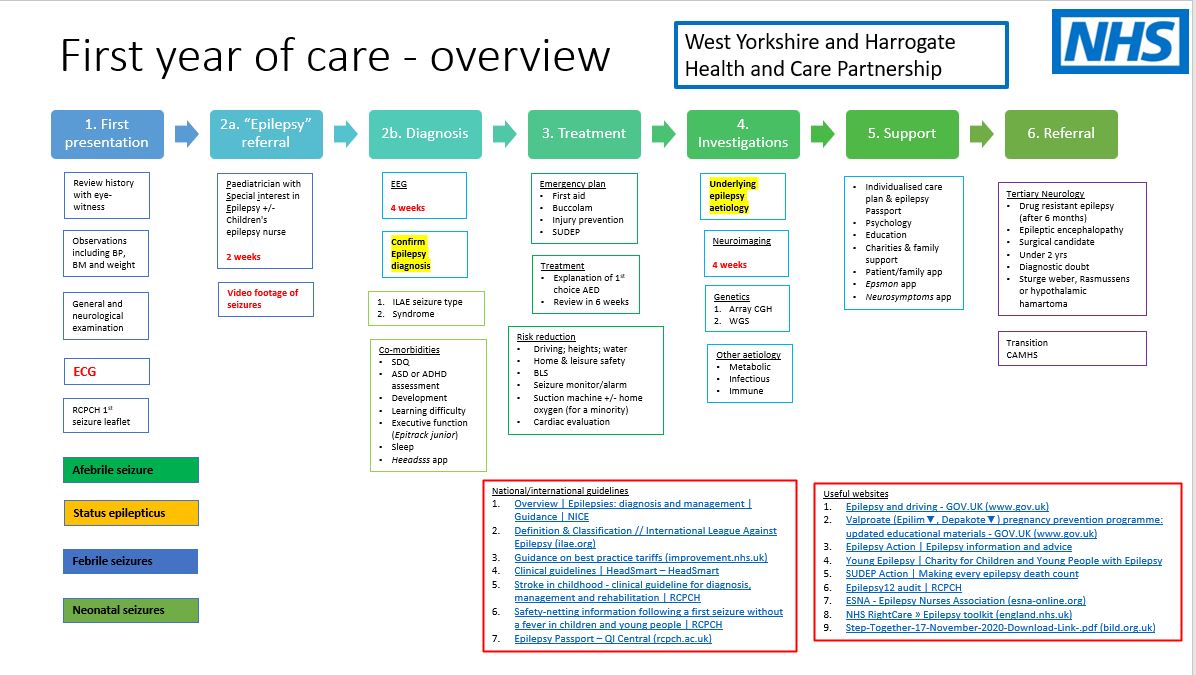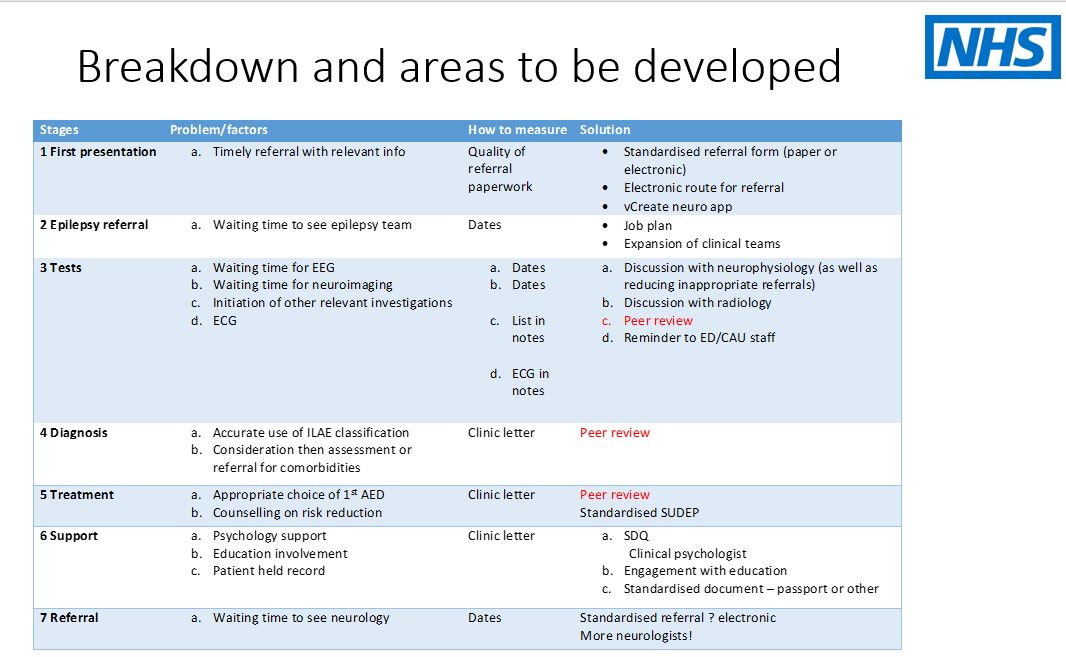 Tests, changes
Mapping of Epilepsy 12 to 1st year of care pathway
Referral into service
Waiting time to see epilepsy team
Appropriate 1st assessment
Paediatrician with epilepsy
Epilepsy nurse
Initial investigations
ECG
Waiting time for EEG
Waiting time for MRI
Mental health
Review of behavioural difficulties (ADHD, ASD etc.)
SDQ screening
Psychology support
Follow up
Seizure, syndrome & aetiology formulation (using classification)
Accuracy of diagnosis
Sleep problems
Tertiary referral +/- surgery
Correct use of AED's – VPA for girls > 9 yrs (prev. CMZ for focal sz)
Comprehensive care planning agreement & content
Provision on info: SUDEP/water/driving/1st aid/charities etc.
Emergency plan +/- buccolam
Involvement of education & school individual healthcare plan
Executive function screening
Airedale NHS Foundation Trust
Aim:
To see at least 50% patients within 2 weeks after referral.
Background:
Nice guidelines on Epilepsy published first in 2004 and It is recommended that all children who have had a first non-febrile seizure should be seen as soon as possible (within 2 weeks) by a specialist in the management of epilepsy.  Although it was not always possible. We have established special epilepsy clinic in 2005, waiting time was 10-12 weeks average.
Present intervention:
Provided proforma / information necessary to junior doctors for referral to Epilepsy clinic.
Also communicated with A+E lead & ED formulated a new referral pathway to Epilepsy clinic.
Provided RCPCH information leaflets to A+ E & Paediatric junior doctors.
Doing urgent triaging of GP referrals to find out seizure referrals.
Increased Epilepsy clinic from 1.5 to 2 per week according to referral numbers.
Keeping an empty slot in Epilepsy clinic for urgent referral.
Outcome Data:
Total patient referred to Epilepsy clinic: 40 (GP, A+E, Hospital admissions),
From October 2021 to February 2022,
Diagnosed with Epilepsy 5/40 (12.5%),
Waiting time range:  1-8 weeks. Mean 3.3 weeks.
Results:
Waiting time after new measures:  3.3 weeks,
Waiting time last year 2020:  4.3 weeks,
Waiting time for Epilepsy patients: 1-2 weeks,
Waiting time for non-Epilepsy patients mean: 3.4 weeks (37 % seen within 2 weeks).
Over all seen within 2 weeks of referral (Epilepsy+ Non-Epilepsy): 46.34%.
Next Steps:
We like to continue our efforts to keep waiting time down as practical as possible.
We are planning to screen mental health problems in children with Epilepsy by providing Strengths & Difficulties Questionnaire (SDQ).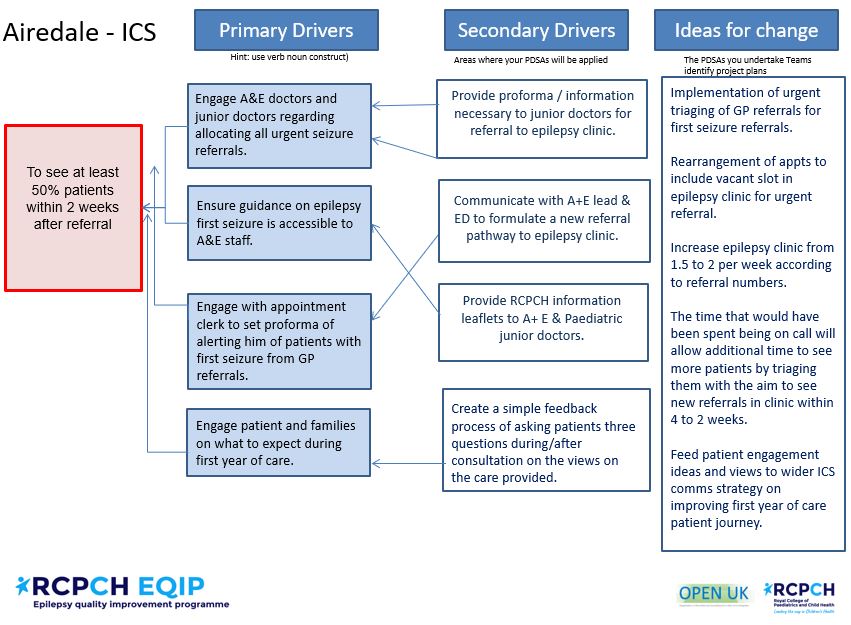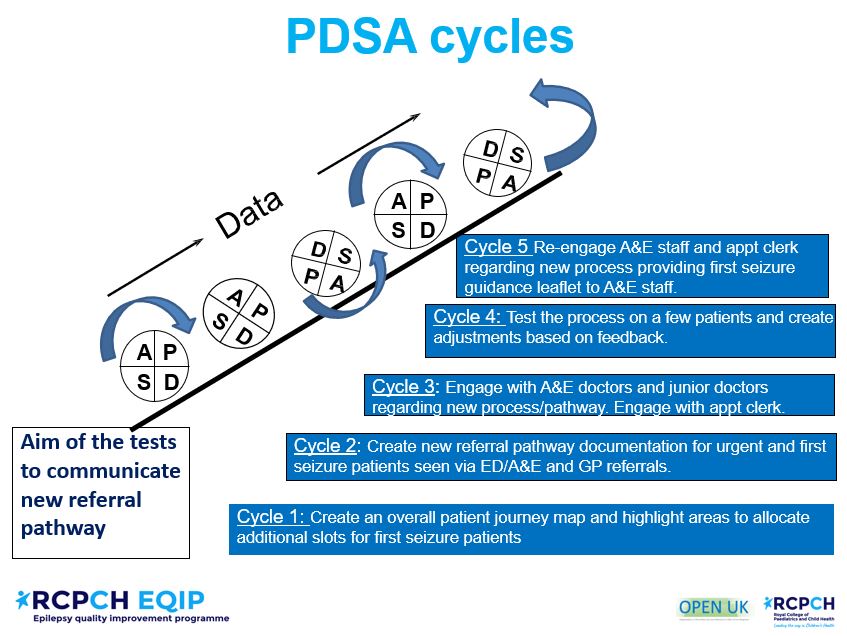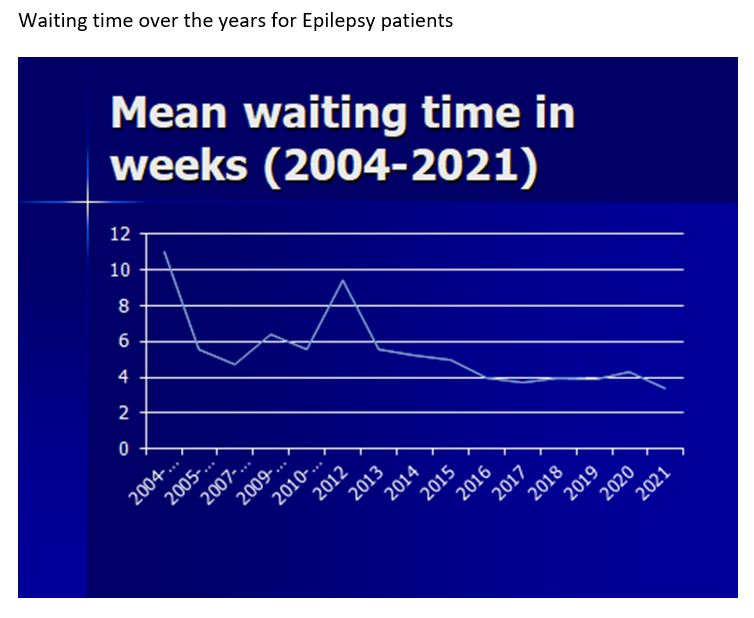 Bradford Teaching Hospitals
Project aim
Improving the transition service so that all young people with epilepsy (YPWE) will be offered a group transition information session.
The group transition information session aims to:
Promote empowerment and understanding of Epilepsy to improve quality of life.
Provide education on the psychosocial aspects of living with Epilepsy.
Provide well planned, coordinated, uninterrupted health care, that is age and developmentally appropriate.
Promote skills in communication, decision making and assertiveness to enhance the sense of control and independence.
Support for parents/carers will be provided during this process.
Background
Previously the transition information session provided by children's ESN visiting the YPWE at home and going through the 'Ready, steady, go' questionnaire to guide the discussion which became ineffective.
Audit completed January 2020 showed that there were 84 YPWE aged 14, 15, & 16 years on the caseload.  ​Only 12% of patients had received some transition input from the children's ESN. This was due to the service being 50% understaffed (RCN guidelines).
We also found ESN were providing group information sessions to their patients which proved an efficient and effective method of promoting patient education. The children's ESN service aim to provide an equitable transition service by using group transition information sessions to YPWE aged 14, 15 and 16 year.
Our service will consider the views of the YPWE's about how they want the transition information session to be provided to them.
We will aim to provide the session in format preferred. If data shows that preference is for one to one sessions – we have a problem as this is not achievable.
Tests, changes
We will evaluate, celebrate and share the input of children and young people.
Share results of data with YPWE.
Letter of thanks for providing their views sent to them.
Share results of data with our management team.
Plan the way forward.
Plan to provide group transition information sessions:
YPWE invited to the group transition information session
'Ready, steady, go' questionnaire will be given at the beginning of
session and YPWE asked to complete before leaving (this resolves
the issue with misplaced and not having time to complete the
questionnaire).
'Ready, steady, go' questionnaire gives the YPWE opportunity to
ask for further information which can be provided by the
children's ESN either during the group transition information
session, later by phone or when they visit clinic.
This method will be more efficient and enables all YPWE to be
offered a transition information session.
Next step is to obtain feedback from YPWE to ascertain their
thoughts and views about the group transition information
session
Data Collection
 Use the data base to identify YPWE aged 14, 15 and 16 years of
age.
Children's ESN will phone the YPWE and use a proforma to obtain their views on how they want the transition information
session to be provided.
Also the epilepsy team will catch the YPWE when they attend a
clinic appointment to obtain their views.
Limitations: Time restraints of Children's ESN team due to
being understaffed and no additional resources available to
complete EQIP.
Results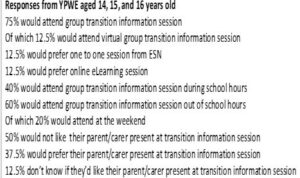 Challenges
YPWE will need an explanation of what we are trying to achieve to enable their understanding.
YPWE will need time to speak to the Children's Epilepsy Team
either on the phone or in person in clinic
Next steps
Continue planning group transition info session with patients
Share results of data with YPWE
Letter of thanks for providing their views sent to them.
Share results of data with our management team
Plan the way forward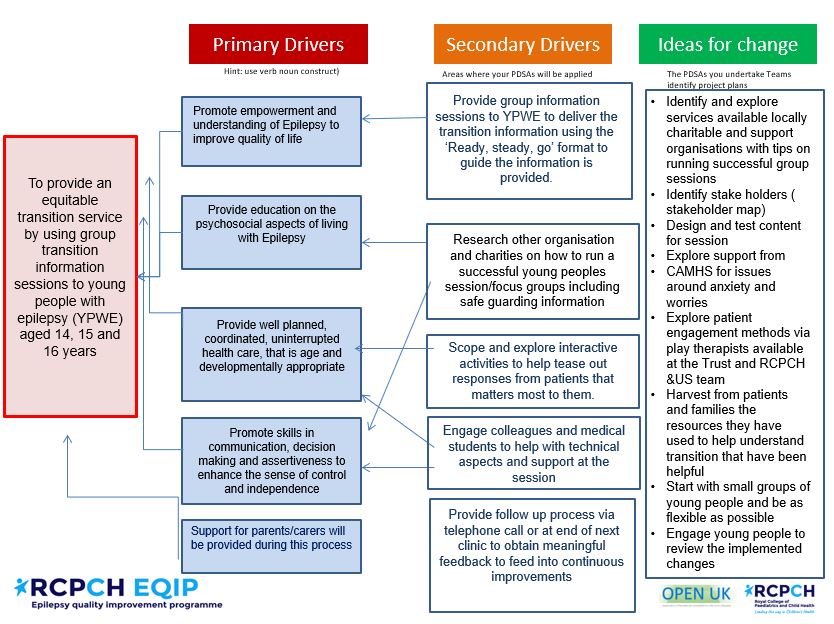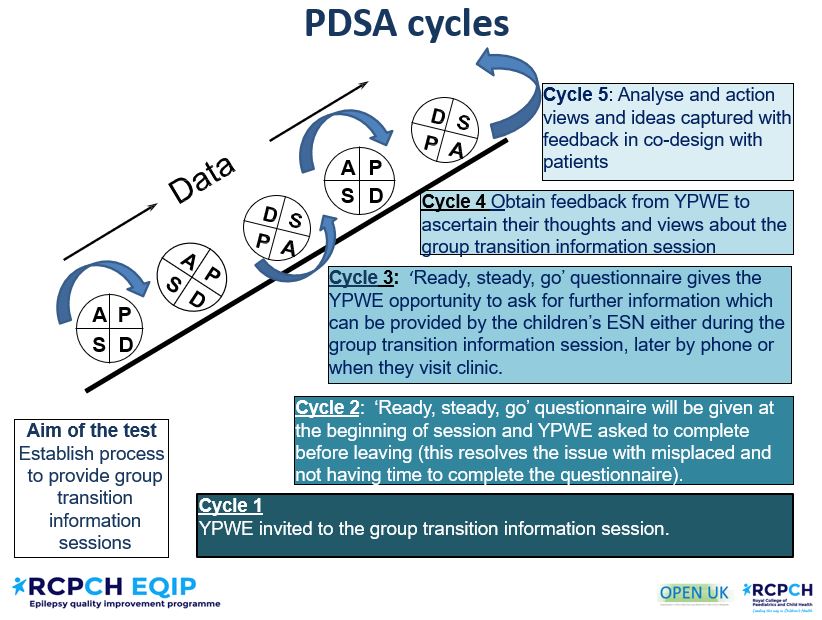 Leeds Teaching Hospitals NHS Trust
Project aim
Review of process to for follow-up patient appointment to reduce waiting lists.

Background
Due to limited capacity within team due to reduced staffing, referrals for new patient referrals have increased to over 16 weeks and overdue patient follow-up appointments with the consultant waiting-lists have increased to patients waiting for over six months overdue. We chose to first focus on reducing follow-up patient lists whilst mapping a new referral process for first seizure patients, reducing waiting times from over 16 weeks.
Results
Of 184 – 197 patient on list, 53 had required review or medication advice by colleagues in my 6 month absence. All had accessed the support via epilepsy nurses. 97 patients in total reviewed out of 184.
Nurse Clinic – 4 reviews – none identified anything they had struggled with whilst waiting for overdue review.
Feedback: (suboptimal approach) asked directly either by colleague or by epilepsy nurse and all were questions to the parents rather than the child. But clear evidence that all had accessed epilepsy service for support when needed.
Challenges
The epilepsy nurse response time has increased from 1 week to 3 weeks for non-urgent responses. This is in part because of increased volume because of absence and reduced capacity within team.
However, the service has been surprisingly resilient in terms of patient safety. Colleague morale, work load and resilience are likely to have been adversely impacted.
The part time consultant carried the larger epilepsy patient work load. This meant a disproportionate deficit of epilepsy cover was needed during the period of absence which impacted hugely on the service. There was a failure to recruit consultant epilepsy cover despite 2 adverts which should be explored within the Trust.
Successes
No deaths.
Reduced patient consultant waiting list focusing on those with confirmed epilepsy or strongly suspicious of epilepsy.
Established a reliable list of confirmed epilepsy patients easily accessible by lead consultant and ESN.
Our system for patient access to the epilepsy nurse support is demonstrated to be robust and effective.
Maximum wait period for a medical review was 18 months. This patient had had 4 ESN reviews and I agreed with the actions and advice given.
There is potential for more nurses and non-consultant grade colleagues to increase the number of patients that can be seen and reviewed with specialist epilepsy consultant oversight.
Team personal learning
Standard template letter was the only one not achieved because a whole standard letter was not felt appropriate in the end. However, the use of standard paragraph/sentences was achieved.
Individual patients had information reflected back to them. It was felt on going through that they would feel a proper review of their circumstances had taken place and it equipped the ESN or colleague performing the review with a to work from. This review demonstrated that our patients follow the advice given to them to access epilepsy nurses before the next appointment date is received appropriately which helps to keep them safe.
Next steps
Complete the review of the rest of the epilepsy Waiting list.
Explore better ways of obtaining patient feedback about the service in the affected time frame.
Explore the possibility of increased colleague sessions.
Explore the possibility of dedicated registrar epilepsy clinic (historically never possible because of recurrent issues at rota level)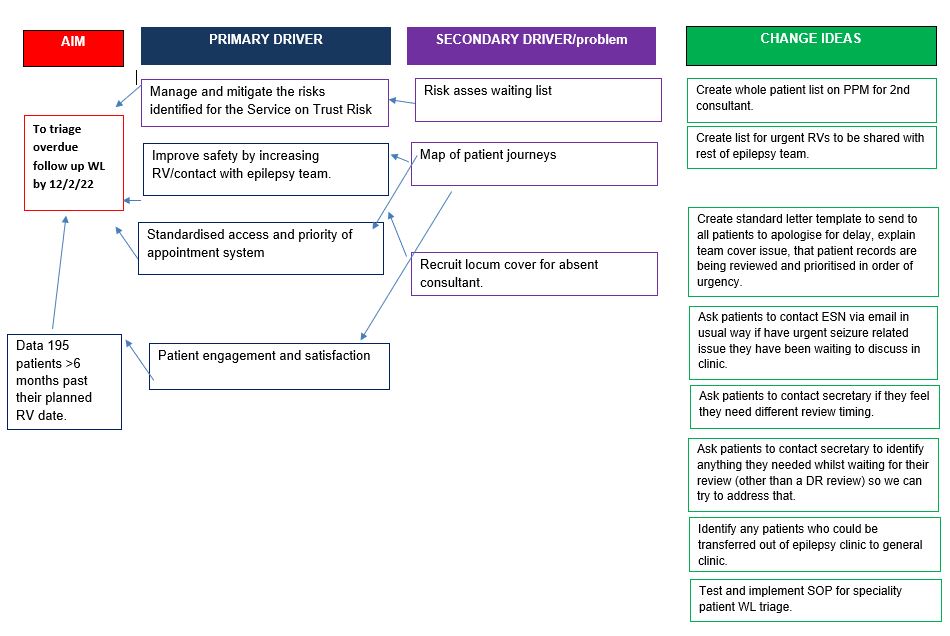 Mid Yorkshire Hospitals NHS Trust
Project aim
Reducing wait times for first seizure assessment by improving quality of referrals.
Results
The team are creating a poster which will be hung in the assessment unit and on the ward on both sites so that staff know what they're meant to be doing.
The team have created a slip for the staff to in fill in when they enter the referral details on the Trust system called ice.
The slip only has minimum information. Staff fill in two questions as well as some basic biographic details. The slip also includes a reminder of the teams contact details for patients and families.
This new process has been integrated into an existing Trust guideline for new children presenting with query epilepsy. Additionally, all documents accessible on the internal intranet are joined up and with the same messaging.
The team have sent the paperwork out to the paeds consultants and middle grade consultants.
The team have been engaging with juniors at hand over on the wards so that they are aware of change in process and able to support them with any queries.
The team will begin evaluating how effective the process and fine tune any details once they begin receiving real world data.