Warrington and Halton Teaching Hospitals NHS Foundation Trust
Project Aim: To engage with children and young people to improve the mental health referral pathways and create a mental heath care package for children aged 11-17yrs. All new patients in this age group will receive the 'package from March 2022​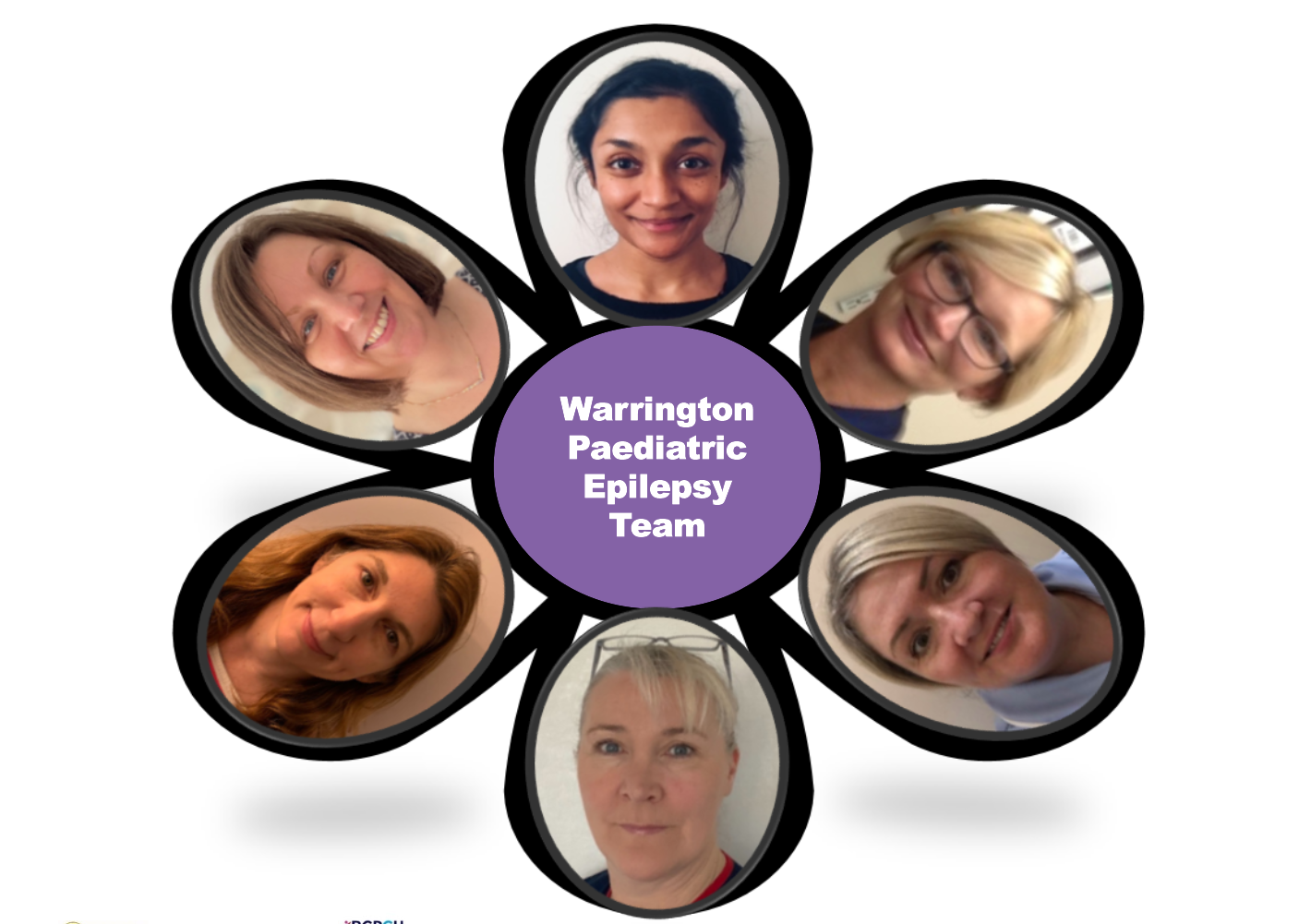 Project aim
To engage with children and young people to improve the mental health referral pathways and create a mental heath care package for children aged 11-17yrs. All new patients in this age group will receive the 'package from March 2022​.
In detail:
To strengthen mental health referral pathways​;
To develop a mental health support package, for existing patients aged 11-17yrs ​& for all new patients aged 11-17yrs by March 2022.​
Background
Warrington are a small team based in a district general hospital, however are well supported by tertiary neurologists and the trust's management. We have two very experienced specialist nurses and three paediatric consultants.
Our Epilepsy Specialist Nurses are extremely experienced and able to prescribe. Our nurses are well supported by the medical staff who cross cover patients when needed. We take part in Epilepsy 12, which evidences that we are performing well, but we share a desire to develop the service further and continue to improve.
Warrington have already successfully introduced changes which we feel have been positive to the service, with audit results to support this.
The aim(s) of Warrington's project was influenced by Epilepsy 12 audit data that identified Warrington's trust were under performing in the documentation of a comprehensive care plan section.  Prior to starting the EQIP project, Warrington provided patients/families with a copy of the clinic letter (100%).
This gap identified in epilepsy12 audit data has meant the trust aim within the project is to improve the information on our letters, and standardising this across our team.  Warrington wanted to incorporate patient engagement and gather from the patient/parent's on the changes to the information provided throughout this process.  
Tests, changes made and what was learned in the process
September 2021
Following the QI Training on Wednesday 25th September 2021 the Warrington Paediatric Epilepsy Team decided on a QI project looking at the 'Documentation of clinic letters'.  
This was with a final vision to produce standardised clinic letters which summarised each patients epilepsy diagnosis, seizure semiology, history of investigations (with results), medications and doses, including previous prescribed medications and reasons for its discontinuation.
It would then include the patients' current situation; in terms of seizure status, last seizure, medication compliance, any side effects, as well as general medical state, educational progress and any emotional/behavioural issues.  A discussion of issues such as driving, contraception, valproate consent, SUDEP could also be indicated etc.  There would also need to be some free text for other consultation matters
The overall aim was to develop a proforma that could achieve  the majority of this as a tick box response or shorthand record with a small narrative, capturing a wealth of information that meets the Epilepsy 12 audit standards. The documentation would be personalised and by reducing the administration workload for the secretaries.  
The first 'Test of Change' in our project plan was carried out on Tuesday 31 August 2021.  Two of the three consultants in the epilepsy team used a clinic proforma currently being used by the third consultant in their epilepsy clinics. (See copy of the epilepsy clinic proforma below).
Before any changes were made, we would look at the (relatively new) epilepsy classification for diagnosis and the Epilepsy 12 audit standards expected but otherwise these are good and easy changes to make. 
October 2021
Developing a Mental Health Pathway/Package for our Epilepsy Patients
On Monday 25th October 2021 we had a meeting with Lisa Simpson from the CAMHS department.  We had a really productive meeting to discuss the following; 
Agreed that children with Epilepsy who had significant mental health symptoms would be accepted by CAMHS for assessment (Suicidal thoughts, DSH, school refusal, social withdrawal, anxiety affecting day to day functioning)

.

We also discussed the children who don't meet these criteria but still need some support. 

We discussed the PHE pilot to have Children and Young people Wellbeing Practitioners (CYWP) based in schools and how these may be an additional source of help. 

Lisa has sent me a list of 40 school in the area who have allocated CYWP so that we can signpost children where possible to this level of support.

 

We also talked about the current support in the area and the support we can target for our 'package'.  Lisa is going to help us identify age appropriate wellbeing information for our packages.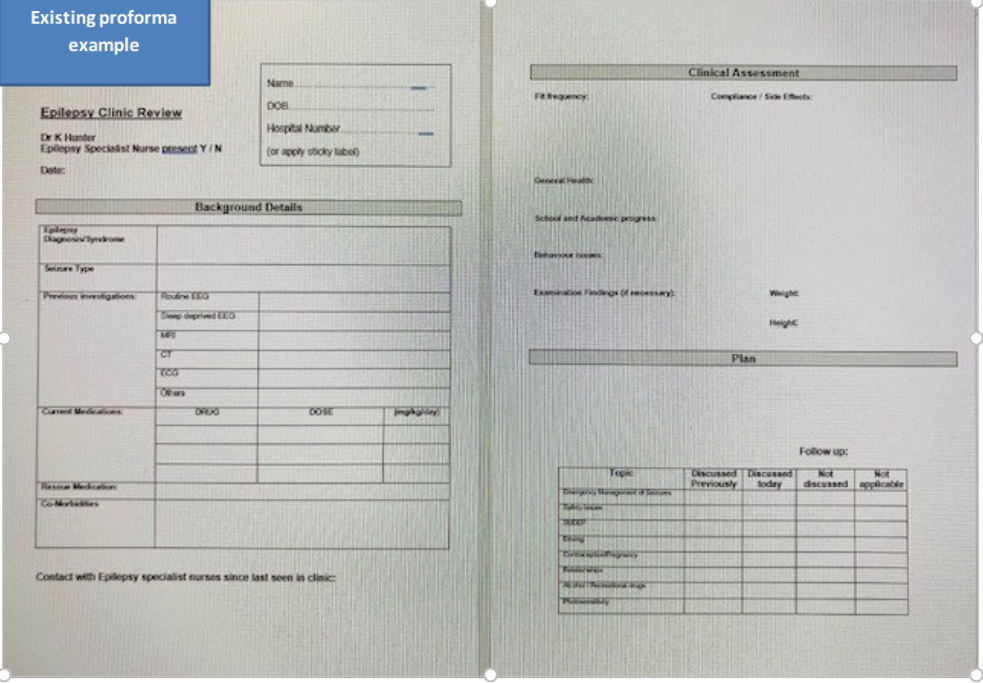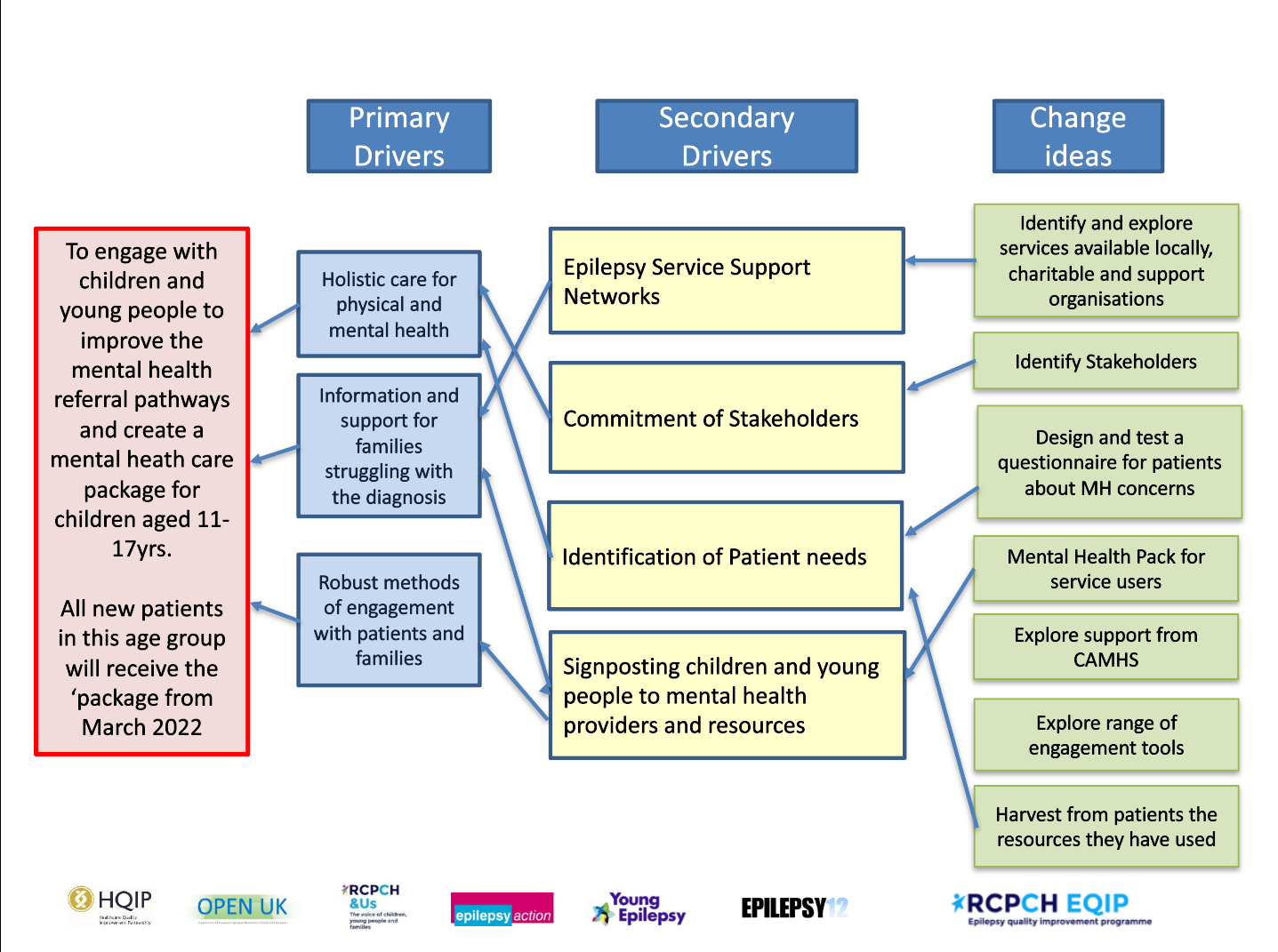 Challenges and retesting
September 2021
The team are not so enamoured with this project and are thinking they may want to change tack for a more patient facing/influencing project. We look forward to our coaching session on Wednesday 8th September 2021 to discuss; 
Can we do 2 smaller projects?

 

Shall we make changes with this project until our plan is in place with a new project

 

Next idea – to improve readiness for transition?

 
November, December 2021
A significant amount of our follow up appointments are currently telephone appointments so obtaining face to face input and feedback from our children and young people is difficult. 
Additionally, our Children's Out Patient Department is being relocated for redevelopment so clinic appointments are being increasingly switched to telephone even further.  However, we have recently heard that we are relocating to an alternative Trust Out Patient's site which should allow us to continue some face to face appointments.
We are going to preferentially contact our 11y+ age group of patients to see if they will attend face to face to contribute to our project. 
 Team work is a further barrier.  One of our epilepsy nurses is off sick.   
Still to do:
Need to contact Epilepsy Action,

Continue data collection from CYP – then analyse and use to influence final package,

Design package – CYP to do competition with epilepsy patients, funding needed,

Chase Lisa (CAMHS) for age appropriate wellbeing info/exercise sheets,

Launch evening with CYWP talk/discussion.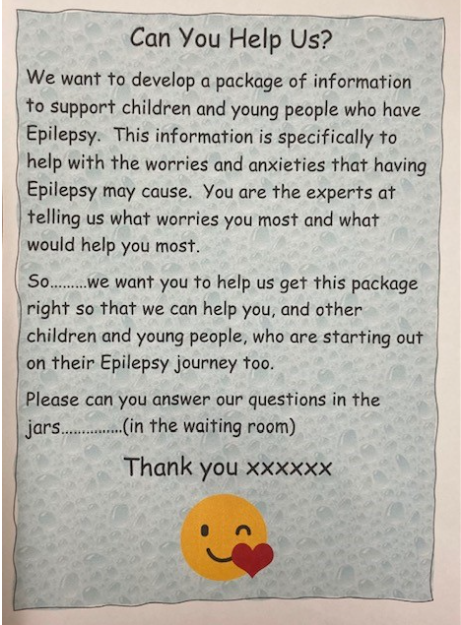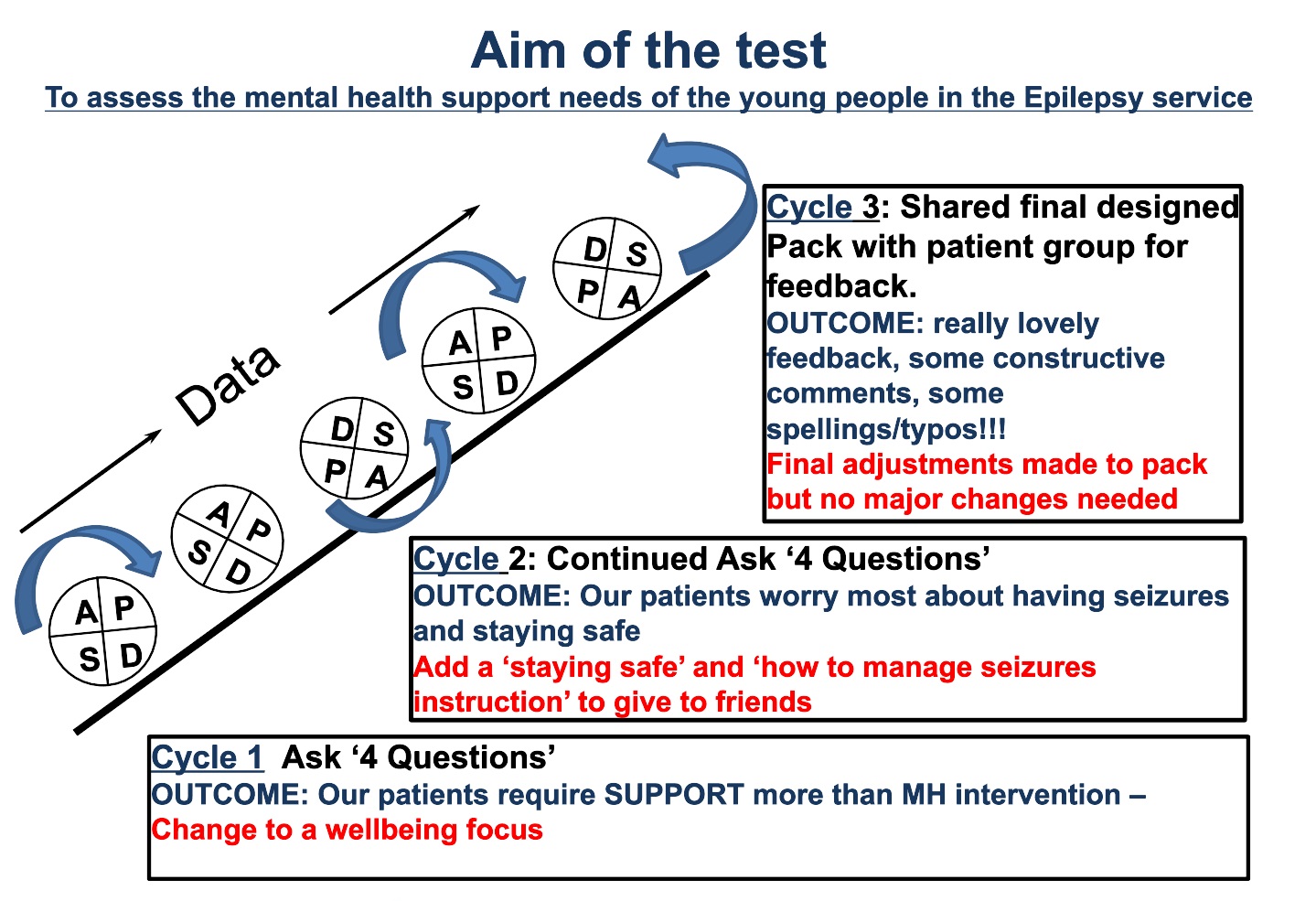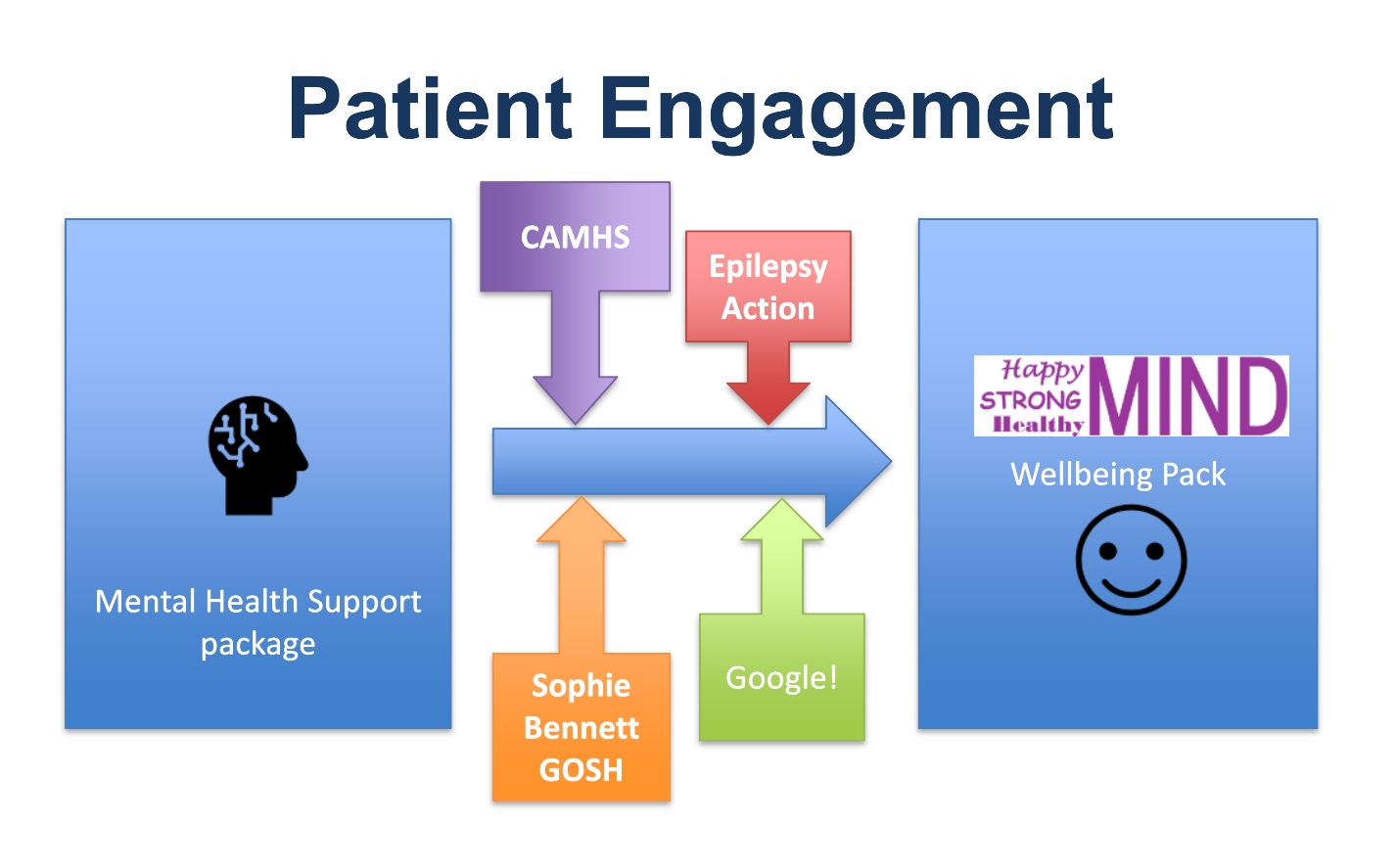 Results
September 2021
The feedback was that the proforma was easy to use.  One consultant acknowledged that the format was the same as the questions she used in head anyway!   
Comments for change included; space needed for free text and the medication section needed space for previous medication and reason that medication was stopped. 
October 2021
In terms of our data collection we developed our 4 questions, in jars!!!!! 
We identified children >1yrs and without learning needs to contribute to our data collection.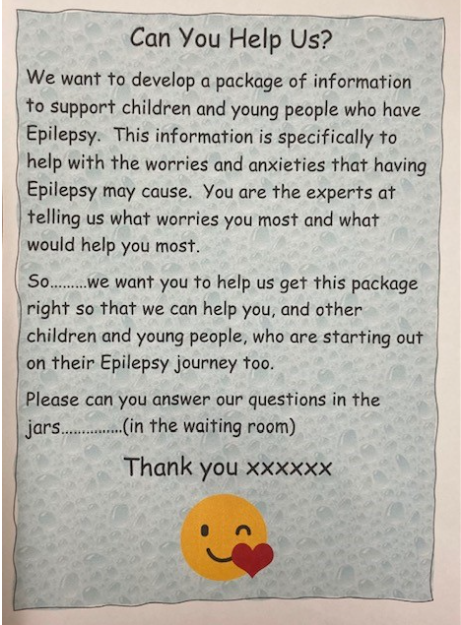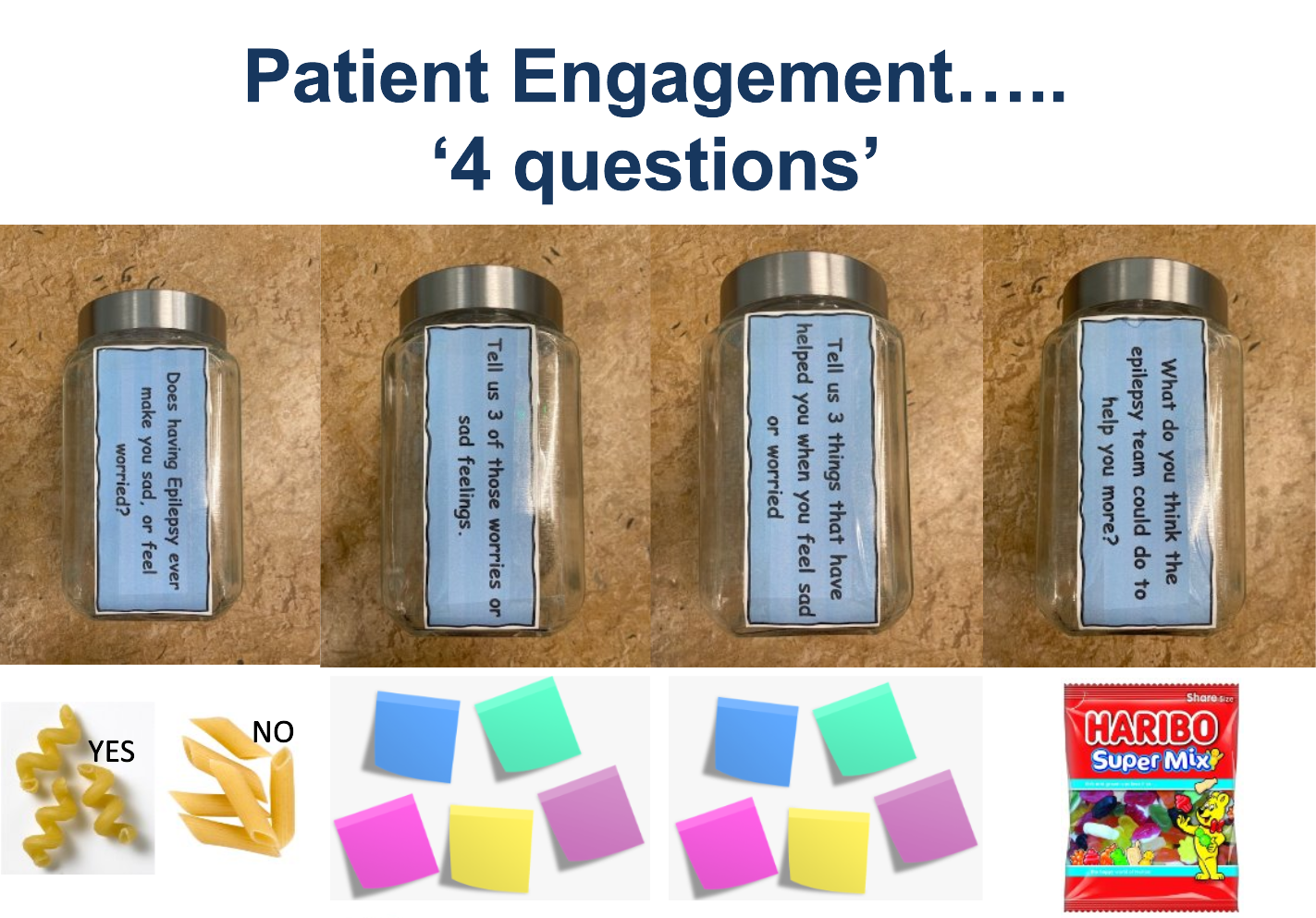 January, February and March 2022
Shared final designed Pack with patient group for feedback.​
OUTCOME: really lovely feedback, some constructive comments, some spellings/typos!!!​
Successes
Really useful positive project to have been part of. Great lecture series. Great to have leader support from EQIP.​
Appointing the CYPWP is really exciting for the team and in taking things forward.​
Good to have produced a pack in a short timeframe, with feedback from our patient group.​
Challenges
COVID and telephone appointments limited patient input, compounded by COPD being redesigned. ​
​Sickness within the team.​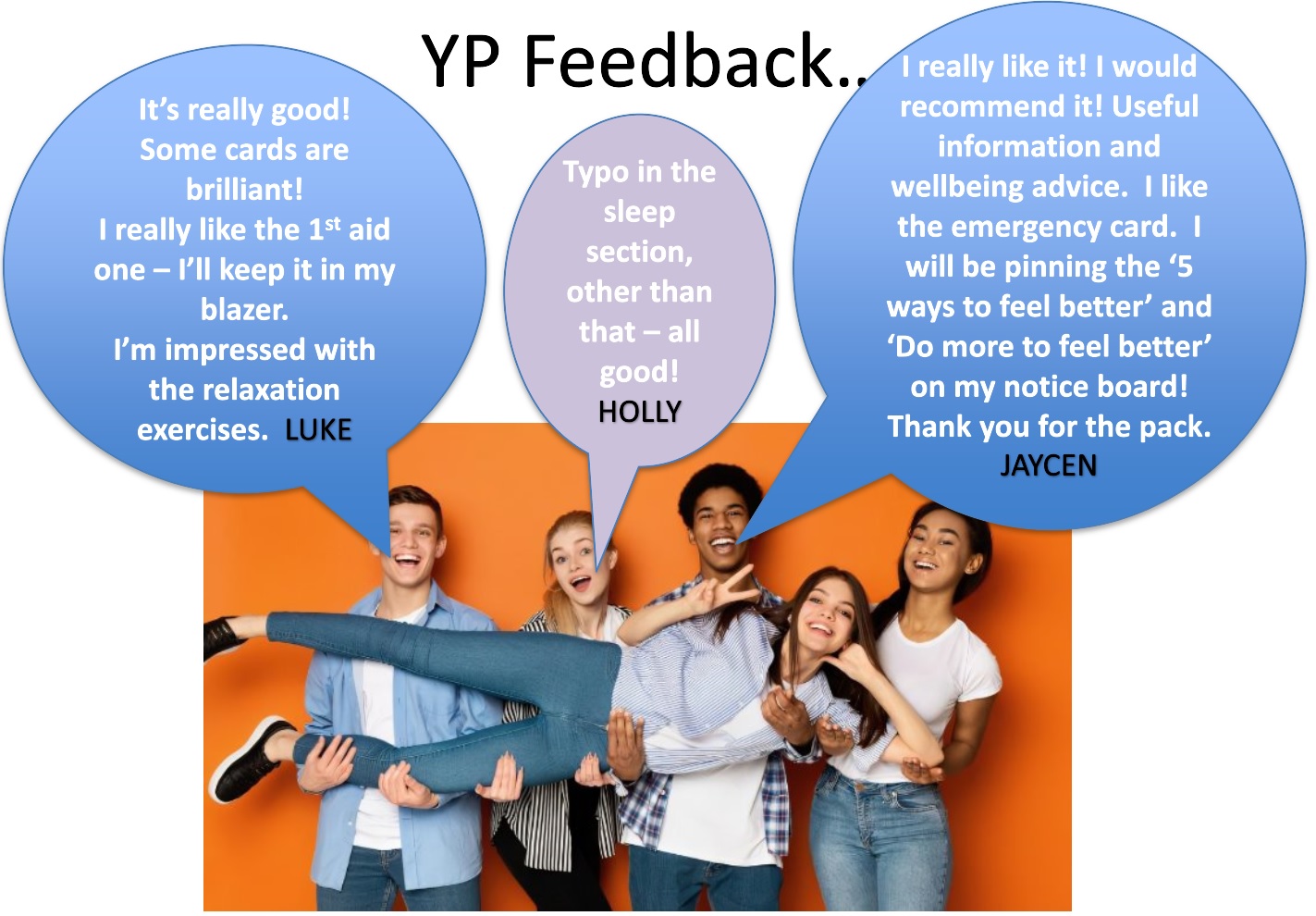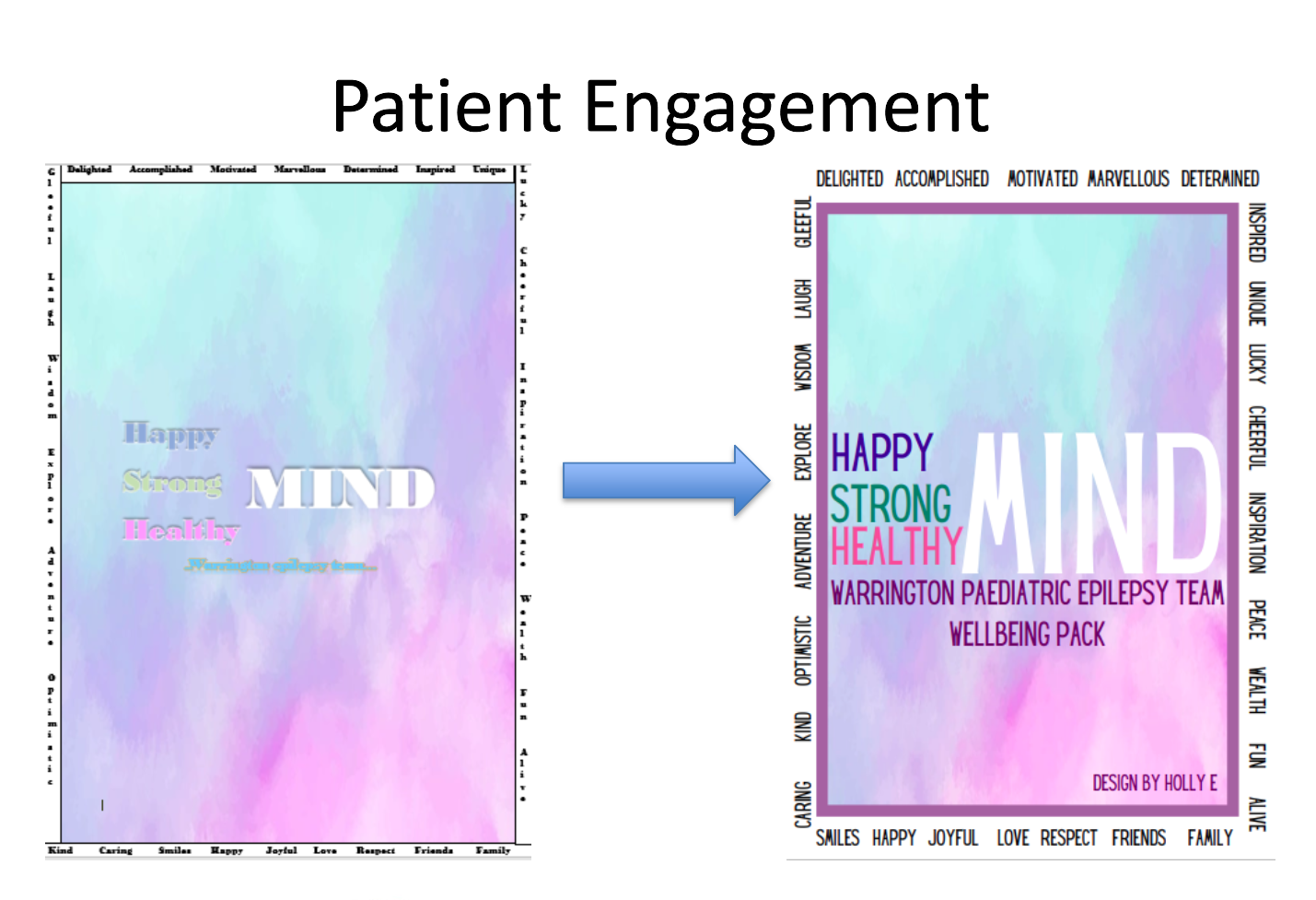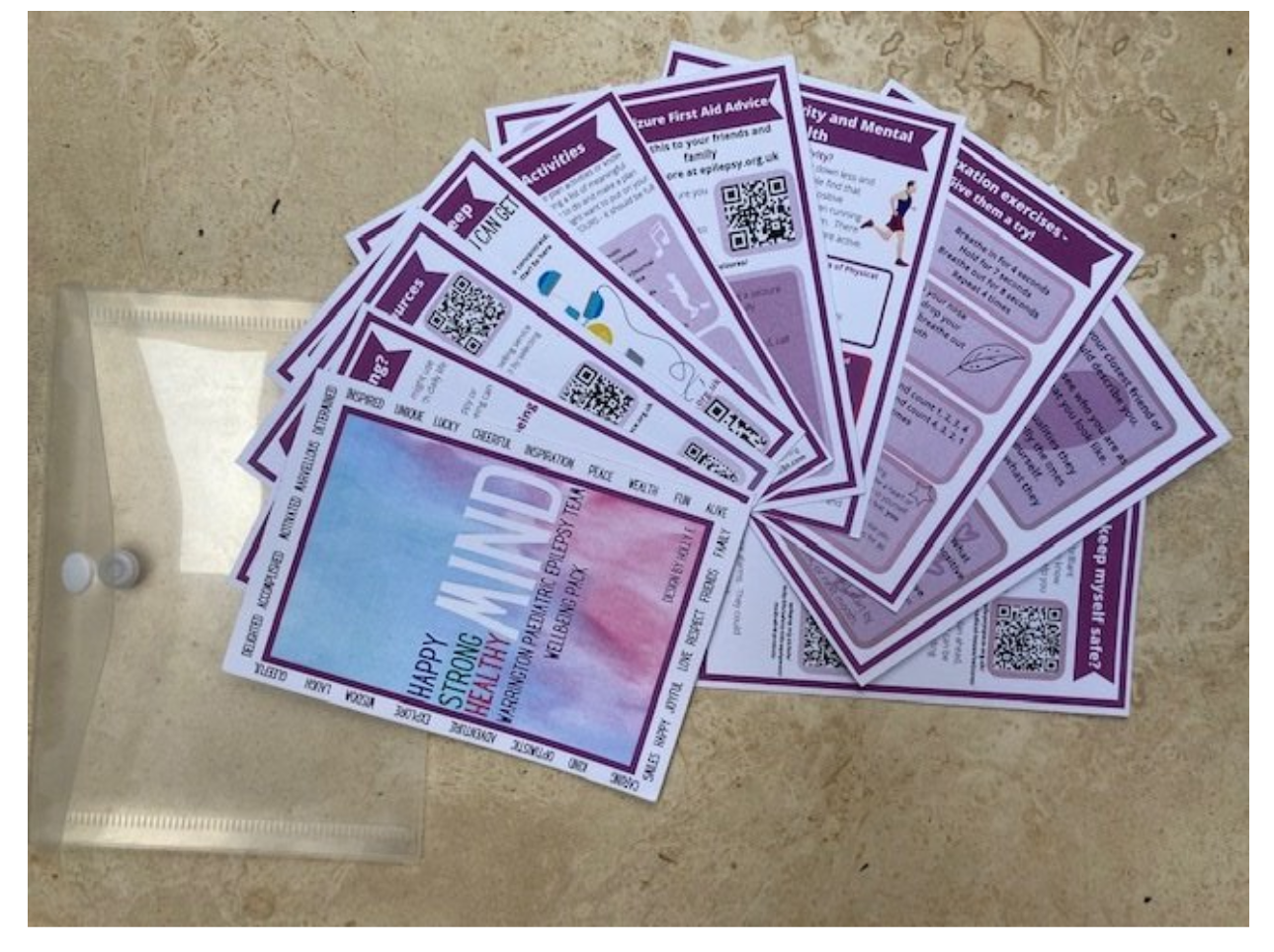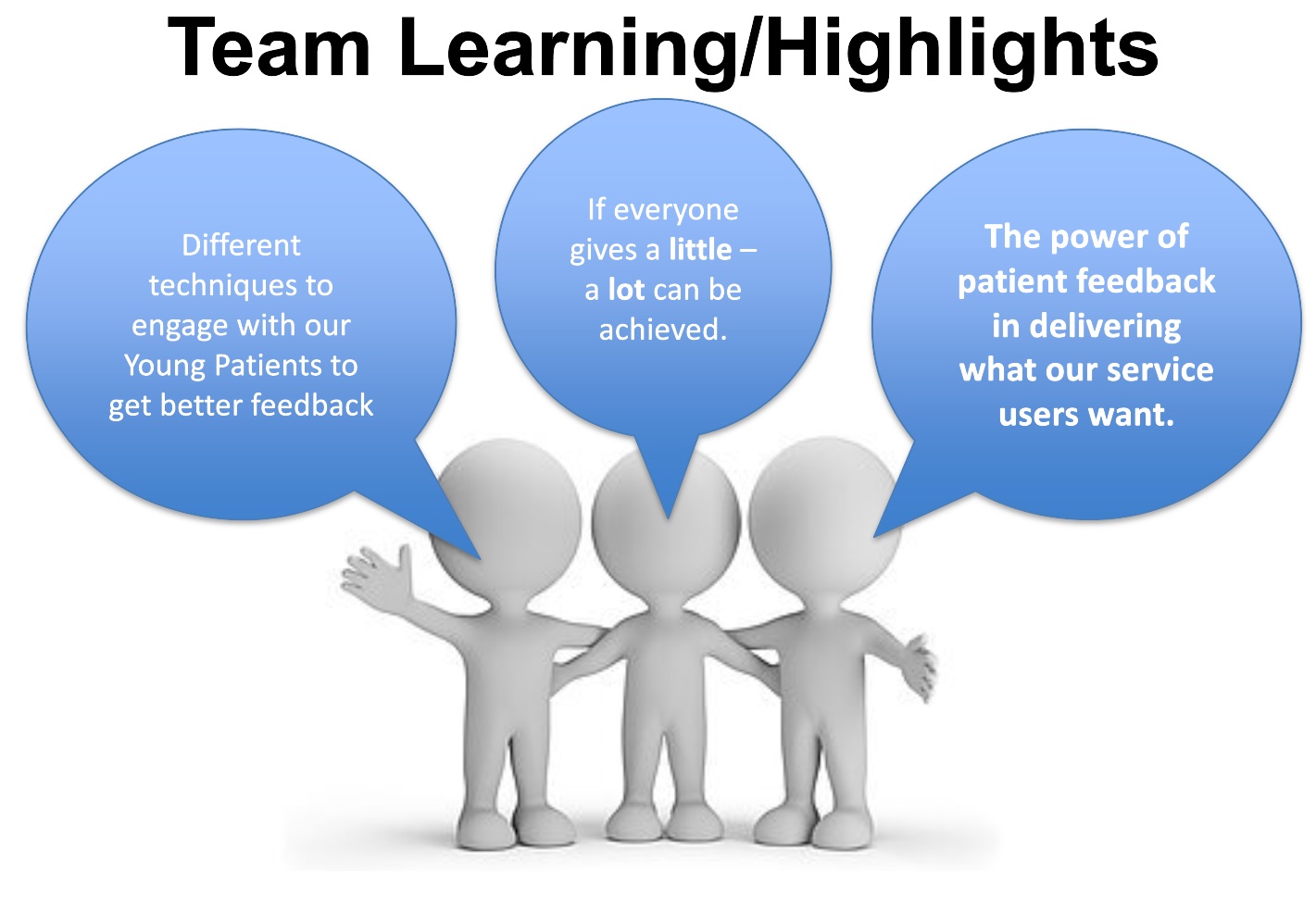 Next steps
Locally​
Present to our departmental Audit meeting​,
Present to our Board safety meeting​,
Organise a Patient launch meeting (face to face and virtual)​,
Other projects​,
Wellbeing pack for younger age group​,
Introduce screening tool for MH concerns in the clinic​,
Opportunity to take part in the 'Lucy Project'​.
Wider​
Present to Regional EPIC meeting​,
Epilepsy 12 – CYP improvement project poster presentation​.
---
Team presentation
To engage with families to improve the mental health care pathway for Children and young people with epilepsy: Warrington and Halton Teaching Hospitals NHS Foundation Trust.
Would you like to know more about these projects? If you would like to contact any of these teams about their QI work then please get in touch with the EQIP faculty at eqip@rcpch.ac.uk