Southport and Ormskirk Hospital NHS Trust
Project aim: Our vision is to have a service which is person centred. We aim to have an ongoing feedback loop with the ideal scenario of having a feedback forum.
Project aim
To obtain 50 pieces of feedback from children, young people and families by May 2020.
Our initial and overarching aim is to have a valid feedback tool as previously we did not have one.
Our vision is to have a service which is person centred. We aim to have an ongoing feedback loop with the ideal scenario of having a feedback forum.
What matters to us is an ever improving service which is guided by and responsive to our young children, young people and their families.
Background
The rationale of why this was an issue for the patients, families and staff
We know that  the clinic needs to reflect the needs and expectations of our children and families. By collecting feedback from our patients and families we can look at our service and see if and what needs to be changed. We ourselves have a number of ideas but want to see what our patients require.
Tests, changes and what was learned in the process
December 2019
As a team , we made presumptions and predicted that our patients and families would be willing to help us by taking part in feedback. However, we needed to test this and find out exactly how many of our families would be willing to take part.
Test 1: Decision prior to clinic to give questionnaire to follow up patients who we knew would be attending clinic again.
The following were excluded:
New patients (not all of them were epilepsy)
Patients who were being discharged (as we are unlikely to see them again).
We asked follow-up patients and families if they were happy to take part in feedback on an individual basis after clinic.
One simple question: "We are planning a family and child feedback/survey on our epilepsy  services to help us improve It would involve 5-10 minutes of your time while waiting. Would you and your child like to participate? Please tick and pass back to the reception. Thank you."
 'Yes/No' response.
This was given to families at the end of clinic on their way out, making their next appointment at children's OPD.
January 2020
Test 1 was completed at the beginning of January and we began test 2.
Test 2 – First questionnaire produced and sent to Epilepsy and us for feedback / ideas for improvement before being given to CYP and their families (see resources list). There was a delay in getting the feedback so we had to start using the questionnaire. The questionnaire was designed to be completed by parents/carers and young people over the age of 12 and was designed to look at the holistic aspects of clinic and the experience of coming to clinic for our families.
Test 3 – Implementing agenda setting in clinic as a means of promoting and supporting patient -centred/ patient led clinics. Agenda setting sheets to be given to patients and families prior to clinic in order for them to highlight areas they would like to discuss, for 2 weeks (see resources list). We gave the agenda setting sheets to families as they arrived in out patients so they were able to complete prior to their appointment and in order to lead the discussion.
February 2020
Test 4: Distribution of questionnaires to our caseload.  We managed  to get 22 questionnaires completed by our patients and families
March 2020
Test 5: Look into the possibility of setting up a Skype clinic. This was our trickiest test yet ! After speaking with IT, it became apparent that setting up Skype clinics was not going to be quick to do and involved lots of people to be involved. The plan was to meet with IT but then Covid happened and within a very short period of time Attend Anywhere was installed and ready to use in all out patient areas.
Challenges and Retesting
December 2019
Dr M. on leave – so no OPA until 31st Dec. To combat this, we will Ask any families upon presentation at the paediatric unit / A&E for their feedback once questions are set.
Business of the ward / department has meant we cannot meet to discuss.
We asked a number of our teenage population if they would be willing to be part of a young person's feedback group – response was good overall but 1 patient is soon to be discharged and does not feel like they will want to be part of such a group and one boy, who would be ideal declined the invitation as he does not feel his epilepsy is a problem and so does not want to talk to other young people about it.
January 2020
Coming up with suitable questions for the questionnaire!
Annual leave and having the time to get together every week.
February 2020
Getting time to speak together as a team while taking annual leave is a recurrent issue.
Hard to get representation from families that are not due to attend clinic soon.
Coming up with suitable questions for the questionnaire is a continuing challenge.
March 2020
Even sending out stamp addressed envelopes did not ensure we got all the replies back (received 3 out of 20!) Also getting people to turn over the page was a challenge meaning not all questions were answered.
Annual leave and getting time to talk as a team are still a challenge.
We are going to need the help of IT to move forwards at present IT are under a lot of strain and so our request is at the bottom of the pile.
Results  
December 2019
Clinic 1 – 7 patients scheduled, 6 attended, 1 x DNA.
Of these, 1 patient was excluded because he had been given a general paediatric appointment incorrectly. 1 patient was excluded as he is under another hospital and will only see the team sporadically. 1 patient was excluded as they were a new patient. This  meant 3 forms given out and 3 completed.
Clinic 2 – 8 patients scheduled, 1 x DNA 1x cancelled due to illness, 1 x new patient and 5 x follow up patients.
Clinic 3 – 8 patients scheduled, 1 x DNA 1x cancelled due to illness, 1 x new patient and 5 x follow up patients. Of these, only 5 children were included, all  5 families completed the forms.
Clinic 4 – 2 patients booked, 2 patients attended both follow up patients. 2 x responses received.
We also had 2 inpatients at the time who were asked the question and agreed to be part of our feedback exercise.
January 2020
Test 1 –  Positive – all asked agreed to help with feedback.
Test 2 – We are awaiting feedback from Emma or someone in her team regarding our patient questionnaire. The hope is to start using it next week.
Test 3 –  Good results. Feedback over 2-week period suggests that all families find the agenda setting sheet useful and feel that they are involved in the direction of discussion. Families also consider that they act as a prompt for them to remember things that they may have forgotten to ask previously. PDSA cycle completed.
Good verbal feedback from patients and families, they were happy to use them and felt that it acted as a prompt in some cases to ensure they asked questions they had. The older CYP mostly helped their parents to fill them in.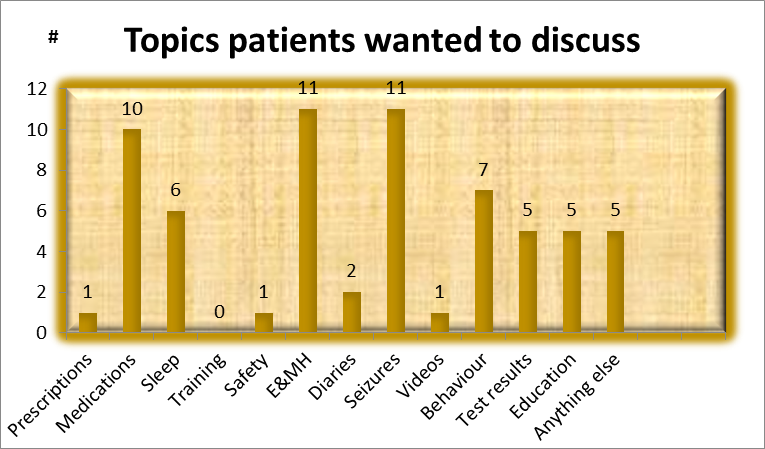 February 2020
Test 2: We have started distributing the questionnaires before the clinic.
Thus far, we have learnt that families perceive their clinic time slots to be just right, but they vary when it comes to preferred clinic times. Some families forgot to do the other side of the questionnaire – will revise with a PTO at the bottom!
2 families mentioned the fact that Sefton is not covered by the epilepsy nurse.
1 parent commented that they would like referrals for additional help to be made for them rather than asking school / GP to do.
1 family wanted to be able to get their child' s chest listened to and general health information for viruses.
1 family mentioned that although they have always felt included and respected by our team, they would like to see more consideration and communication to help them engage.
Skype / video consultations were popular with 3 families and telephone consultations with 2 families.
Test 3:  Good results.  We have given out 11 questionnaires, all of which have been completed. We are going to post questionnaires out to 20 families who will not be attending clinic soon. On the negative side – some families only filled in one side of the questionnaire. Also managed to get 20 envelopes franked!
March 2020
We have had some feedback from Emma at RCPCH and now have version number 3 of the questionnaire!
We have received 42 completed questionnaires. 20 were posted out with stamp addressed envelopes – only 3 returned we live in hope of the remainder being completed.
Interesting results the overall consensus is that the clinic times are "just right" with 2 comments of "it depends what for." 30 out of 42 people preferred morning time slots and 7 preferred evening timeslots. 2 people ticked all 3 time slots.
We asked about telephone and skype consultations. 18 respondents wanted telephone consultations, 4 wanted skype / video consultations and 4 said both 2 people were unsure. The rest did not complete this question as they did not turn the page.
We now have a team email ! It was requested 7 weeks ago, but because of Covid we managed to get it the same day IT were phoned ! This will encourage team communication and ensure that messages are seen and dealt with contemporaneously.
Next steps 
Pre Covid:
We will continue to give out the questionnaires in our clinics. We will use the data obtained to make any changes to our clinics.
We will compile feedback to parents and families in the form of a "you said, we did" board or poster.
We will use the data obtained to make any changes to our clinics.
Continue to liaise with IT regarding Skype clinics.
Post Covid:
Questionnaires may need to be sent out either electronically or post prior to clinics
Agenda settings may also need to be sent out as above.
We are going to collate all the evidence from our questionnaires and see what improvements or changes may be needed v what we can offer in our "new" way of working.
Produce our poster to feedback at the world café event
Feedback to trust management
To look at publishing an article about the role of the Physician Associate within a paediatric epilepsy service – emphasise our "uniqueness".
Meet with IT and IG re having a smart phone in order for the team to be able to access videos which parents / carers send us.
To consider setting up a forum for our young people (if possible due to social distancing.)
Impact of Covid-19 on our service and team
Different ways of working that were introduced
Attend Anywhere virtual clinics now offered.
Telephone clinics offered throughout the Covid period.
Microsoft Teams MDT meetings for children with multiple professionals involved.
One of our long term patients with a life limiting disease was given a robust rescue plan and Oxygen and a saturation monitor were given to mum to allow the child to stay at home at times when he would normally come into hospital (please thank Luton and Dunstable for sharing their story with us as this had inspired us to consider this leading us to install oxygen in the home, but in light of Covid, we added in a saturation monitor and a robust plane enabling the family to keep him at home.)
Impact on staff, patients, and families
The impact on all of the team has been different. As clinical director, Dr Mariguddi has had to be involved in Covid planning and preparedness . Andrew had shift changes which meant he was not able to attend epilepsy clinic for a while and Dr Natajaran was required in A&E.
As an epilepsy nurse, the management recognised that I continued to offer support and advice to patients at a time which was particularly stressful for a lot of them which meant I was not redeployed to another area.
For patients – support was maintained. Advice and support was offered contemporaneously. Home visits (with appropriate risk assessments) were offered when required and individual plans were made for patients in order to prevent them coming into hospital.
Feedback form parents has been good, no negative feedback at all during Covid. Everyone seems really thankful for the support given .
The child discussed earlier has an expected life expectancy of 10 years. He is his mummy's only child and described as her "rainbow baby". The mum has feedback that she is extremely happy with her plan of care and the fact that she has been given oxygen / sats monitor and a robust rescue plan. Mum says that she has "peace of mind" and feels supported. She feels listened to and valued by the team.
Changes made
Attend Anywhere is here to stay!
Outpatients is now restricted on numbers so we can offer face to face appointments but in limited numbers – each case is individually assessed, and when necessary, face to face appointments will be offered.
Team email address accessible by all team members.
Andrew now to get a full day to work in epilepsy.
Clinic appointments can be telephone or attend anywhere giving patients and families a degree of choice and flexibility.
Feedback from staff, patients, and families
Patients and families have been really accommodating and have been happy to have the support. Most of our families want to stay away from the hospital but are happy to attend clinics virtually.
As staff we feel happy with the way things have gone – they could have been much worse.
Team personal reflections and learning
We have all learnt a lot form the whole experience of the pandemic. We have learnt to employ a risk sensible approach  to individual cases and had to think about different approaches to working with our children and their families.
As a team, we now communicate more and are acutely aware of good lines of communication and the importance of regular meetings / catch-ups.
We have come a long way through both Covid and the EQIP process but strive to continue improving in order to offer our patients and families the best possible service with the resources and restrictions available.
What tips/experiences can you share with other teams that describes your paediatric epilepsy service 'new normal'?
Persevere with virtual clinics ! They can save time, the families seem to like them, and as professionals we have found it helpful to see children and families in their own environments. For example, we saw one of our young children who has additional needs, lay on a mat, rolling over and playing with toys- we would not have seen this in clinic !
QI does not have to be complicated and does not involve a large objective. Make sure your objectives are SMART but also they can be seemingly "small" or "simple" ideas. The agenda setting tool did not take long to devise at all and has proved to be very useful in clinic.
It is particularly humbling to work with families and support them rather than lead them. Once you know your families and have built up good relationships with them, it is good to encourage families to lead discussions and consultations.
Only try to offer what is "in your gift" to offer. And if it's not in "your gift" why not ? Could it be? How will you know unless you test it.
Learn from others ! Everyone has done something unique or different, there are resources out there that people are willing to share – use them. You do not need to reinvent things if they already exist. Drawing on the experiences and knowledge of others informs you and helps grow your service.
How do you envision using your Epilepsy12 audit data to inform future QI initiatives?
The quantity of data of available to us  from Epilepsy 12 will be greater as we now have more patients in the audit. We aim to look at the data , and in conjunction with patient /family / carer feedback, continue to adapt our service to meet the needs of our patients and families.  We want to ensure that the data we have collected is meaningful and informative but more so that we are able to learn from it!
We would be keen to be part of future QI initiatives and hope to feedback our learning and experience to both our trust and any other trust who would be keen to learn from us.
---
Team presentation
Southport and Ormskirk Hospital's team presentation at the EQIP celebratory event describing their journey and improvement project based on implementing an ongoing feedback loop with patients and their families with the aim of establishing a feedback forum:
---
Would you like to know more about these projects? If you would like to contact any of these teams about their QI work then please get in touch with the EQIP faculty at eqip@rcpch.ac.uk