Oxford University Hospitals NHS Foundation Trust
Project Aim: To standardize a toolkit for clinicians to use for providing information on SUDEP to families, to enable a personalized yearly discussion on SUDEP with at least 80% of children with epilepsy
Project aim
To standardize a toolkit for clinicians to use for providing information on Sudden Unexpected death of someone with Epilepsy (SUDEP) to families, to enable a personalized yearly discussion on SUDEP with at least 80% of children with epilepsy.
Background 
The Epilepsy 12 audit, under the quality for care criteria found evidence that less than half of children and young people in the UK who are diagnosed with epilepsy (or their parent/carer) had been given information on sudden death in epilepsy (SUDEP) (43% 915/2106 Trusts).
In 2019, the audit data for Oxford Teaching Hospital Trust found evidence that they were close to the national average (44%), with the Trust initial audit response being 40% of families felt that they we're having conversations around SUDEP, and that Oxford Hospital were providing families with the information.
However, in 2020, there was a decline in response from 40% to 29%, which meant Oxford we're below the national average, suggesting that the Trust were not as able to provide the information on SUDEP to the children and their families.
The audit data from 2020 needs to identify the impact of COVID-19, and the consequences of the pandemic may of impacted the data.
Oxford identified the decline may be due several reasons:
COVID-19
Avoidance culture around SUDEP.
Not having a specialised resource  on SUDEP that they could tap into that was tailored for their trust itself.
So, Oxford wanted to create a care plan that incorporated a toolkit specifically on the SUDEP discussion.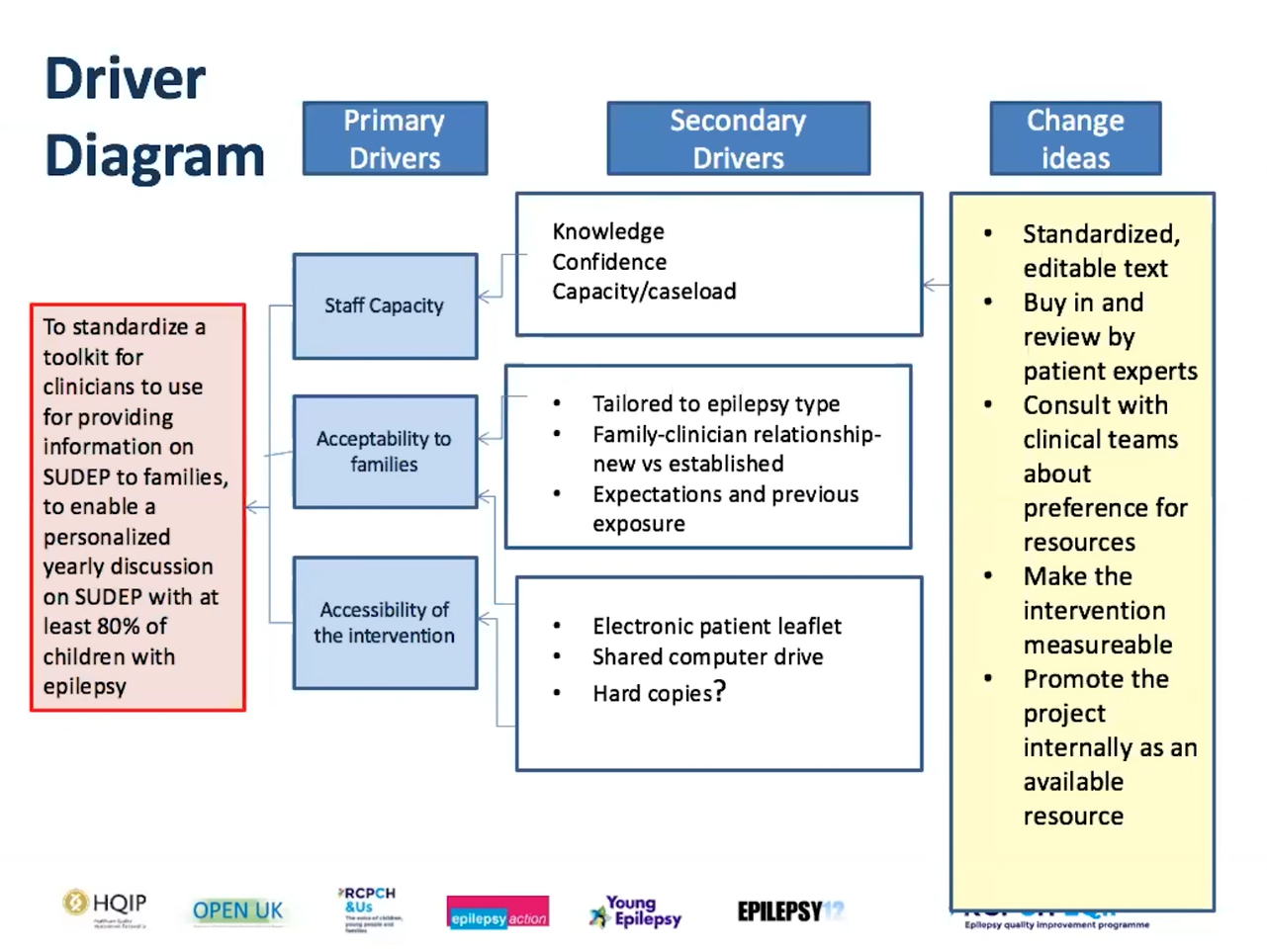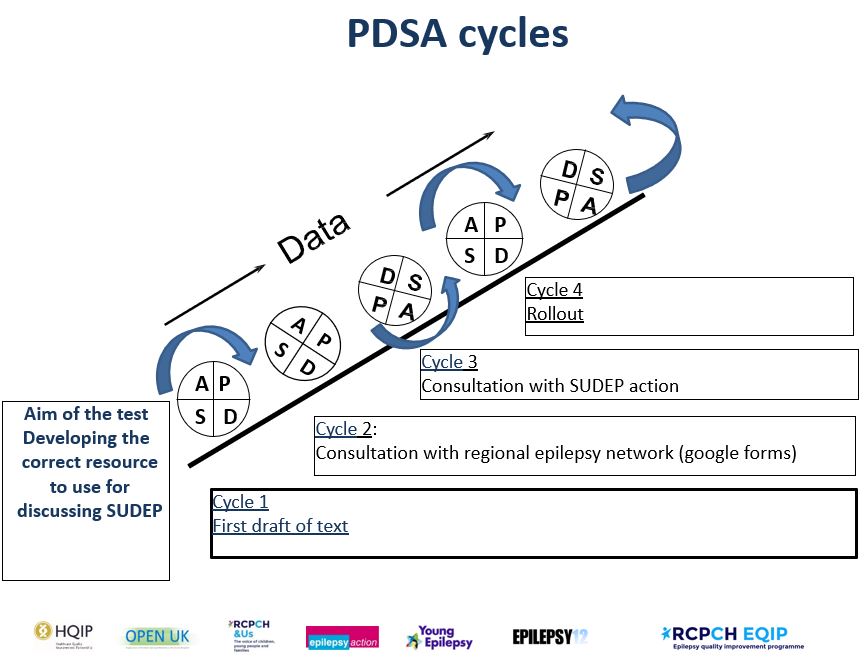 Tests, changes and what was learned in the process
October 2021
To create a standardised text that could be editable dependant on the current situation with the family. Oxford consulted clinical teams to create the standardised text. The resource was created to aid the clinicians in the discussion of SUDEP. They had created a body of text, and initially felt that the body of text may be quite long, and potentially overwhelming for the families that they we're providing information too.

Test draft of text with stakeholders- Completed on 21/10/21 at oxford regional epilepsy meeting (see results)
November 2021
Test draft of text with stakeholders- Completed on 21/10/21 at oxford regional epilepsy meeting (see results)
Test various ways of sharing and saving drafts for project
January 2022
Test draft of text with stakeholders- Completed on 21/10/21 at oxford regional epilepsy meeting (see results) have also consulted with SUDEP Action, who have advised edits
Test various ways of sharing and saving drafts for project
Attended Using Data to Drive Change training session- this informed our decision to move to a qualitative data collection- embed rapid feedback sessions in monthly or bimonthly updates at Governance.
Patient & family engagement:
We're in contact with charity SUDEP Action to gather feedback on their initial text-SUDEP Action suggested some edits to the initial draft, however communicated that some areas may need more in-depth information.
Test various ways of sharing and saving drafts for project

.

Feedback from SUDEP received and acted upon: lay language is essential and we have addressed this.
Helped us clarify this is a package of information for clinicians to use at their discretion tailored to their patient.
Consulting stakeholders from both sides: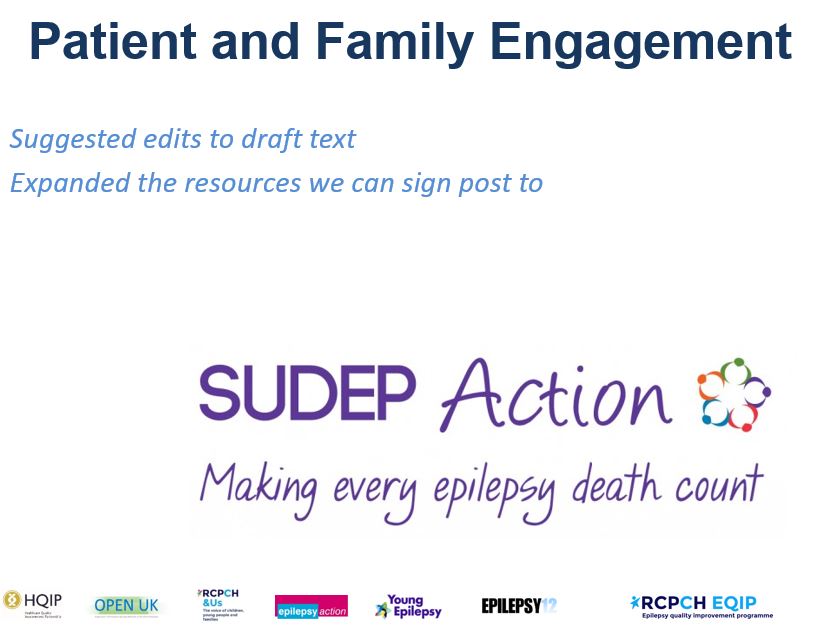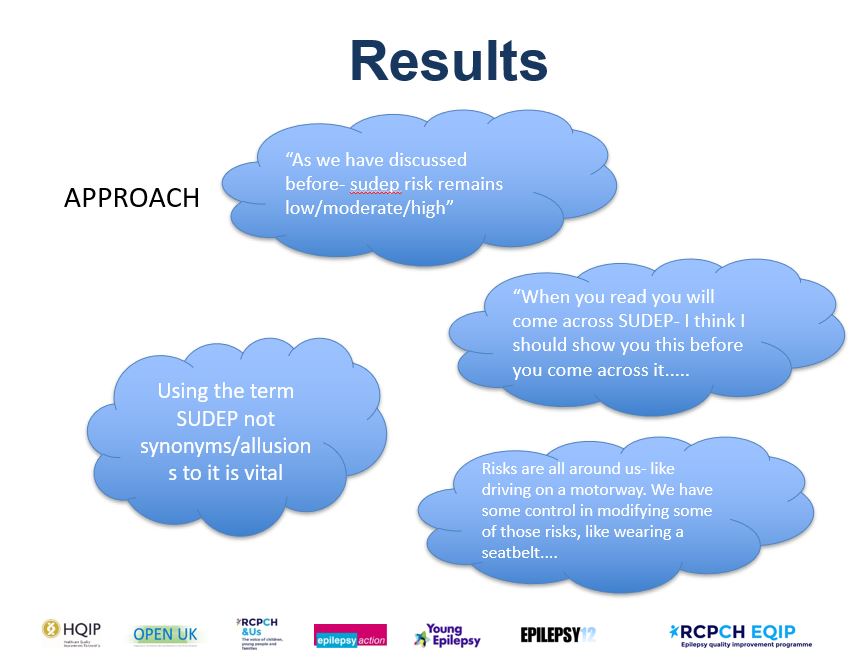 Challenges
Despite pressures of working in the pandemic, we have created the resource we aimed to and have a clear plan to embed in practice.
We have good communication via email/Whatsapp – team members have taken opportunities to attend BPNA webinar on SUDEP and disseminate the learning- helped ensure the content of our text is appropriate.
Being a part of EQIP project has allowed us to hear about other good ideas being implemented elsewhere.
Lack of quantitative data so far – hope to see impact in EPILEPSY 12 next round.
Need to launch as smartphrase.
Aiming to discuss at every consultation is not always possible. This needs to be worthwhile for the patient and family not just 'tick box.'
Successes
Buy in from service users, staff using the resource,
The qualitative feedback shows our attitude toward discussing SUDEP in the Trust is shifting.
Results
October/November 2021
First draft of text for the standardised tool kit was being edited. n. There have been Discussion with stakeholders (fellow consultants) ongoing
Results of a brief survey at regional meeting:
7 respondents

 

5 found the content 'about right,' 2'not detailed enough',

5 out of 7 rated the statement 'this will be useful' : agree or strong agree,
6 out of 7 rated it useful to have as an EPR smart-phrase
Some queries about also including hyperlinks to Epilepsy Action sites for info on sleep monitoring systems.
March 2022
We are still very much at a stage dealing with qualitative information
Consultation with Regional Epilepsy Network
Most agreed an EPR smart-phrase would be useful

Consultation with SUDEP Action

Wanted a richer text with more detail
Individualised risk discussions shorter, punchier paragraphs easy to omit/include
Centralised on shared drive-> yet to create 'smart-phrases' for electronic patient record.
Keep building the resource
Results on content
We discussed the risk of Sudden Unexpected Death in Epilepsy (SUDEP). Here are some key points:
SUDEP is when someone with epilepsy dies suddenly and prematurely & no cause of death can be found. It is not a condition itself, but a way to categorise these sudden deaths.
Overall, people living with epilepsy are at a 1 in a 1000 risk of SUDEP per year, but risk is specific to each individual and ways to reduce risks are person-centred too. People with learning disability, other physical conditions or rare epilepsies may be at higher risks.
Different types of epilepsy carry their own level of risk, some higher, some lower.
Epilepsy with generalised tonic-clonic seizures has a higher risk. This is especially if these happen at night or when asleep.
Increased number of seizures also increases the risk.
People with absence or myoclonic seizures are not known to have an increased risk for SUDEP.
Epilepsy risks (linked to dying prematurely) can change over time. However steps can be taken to reduce some of these risks.
CTD
We discussed things we can do to help reduce the risk of SUDEP.  These could include:
Getting better control of your epilepsy, to reduce number of seizures where possible,
Taking your epilepsy medication regularly and as prescribed,
Following safety advice and lifestyle measures,
Using epilepsy monitors, that may help to better detect night-time seizures – however these should be one part of a wider safety plan to reduce epilepsy/SUDEP risks,
How girls of child bearing age will need to have pre-conception counselling to help understand the risks related to this, and how if you take certain medications they may need to be reviewed/changed as you get older,
That the EpSMon app can help people 16+ to monitor and manage their epilepsy risks (www.sudep.org/epsmon)
Additional helpful information is available below.
https://sudep.org/childhood-adolescence-and-risk (Free leaflets from SUDEP Action on reducing Epilepsy risks and SUDEP for children with epilepsy are available here: https://sudep.org/leaflets-and-downloadable-information)
Next steps
The approach taken when discussing SUDEP with families, at what time would it be appropriate?
New diagnosis of Epilepsy,
Follow up, well controlled,
Follow up, drug resistant.
To keep honing and sharing it.
Consultant Rohini is collaborating with SUDEP action to create a Paediatric SUDEP checklist resource to give guidance to other paediatric epilepsy specialists a practical tool to ensure that the conversations provide all the required information.
November 2021
Time to share current draft of text with consultants- may be able to append this to a governance meeting 24/11/21 when updated First Epileptic Seizure guideline will be ratified.
Working on feedback from presentation at the next governance meeting.
Pilot testing in our upcoming clinics.
March 2022
Launched on shared drive,
Link to EPR resource is planned,
Continue qualitative feedback,
Present to paediatric governance with results,
Paediatric SUDEP checklist with SUDEP Action.
---
Would you like to know more about these projects? If you would like to contact any of these teams about their QI work then please get in touch with the EQIP faculty at eqip@rcpch.ac.uk