Manchester University NHS Foundation Trust
Project aim: To improve patient experience in outpatient MDT ketogenic diet clinic. Initially aimed to have 75% patients satisfied but as 100% have been satisfied, we aimed to reduce the time spent in clinic to no more than 90mins for 75% of patients. And improve the team moral and satisfaction within clinic as at baseline it was felt to be a stressful situation.
Project aim
To improve patient experience in outpatient MDT ketogenic diet clinic.
Initially aimed to have 75% patients satisfied but as 100% have been satisfied, we aimed to reduce the time spent in clinic to no more than 90mins for 75% of patients. And improve the team moral and satisfaction within clinic as at baseline it was felt to be a stressful situation.
Background
The rationale of why this was an issue for the patients, families and staff
Families were spending on average 2 hours in clinic and we often received complaints about the wait times and families would leave before investigations were completed due to the long waits which impacts on patient care.
As we were often behind and families waited a long time, staff felt under pressure to work faster and that we weren't doing a good job. We also felt unprepared and that sometimes we didn't have all the correct information about a patient to provide the advice and support required.
Tests, changes and what was learned in the process
December 2019
Patient satisfaction survey and time audit. We developed a patient satisfaction survey, with a direct question initially, but then with an option to provide information on what we do well, what not so well and how we could improve.
We also developed a template to gather data identify the issues around timings in clinic to understand how long each part of the process was taking; arrival time, appointment time, time to get anthropometry, time to see consultant, time appointment ended, time when bloods taken, time left clinic.
PDSA 1 – weekly huddle with the whole team to discuss patients that are having difficulties and those due in clinic to identify any missing information in preparation for clinic.
PDSA 2 – we identified from the baseline data that there was a delay in children getting weighed and measured as the clinic staff were waiting for medical notes to be brought to the clinic. We do not use medical notes in this clinic as we have an electronic system so we removed the medical notes with the aim of improving time to being weighed.
January 2020
PDSA 3 – We asked patients to attend 30 minutes early so that they could be weighed and measured and provide a urine sample/have bloods and be ready for their appointment at the appointed time. We adjusted the appointment letter template to send out to families.
PDSA 1 & 2 continued as we had noted a positive effect.
February 2020
PDSA 3 – patients either didn't attend earlier or having the investigations prior to the appointment caused a delay and they were not available at their appointment time. This did not help with clinic flow or time in clinic so we stopped this.
PDSA 4 – Telephone contacts by ESN to family and local team 2-4 weeks prior to clinic to find out concerns/queries, this has improved the family's relationship with the ESN and meant that some of the less urgent queries are dealt with over the phone, reducing the time required with the consultant in clinic. The huddles which are now firmly in place mean that we can discuss the patients in advance and then chase an outstanding blood results and prepare ourselves for clinic.
March 2020
PDSA 1 & 2 continued as we had noted a positive effect
PDSA 5- As some of the complex patients can take more than the 30minute allocated slot, we opted to introduce a registrar into clinic to see patients for baseline assessments or to review stable follow up patients. This was not planned well and communication was not great in the team around this, so the registrars were unprepared and time in clinic was considerably longer than normal. The registrars had little knowledge of the ketogenic diet, there wasn't consideration of which patients they may be best placed to see and all the staff as part of the clinic felt stressed and unhappy with the experience.
PDSA 6 – we planned to adjust clinic slot times to allow 45 minutes for new patients but due to COVID we were unable to put this plan in to place.
Challenges and retesting
January 2020
It has been challenging to get the OPD team on board but we have had some progress. We had initially planned to introduce patients attending earlier for their appointment as one of the first tests of change but we had difficulties getting the letters adjusted in time to do this as these are automatically generated. We had also wanted to provide some training to OPD staff but finding suitable times proved challenging so this had to be delayed.
The results of the December data collection really helped to motivate the team. Even at baseline patients and families provided 100% positive feedback which helped to keep us motivated. As a team we had felt that we need to get better but this highlighted that maybe some of the problems associated with clinic were out of our control. So we adjusted our aim to focus on making the clinic process smoother by reducing the time spent in clinic, reducing this to no more than 90mins for 75% of patients and to improve the teams perception of clinic, 80% of the team satisfied with the clinic process by the end of the April 2020.
February 2020
PDSA 3 – We asked patients to attend 30 minutes prior to the appointment for investigations but families have not followed this advice and have often called to say they aren't able to do this so it has had no impact.
We have had reduce staffing due to sickness.
We have received feedback about parking issues and facilities in OPD which we can't directly impact but we will discuss this with the relevant team/department.
Some patients are challenging/complex and over run on their clinic slot time which impacts the whole of the clinic. This is often related to new patients and we considered as a team whether we should opt for a 45 minute appointment for these patients. Or if we can use a registrar or and ACP to review more standard follow ups.
March 2020
PDSA 5 – Including a registrar in clinic did not help at all, the clinic ran over by 2 hours and patients were dissatisfied with this. The decision was taken by one of the consultants to include a registrar in clinic to see patients but in fact 2 registrars arrived and both were given patients to review. Neither had experience or felt confident in the ketogenic diet and as the rest of the team were unaware they would be joining had not been able to plan ahead or provide any advice/support. This meant that families were seen by a registrar and then had to wait to also see the consultant. The families felt frustrated at the wait and having to repeat the consultation and the registrars felt they were in a difficult situation. The rest of the MDT had been split between the 3 clinic rooms and felt uncomfortable with the unfamiliar approach and lack of communication. We agreed that a registrar maybe a good option but that we would need to plan and discuss the best ways to incorporate this into the clinic to ensure its success.
COVID – all face to face clinics cancelled and consultants moved onto an emergency rota.
Due to our improved communication via the Huddle we were able to adapt to a telephone clinic from the 25th March and introduce some ACP led consultant replacement clinics.
Results
December 2019
100% satisfied with clinic experience on baseline assessment.
Areas for improvement highlighted by parents: car parking, broken elevator in car park, delays in clinic (waiting 5 hours), waiting in clinic for children with sensory processing problems, weighing room is small and unable to weigh or length wheelchair-using  child, delays in clinic.
We highlighted the issues with car parking to the facilities department and fed back issues related to outpatients to the team there.
From a clinic waiting time perspective, improving this is part of our overall aim:
PDSA 1 – Average time in clinic reduced by 29minutes by introducing the Huddle and improving our clinic preparation.
PDSA 2 – Time to get weighed reduced by 50% when we removed the wait for medical notes.
Patients seen 10 minutes sooner (average 22minutes after appointment time). Patients waiting 30minutes less for bloods.
PDSA 3 – Failed to make a difference.
PDSA 4 – improved patient feedback and staff felt this helped to prepare us and added to the huddle discussions as a valuable addition. It meant potential issues were highlighted in advance.
All patients gave positive feedback on their clinic experience
PDSA 5 – families gave positive feedback but did highlight their disappointment at the length of time in clinic and seeing different clinicians.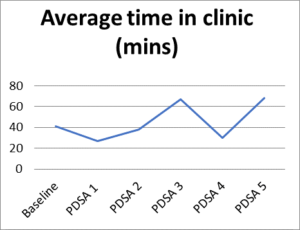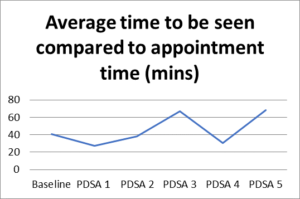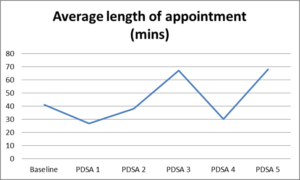 Discussion
PDSA 1 – positive impact on patient experience and staff feel positive about this step
PDSA 2 – This seems to have worked well without negative impact and we will continue this
PDSA 3 – This hasn't worked well so we will discontinue this action
PDSA 4 – This has worked well and we will continue
PDSA 5 – this failed but we are consider how we do this better moving forward
The data so far has been encouraging to staff within the team. The increased communication within the team has been positive and provided a more joined up approach.
We are keen to see the results of agenda setting on clinic time.
The current clinic slots are 30 minutes and 6 patients are seen within a clinic session. The data shows us that on average 2-3 patients take longer than 30 minutes. We plan to adjust the clinic slot times to allow 45 minute slots for new patients, to allow extra time for their complex patients. We will then test to see if this is has an impact on clinic times/results.
We will feedback parental issues re car parking availability and disabled facilities to Sodexo and OPD staff.
Next steps
To introduce agenda setting by introducing a pre-clinic questionnaire to promote agenda setting and collation of relevant data (ketone results/seizure diaries)
Increase new patient clinic slots to 45 minutes
Impact of Covid-19 on our service and team
Different ways of working that were introduced
Our clinics are currently all telephone clinics at present.
We have introduced ACP led consultant replacement clinics due to the changing caseloads/consultant cover and this has worked well.
We have contacted local community teams to arrange blood and urine investigations locally which has ensured we are able to keep patients safe despite not being able to see them.
Face to face clinics will be introduced from July and we have developed a triage system as we are only able to see 4-5 patients per month face to face when previously we have seen a minimum of 12.
Other patients will then be reviewed by telephone or video consultation when this facility is available.
Impact on staff, patients, and families
From a staff point of view. One of the ESNs is shielding, one of the consultants in India, one of the consultants is on a different cover rota, the dietitians are working condensed hours to reduce time in hospital and the remaining ESN also has ward duties.
Because of our increased communication in the huddles and are consideration of different ways of working we have adapted well to the new format of the service. We have communicated well and adapted the service to ensure we continue to provide care and that patients are safe.
Due to the differences in our clinical support the ACP and nurse have been able to cover clinics, this wouldn't have worked so well without the strong communication within the team.
The families are anxious about attending for appointments at present but we have been able to provide telephone contact and have provided additional telephone support for those more complex patients. Families have been happy with the telephone service and their continued support during COVID.
Changes made
We are starting some face to face clinics this week, but we can only have 1/3 of our usual clinic slots as face to face, so we need to continue to provide virtual clinics.
We have developed a triage system for clinics to decide if face to face or virtual clinics are required and this is working well.
We aim to introduce video calls in the next couple of weeks when a platform is agreed by the trust.
We have the same capacity as pre-COVID.
We have developed more electronic resources for KD education and our planning to make some video resources to support patients.
Feedback from staff, patients, and families
Families have been happy with the virtual clinics so far.
Some families have been reluctant to come to face to face sessions due to fear.
From a staff perspective – the improved communication means I always know there is someone there:
We have definitely improved, we are more prepared for clinic and we have better communication with families
Considering the time in clinic is even more important now with the COVID restrictions in OPD
The project has helped us to understand what the delays and problem areas in clinic are
The most important thing is the patients are happy with their care and its good to know this is the case
Team personal reflections and learning
We have worked well as a team.
The Huddles which we introduced following EQIP have been essential to improving communication.
As a team we have successfully worked to continue the service during COVID and we have been successful.
We have been adaptable and worked together and we are all proud of the outcomes we are achieving, even though they aren't exactly the aims we set out with.
What tips/experiences can you share with other teams that describes your paediatric epilepsy service 'new normal'? 
Communication is key, it felt like we were adding a considerable amount of work to our job plan, but it is time well invested as it has improved our interactions with families, made the clinic appointments more useful and we feel we have had less outside of clinic contact although we didn't directly measure this.
Working as a team, acknowledging the different roles in the team and considering how best these can be used to provide the service has enabled us to continue to provide the service within the COVID restrictions.
How do you envision using your Epilepsy12 audit data to inform future QI initiatives?
Once we have a virtual platform for clinics and the structure of face to face clinics is confirmed we will then look to re assess our patient satisfaction.
We need to consider how well the service is working, were the weak points are and then how we could improve on these in the new clinical environment.
This may include a permanent consultant replacement clinic to meet our clinic capacity.
---
Team presentation
Manchester University Hospitals' team presentation at the EQIP celebratory event describing their journey and improvement project based on improving patient experience in outpatient MDT ketogenic diet clinics:
---
Would you like to know more about these projects? If you would like to contact any of these teams about their QI work then please get in touch with the EQIP faculty at eqip@rcpch.ac.uk