Luton and Dunstable University Hospital
Project aim: To develop and implement an integrated care pathway for children admitted to hospital with Seizures in 6 months.
Project aim
To develop and implement an integrated care pathway for children admitted to hospital with Seizures in 6 months.
Background
We (Epilepsy team) had observed that there has been a lack of uniformity in the acute care received by children admitted with suspected epileptic seizures to our paediatric ward, particularly out of normal working hours. The areas that particularly needed improvement were history taking, arranging appropriate investigations, safety advice to parents/patients. Hence, a need for this integrated care pathway was felt by our epilepsy team with the hope that all these children and their carers will receive uniform high quality care every time.
Tests and changes made
Before developing the pathway, we took a survey of parents to objectively assess how they felt about the care received  during admission. As expected, the response suggested inconsistency in the quality of care. Similarly, survey of the nurses and junior doctors suggested that an integrated care pathway of seizures will help them in providing a consistent good care.
The template for the document was kept the same as the acute admission document in our acute Paediatric assessment unit with modifications and additions specific to seizures in children.
As the whole pathway document was taking a long time to develop, mentors at EQIP suggested us to break it into small parts, developing and testing them individually rather than wait for the whole document to develop before testing it. This was a game changing suggestion.
We divided the document into 3 broad sections:
History and examination.
Flow chart for different type of seizures to guide doctors.
Discharge check list for safe discharge.
History and examination
Initial draft was prepared which gave prompts to the history taker to cover important points in a good seizure history. This was tested in our acute admission unit by junior doctors. Their feedback was  to make these prompts less wordy in an easily  readable format and uniform colour. These changes were incorporated and tested again. Changes incorporated were received well. This time the feedback was to increase the physical space for recoding the history for detailed description of each seizure type. These changes were incorporated and tested again. The changes were received well.
Flow chart for different type of seizures to guide doctors
Initial draft prepared for children admitted with different type of seizures. This was tested by junior doctors on patients admitted with seizures. Constructive feedback received which was to make it less wordy, less congested, in a better font size so that it is easier to read. These changes were incorporated and it was tested again. Feedback this time was to make it into a landscape format so that it looks even more spaced out. However, this change wasn't possible to implement as it would have taken more than 2 pages for flow chart to accommodate which wouldn't be ideal. The other feedback received was that it is not that useful for children with known epilepsy as it merely advises them to contact epilepsy team for advice rather than giving suggestion on manipulating their medication. As manipulating medications can be tricky (need to take multiple factors into account by the Epilepsy team), this suggestion was not implementable.
Discharge check list
Initial draft for discharge check list was prepared and tested before the flow chart. This chart was generic for all type of seizures and as it was tested before the flow chart, feedback received was to make it individualized for different type of seizures. This change was incorporated. However, once our flow chart was ready, individual discharge check lists were not needed anymore and it was changed back to generic one and tested again with flow chart. Feedback received from Nurses and doctors. Suggestions were to make it more tidy and in a better format. A column to be added for "Not applicable". Another suggestion was to incorporate a patient discharge check-list to ensure parents are happy with the information and training provided. This was all incorporated and tested again with the whole document. Feedback received. Nurses discharge check list was well received although it was found to be lengthy to fill up in a busy ward. Often, patient discharge check list was forgotten to be filled. Based on this feedback, we have decided to keep raising awareness about these forms to be filled by the nursing staff. We will also see if this check-list can be shortened further without comprising patient safety.
Learnings from this project
When doing a big project, dividing it into smaller parts, developing and testing individual small parts improves efficiency and expedites the process.
On similar lines, taking small steps at a time and setting deadlines for them makes the big project look achievable.
Getting all team members together at one time to sit and work on pathway is a challenge due to various other commitments of members. However, virtual meetings that we have been doing lately, have certainly helped.
Making small changes at a time, testing it again and again, collecting feedback and incorporating them, is crucial to make a sustainable change.
Next steps
Draft for the whole integrated pathway document is ready and being tested. Changes are being incorporated as the feedback is received.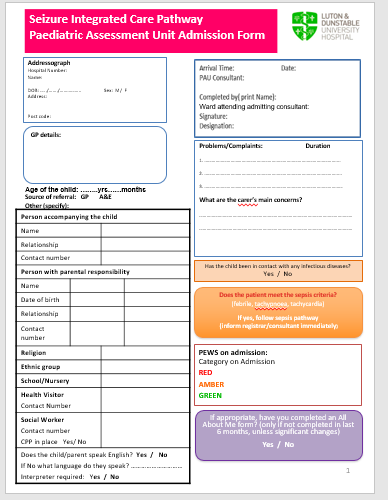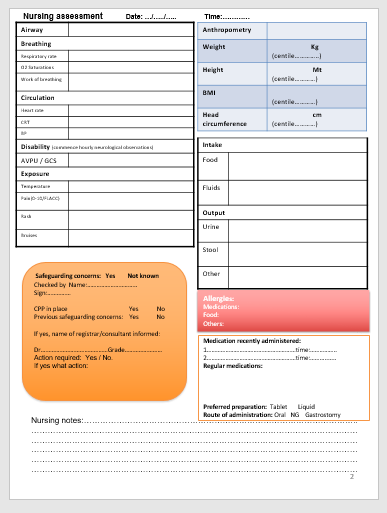 Impact of Covid-19 on our service and team
Different ways of working that were introduced
Telephone clinics.
Wards divided into Red (COVID-19 symptom patients) and green ward.
Use of PPE.
Virtual departmental meetings and teachings.
Work from home where possible.
Impact on staff, patients, and families
Staff had to adapt quickly to new way of working.
Staff shortage on the floor due to isolation and sickness.
Although, virtual clinics have shortcomings with new and complex patients, they worked quite well for straightforward follow up patients.
Impact on parents has been variable. Some finding telephone reviews convenient as well as sufficient, while others not so happy with the lack of physical appointment as it lacked physical examination and face to face discussion.
Changes made
Hot clinics introduced once a week to see patients who needed to be seen physically.
Feedback from staff, patients, and families
It has been a challenge to adapt quickly to new way of working but the excellent team work helped. Most of the patient and families have been understanding of the need to change with the hope that things would move back to previous normalcy in due course.
Team personal reflections and learning
Some of the new practices adopted are quite useful and efficient. They should be continued even when we revert back to old system (things like virtual meetings, work from home with IT enabled services where possible).
Straightforward follow up patients should be given an option of telephone review in future as this will reduce travel, time taken off work, parking woes.
What tips/experiences can you share with other teams that describes your paediatric epilepsy service 'new normal'?
Virtual clinics quite useful for straight-forward new and follow-up patients.
Virtual MDT meetings increases team members participation.
---
Team presentation
Luton and Dunstable University Hospital's team presentation at the EQIP celebratory event describing their journey and improvement project based on developing an integrated care pathway for children and young people admitted with seizures:
---
Would you like to know more about these projects? If you would like to contact any of these teams about their QI work then please get in touch with the EQIP faculty at eqip@rcpch.ac.uk