East Lancashire Hospital NHS Trust
Project aim: To offer transition as a staged approach equitably from 19% to 100% of our patients aged 14 years and over.
Project aim
To offer transition as a staged approach equitably from 19% to 100% of  our patients aged 14 years and over.
Background
We have recently recognised that transition is an area we would also like to develop, we currently do have a clinic with the children's epilepsy nurses and the adult epilepsy nurses but there is no preparation for the young people ahead of this clinic. This is an area we realise is vitally important to equip young people with the skills they require to manage their epilepsy well in adulthood. We would love to learn more about this area and see how EQIP could help us further develop our epilepsy transition service to benefit the young people cared for by ELHT.
The children and young people that are cared for by ELHT were recognised by Epilepsy12 as being in the most deprived in the country; we are striving to ensure that we support our patients in a way that is accessible and equitable to all children, young people and families/carers within our area. We believe with support from EQIP we could develop information packs which will help to support newly diagnosed patients. This is as we believe if we can educate and inform our children, young people and their families/carers to empower to strive and thrive despite their epilepsy.
In summary the team at ELHT would love this opportunity to drive change and improve the service we provide to our patients and their families.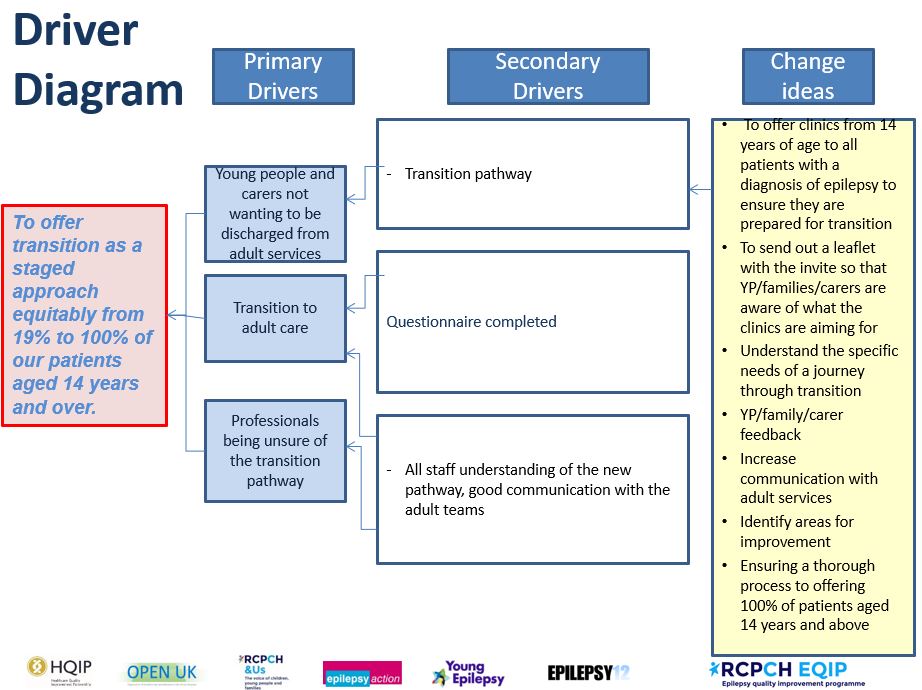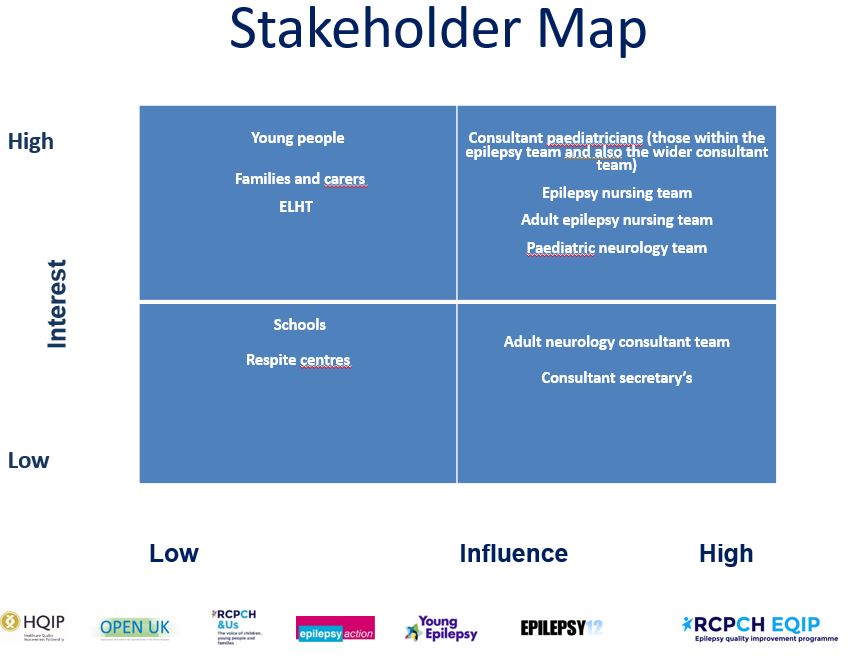 Tests, changes and what was learned in the process
November 2021
5 questionnaire

 to be asked to young people and/or parents where suitable.

 

Questionnaire developed

 
February 2022 
Challenges: staff capacity  & Time restraints- March seems very close now
 Next Steps: Leaflet to be shown to YP at clinics for feedback 
March 2022 
Patient engagement:
Nurse led questionnaire, involvement from a junior doctor who contacted families to fill out questionnaire
Questionnaire asked at clinics and over the phone, 27 families engaged in the questionnaire
Gathered feedback
Analysed suggestions for clinic times, how to deliver clinics and what to discuss
Nursing proforma for clinics created from feedback
Information gathered regarding topics requested to discuss at clinics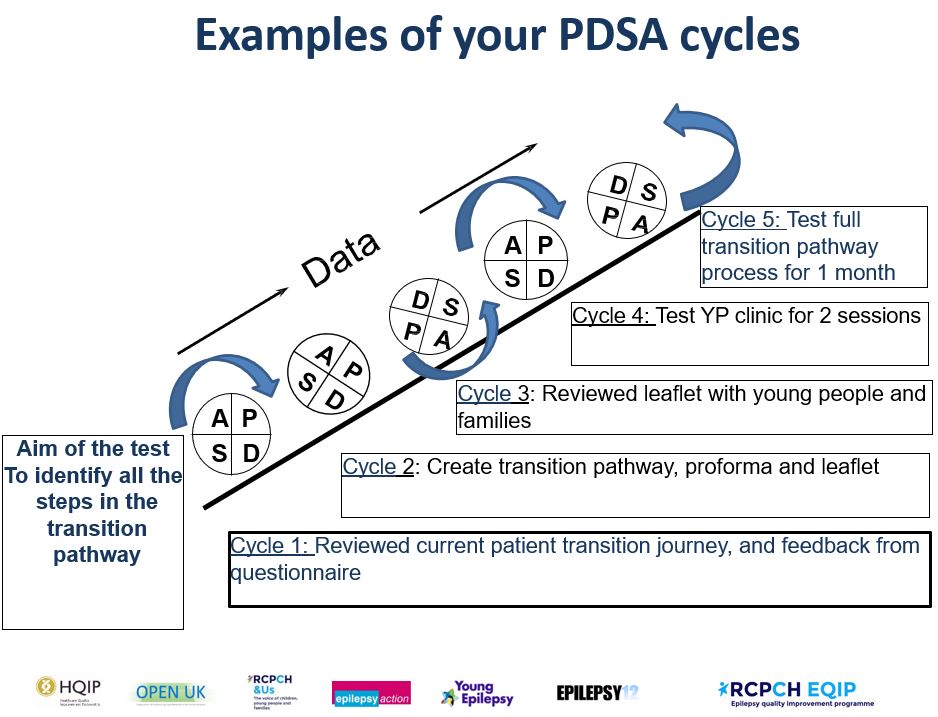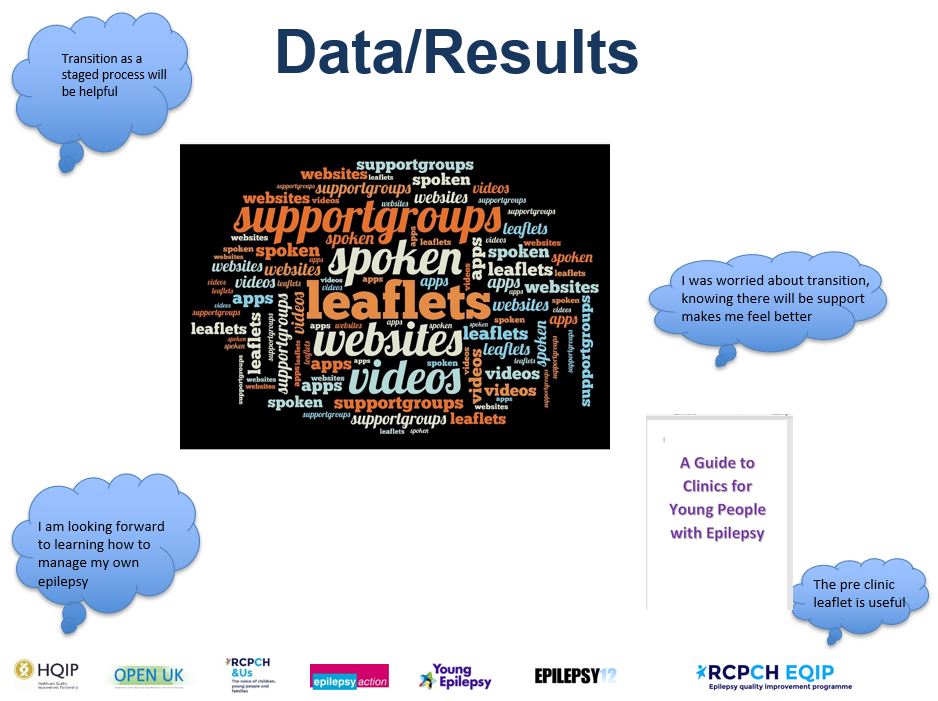 Challenges
Time
Meeting as a full team due to team commitments
Motivation
Ensuring our changes stick and are sustained
Successes
We have engaged with young people, families and carers and have included their suggestions into our proforma
We have created a pathway, proforma and leaflets
We have further developed relationships with the adult epilepsy nursing team
Results
February 2022
Young people would like individual sessions.
Young people would like afternoon/evening clinics.
It is split between virtual and face to face clinics.
Leaflets were preferred – a leaflet has been created.
Nursing proforma for clinic produced to contain the information YP want to know at clinics.
March 2022
We learnt that previously some patients received a good transition service however this was not the case across all our young people, families and carers
We learnt that young people, families and carers are engaged at the thought of a process for transition and learning about independence
Adult services is within a different trust meaning it is difficult to share patient information easily
We learnt that creating this new pathway has created a lot more work, we found we needed to create efficient ways of working
A new way of working is sometimes a challenge to approach and this needs to be delivered well
Next steps
Continue with Young person and transition clinics and review them in 1 year to review their effectiveness
Present our work at the EQIP conference
Continue to learn about young people and transition from relevant training sessions and e-learning to fully equip staff to be able to deliver clinics
Continue to work well as a team and communicate effectively with the wider MDT
---
Would you like to know more about these projects? If you would like to contact any of these teams about their QI work then please get in touch with the EQIP faculty at eqip@rcpch.ac.uk