Doncaster and Bassetlaw Teaching Hospitals NHS Foundation Trust
Project Aim: We aimed to develop a Signposted Information Pack about the children's epilepsy service, by involving the patients and parents in the whole process. The pack would be available both electronically and in printed copies.
Project aim
50% of patients at DBTCH will have Signposted Information Packs about children's epilepsy service by May 2020.
Background
Onset of seizure in children generates extreme anxiety in the whole family, which is augmented by the complex diagnostic path of Epilepsy. Although seizures may be non-epileptic, the general population can have deferent beliefs about convulsion and the enormous amount of information pool on the internet can make them more worried. A Signposted information pack would lighten these concerns and will give the opportunity to the staff to advance communication and working relationships with the patient and families.
We aimed to develop a Signposted Information Pack about the children's epilepsy service, by involving the patients and parents in the whole process. The pack would be available both electronically and in printed copies.
Test, changes and what was learned in the process
December 2019
Cycle 1
On 19th of November, we did our first test by talking to the patient which gave us the following information
No information pack was available locally; the team normally relies on national information sources like Epilepsy action and Epilepsy.org.uk for general information including safety advice to parents and patients. The contact details of the team and signposting of the team is done either verbally or in EHCP.
Ask 2 questions from patients by each member of staff
Based on our first test we asked the patients the following questions
Have you received any written information about service? Yes/No
What information would have helped you? Please list below
Learning from cycle 1
Asking simple and easy questions from patients and parents can improve their confidence about the service provision
Variety of responses received in the answers was interesting, indicating that the ideas and expectations of patients can be completely different from the one what professional envisage
Team members felt more coherent and focused about the task
January 2020
Cycle 2
Completion and analysis of one patient 2 questions survey
Each member of the team has successfully completed their 2 question survey by interacting with a single patient, the results were shared with me by email, WhatsApp and verbal feedback, based on which a chart has been designed.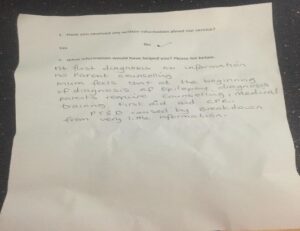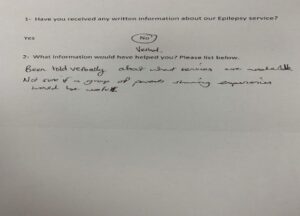 Learning from cycle 2
For quality improvement the style of questions asking has to be tested and tailored with repeated test on the test
Patients and family wanted information about diverse aspect of epilepsy care, ranging from simple questions like what is epilepsy to difficult questions like long term effect of epilepsy on life style and health
Quality improvement is continuous process, which brings out more areas for improvement along the way
February 2020
Next test of change
Pasta poll on patients
Pasta poll on staff
During the first 2 steps of our project we figured out 8 different types/groups of information or advice, which could be included in our proposed information pack. This month was exciting, as the long awaited pasta poll happened. Although we wanted to put forward the options to patients and their families only, one of the team members suggested that we should conduct the polling on staff working on acute admissions as they have to deal with suspected or diagnosed epilepsy patients on regular basis.
We carried out the test in 3 different clinics, a structured instructions leaflet was provided to the family/patient at the start of consultation, they were they given a chance to put 4 pasta pieces on the chart in 4/8 sections. For the staff, the chart was left in coffee room, with 4 different colour star stickers.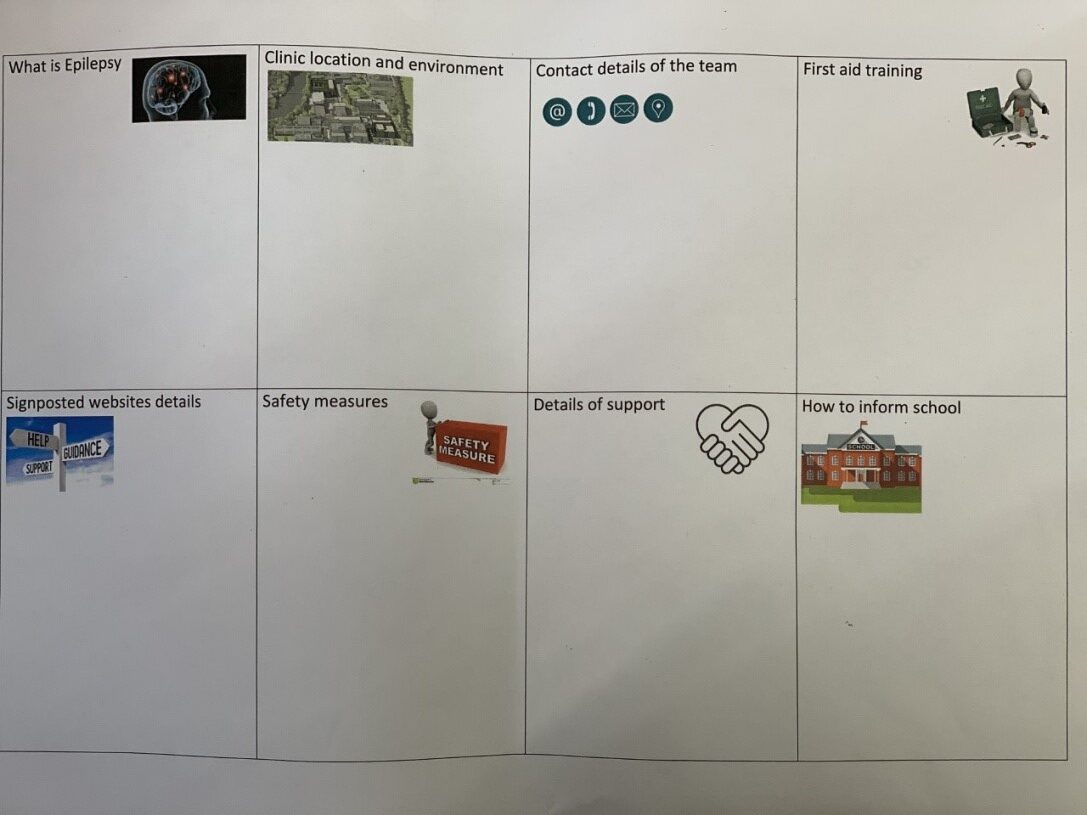 Learning
Pasta poll are entertaining and informative beside giving the ability to participants to express their views
How to organise and narrow down diverse questions that can addressed a systematic manner
Essential character of quality improvement improving the perception and experience of patient and family
March 2020
There was no intervention planned for this month, instead we consolidate the learning from the results of  previous months, as a team we took 3 discrete steps towards our goal this month:
We have developed draft leaflets for our information pack
Started engagement of stakeholders, a presentation was done in the paediatric clinical governance meeting about our project, to get their opinion about where should these information packs will be available. It was suggested that apart from children's out patient, the packs needs to be accessible on the central drive electronically and in printed form on the acute admissions unit. Also, it would be necessary to involve the emergency department, giving them education and details of the project.
Planning how to measure and present our work, the leaflets will be finalised after undergoing trust's protocol for introduction of new leaflets. We complete our QI poster and present in the trust's QI workshops apart from RCPCH EQIP celebration event.
Challenges and retesting
December 2019
Our team consists of multi professional colleagues, which gives us the success of engaging patients at different settings, but the challenge is that not all team members come across epilepsy patients on daily basis. We have decided that as we progress in our project we will allocate different roles to improve the contribution from everyone. Doctors and nurses are more likely to come in direct contact of patients and parents; they will conduct the pasta poll. The allied health professional will be more engaged with designs and data analysis. Although, at the start our project appeared less organized, but we are now feeling more coherent and focused on our goal, because we have developed a structure of our quality improvement project, including how to address the questions, organising further test, analysis and presentation of data.
January 2020
The wish list which comes across from a simple 2 question exercise by taking to parents and patients was unexpectedly non exhaustive, included comments like, how can we get counselling support, how long will be the treatment, will the child be cured completely and what are the prospects of other sibling getting epilepsy. It was perplexing to finalize the results, which we achieved by discussion on the forum a few times apart from face to face meetings. Although, there are lots of opportunities for improvement we had to aim on achievable tasks.
March 2020
We collectively noticed that there was lots of duplicated information in the leaflets, also some crucial information like contact details has to go on each leaflets, there is was a challenge whether we can reduce the number of leaflets to 2 instead of 4, we have concluded that as per our results from the patients' interventions, it is better to keep leaflets 4 of small size, as they serve different themes of information and can be used separately if not together.
The wider audience of paediatric and emergency colleagues was extremely thrilled by our project, they raised questions of where should these leaflet be available, whether the leaflets be provided to suspected epilepsy patients as well, the consensus is that suspected epilepsy patients will get only leaflet of What is Epilepsy and First Aid only, while the diagnosed patients can have all 4 leaflets.
We have discussed among the team members that our measurement will be displayed in the form of process mapping in World Café, we will put the pictures and explain our journey is simple steps.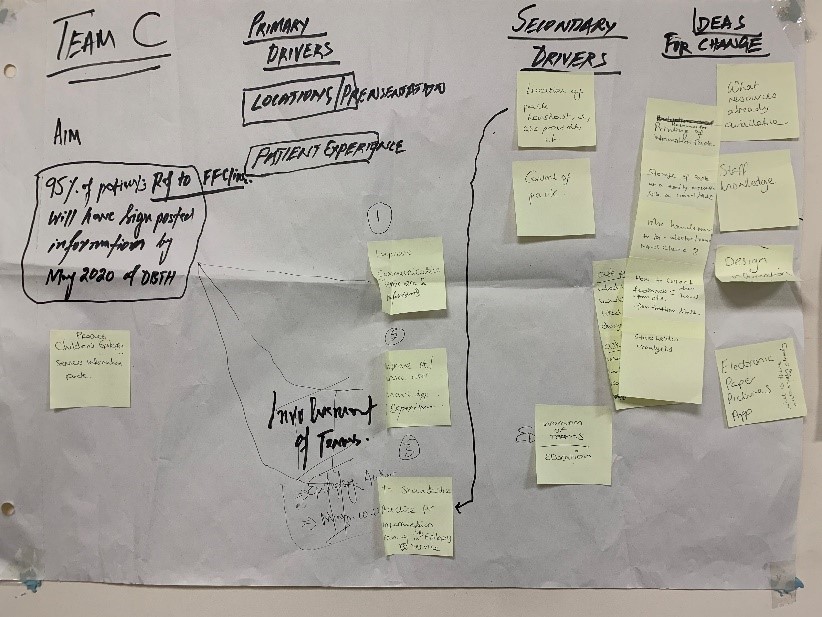 Results
December 2019
We have received a variety of interesting responses from patients;
Don't know what epilepsy is
Would like first aid training
What will happen at the clinic and what questions will be asked
Who will be seeing us in the clinic
Is there any counselling service
Who should we contact if the child's seizures are getting worse
January 2020
Each member of the team has successfully completed their 2 questions survey by interacting with a single patient, the results were shared with me by email, WhatsApp and verbal feedback, based on which a chart has been designed.
February 2020
Patients poll results
| | |
| --- | --- |
| What is Epilepsy – 10 | Clinic location and environment – 4 |
| Contact details of the team – 0 | First aid training – 8 |
| Signposted websites details – 3 | Safety measures – 6 |
| Details of support groups – 8 | How to inform school – 9 |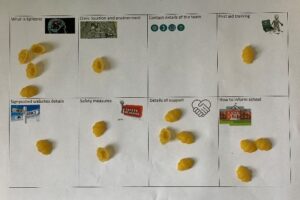 Staff poll results
| | |
| --- | --- |
| What is Epilepsy – 9 | Clinic location and environment – 0 |
| Contact details of the team – 9 | First aid training – 7 |
| Signposted websites details – 1 | Safety measures – 7 |
| Details of support groups – 1 | How to inform school – 2 |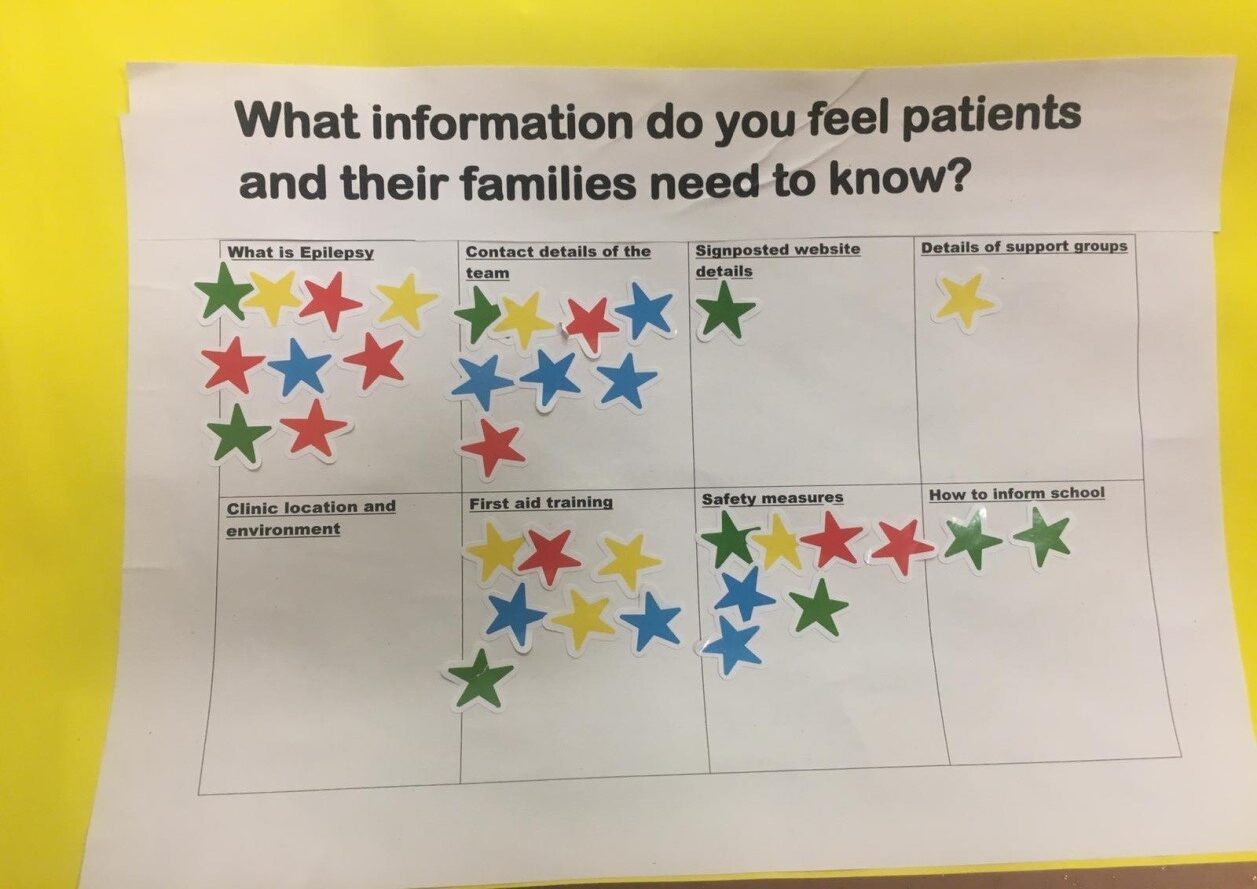 Interesting results particularly if we compare the patients and staff polls. Both staff and patients want to know 'what is epilepsy 'in majority and similarly 'safety measure' advice was asked by both groups. But 'contact details of the team' didn't matter for patients, they were not much interested in 'location of clinic' and 'website details' either. The staff on the other side gave less weightage to 'support groups' and 'information to school', which was overwhelmingly supported but patients, which indicates that sometime, what we feel as professional may not matter for patients and family, they are more interested in their day to day dealing with disease or medical condition.
Our task was then to finalize 4 groups of information which we should include in our information pack, considering the pasta poll results, we have decided on the following four:
What is Epilepsy
First aid training
Details of support groups
How to inform schools
March 2020
Four team members volunteered to develop a leaflet each, 'What is Epilepsy' (see resources list), 'Support available', 'How to inform School' and 'First Aid Training'.  Also, we have started engagement of stakeholders, by presentation of our project to fellow paediatric and emergency department colleagues.
Next steps
Doing further PDSAs on leaflets, reassessing them with patients' involvement prior to finalization and printing
Continuing stakeholder engagement
Completing fishbone diagram of stakeholders
Starting measurement and presentation of project for World Café
Impact of Covid-19 on our service and team
Different ways of working that were introduced
There has been a considerable change in service provision with the progression of pandemic. Around the peak, all out patient activity was on hold but essential and emergency face to face appointments were offered, there was one Emergency Epilepsy clinic per week instead of 3 routine follow up clinics.
Allied health professionals were conducting mostly telephonic consultations. PPE protocols have been introduced as per Trust and PHE guidance.
Impact on staff, patients, and families
There were challenges particularly in follow up of long term patients, communication with families, repeat prescriptions, support to patients and treatment monitoring. The staff sickness and shortages were also issue at the beginning but the team has now reorganised with better role identification. Difficulty to access diagnostics particularly as routine EEG service was suspended.
Changes made
Introduction of telephonic consultations and virtual clinics, our physiotherapy colleagues are using AccurRx and the medics are using Doctor-Doctor software for the virtual consultations, the trust has introduced education packages for introduction to the new technology. Also, all the employees are now using MS team for learning and team meetings on almost daily basis, which has provided opportunity to work from home on some days to most of the staff.
Feedback from staff, patients, and families
There are still many unanswered questions about what will be the new normal, but the teams has now discussions in consultation with wider trust community and involvement of patients and family, how to plan ahead, so that an effective service is maintained with continuous quality improvement.
Team personal reflections and learning
Although a difficult and challenging time, support and planning has kept the lives and care under control, new skills have been learn which will have ever lasting effect on the way we practice and look after our patients.
What tips/experiences can you share with other teams that describe your paediatric epilepsy service 'new normal'? 
To expand the patient involvement by introduction of electronic feedback loops, although designing that would need efforts to ensure that patient's confidentiality and data is protected all the time.
How do you envision using your Epilepsy12 audit data to inform future QI initiatives?
It provides an overview of the service with benchmarked data, giving specific objectives for the local team, which can be utilised to shape quality improvement projects and as whole improve the patient care and experience.
---
Team presentation
Doncaster and Bassetlaw Teaching Hospitals' team presentation at the EQIP celebratory event describing their journey and improvement project to provide 50% of their patients and families with signposted information packs about the epilepsy service:
---
Would you like to know more about these projects? If you would like to contact any of these teams about their QI work then please get in touch with the EQIP faculty at eqip@rcpch.ac.uk