Croydon Health Service NHS Trust
To improve and adapt the transition and information sharing process for the children and young people with epilepsy in Croydon by March 2022.

Project aim
To improve and adapt the transition and information sharing process for the children and young people with epilepsy in Croydon by March 2022.
Background
The borough of Croydon has the highest number of children in London, with over 260 children registered with epilepsy within their service. Its been identified that the Croydon population is diverse ethnically and culturally, with clear areas of need and social deprivation.  Therefore, a focused analysis of possible areas and improvement using QI methodology would be useful in ensuring the change meets our population needs and aspirations.
Epilepsy12 Audit data has identified that families and children with epilepsy's understanding of transition is poor.
Families & Children and young people CYP) with epilepsy felt that their understanding of the transition service in Croydon was poor. The Epilepsy12 data reported that the CYP and their families felt that they did not know enough about the transition process.
In most community children services, the transition service standard is to start the transitioning to adult services from the age of 18. However, within (Croydon) Hospital settings, the transition into adult epilepsy services can start from as early as 14 years old-16 years old. This is to ensure that the patients are transitioning to adult services by 17 at the latest. This could mean that from approximately 14 years of age, the children may be informed that they will be transitioning to adult services soon, which can bring on additional anxieties to the CYP, families & carers involved.
The current transition process within Croydon Health Services NHS Trust causes confusion for the CYP & families as the acute services and community service has different standards for transition.
The team during the project consisted of one paediatric  consultant, a paediatric epilepsy nurse specialist & a paediatric registrar. Croydon's role as an integrated service between acute and community allows the team to work closely with other stakeholders including education sector, social care & the wider MDT team.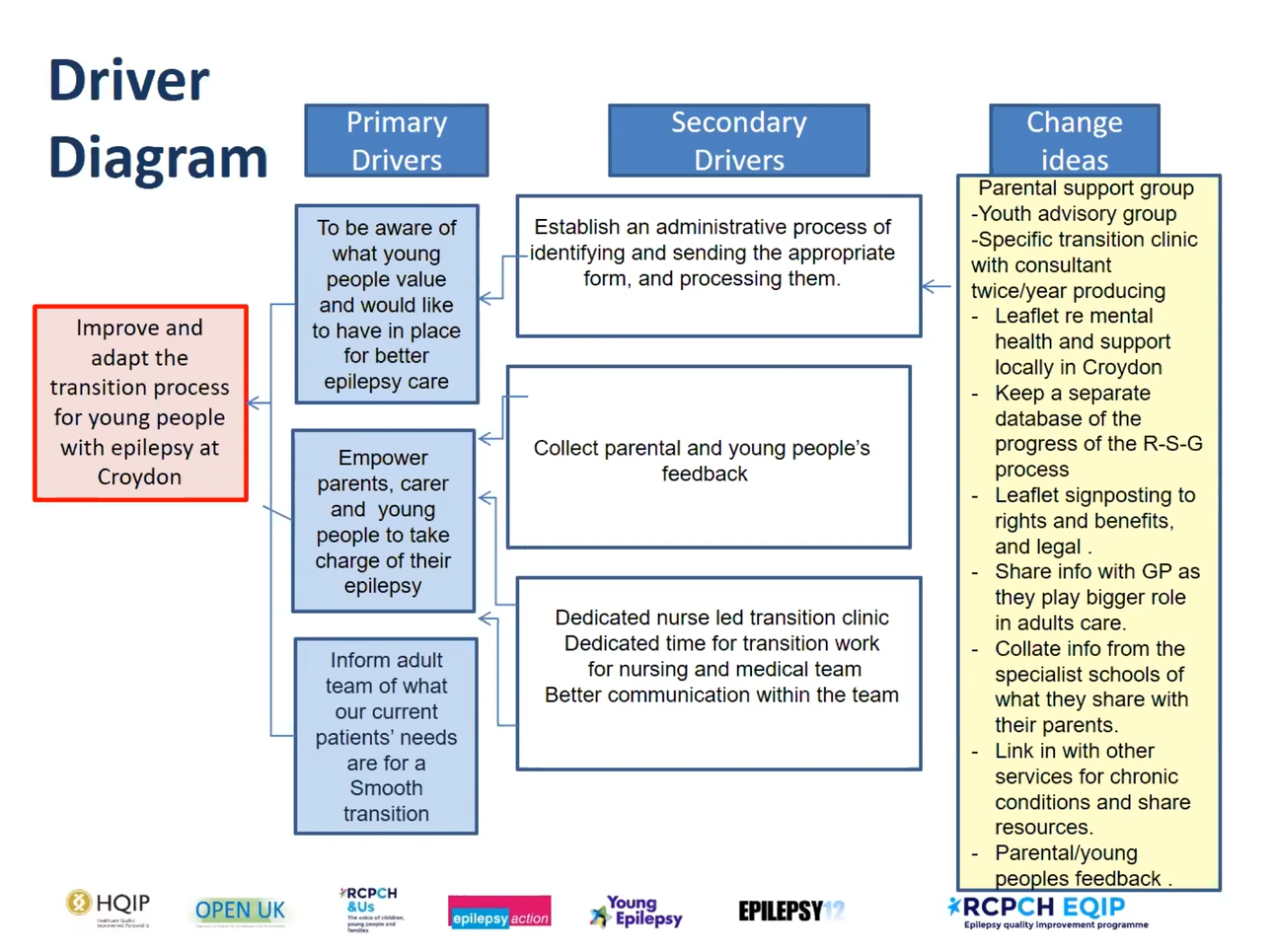 Tests, changes and what was learned in the process
September/October 2021
Croydon's primary drivers demonstrated a proactive patient engagement approach, and aimed to incorporate feedback from the CYP, families and carers to create useful tools that would empower them with the knowledge of transitioning from child to adult epilepsy services.
The initial aim was to gather as much feedback as possible from CYP & families to decide what and how it would be best to create a useful resource for CYP with epilepsy.
To gather that feedback from patients & their families, Croydon initially decided to create a RSG (Ready, steady go) questionnaire via Google forms, and initially aimed to provide a link for the families to access and complete the questionnaire.
The team created the questionnaire during their own time, and found it very quick and easy to create a questionnaire via google Docs. However, Google Docs was not compatible with NHS computer systems, so the team we're unable to access it from their Trust.
The team decided to manually send the questionnaires out to the families via email, however there was minimal response rate and the process to gather the feedback was time consuming. From the 19 RSG questionnaires that were emailed/posted, only 8 responses were received.
Patient  journey
Mainstream school:
Hit 16 year soon
Informed in paeds clinic about transition to adult clinic
Tell them adult neuro name
Based at CUH
Seen together with paeds doctor only once
Will have f/u but if seen in clinic then will be discharged.
Set up
4 yearly joint adult neurologist and paediatrician clinics
Dates all set for the year
Long letter with medical details and history of AEDs
No in on general practical advice given
No indication if SUDEP discussed.
November 2021
Identified all children over 14 years of age from our current epilepsy database- there 33 so far,

Order of priorities are : 16 yrs olds, then 15-year-olds, then 14-year-old,

Identified eight children who have already been transitioned to adult services or discharged for other reasons so they were removed from the list. Now total is 25 children and young people.

 
Patient and Parent Engagement 
Send the rest of the questionnaires within the next 2 weeks- time identified.

 

Analyse questionnaires received so far

 

Families with imminent clinic appointments will be reminded to bring it with them via email or text.

 

Gather information young people and their families have indicated they want to know e.g local service .. etc.

 

Identify and ring fence a time to undertake transition information feedback to the family and young people. – possible evening telephone /video clinics.

 

Explanation letter detailing what we are asking the families to do / purpose of RSD process was produced.

 

Called the emailed all 16-year-old and 15 year old families to explain RSD process and sent questionnaire with their preferred method. Sent 12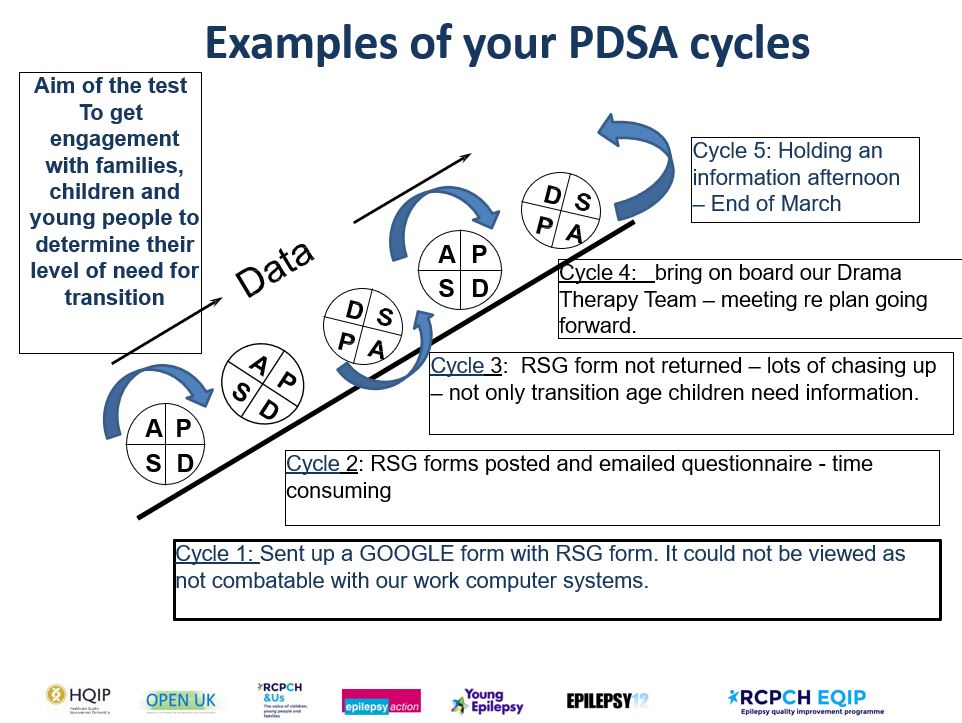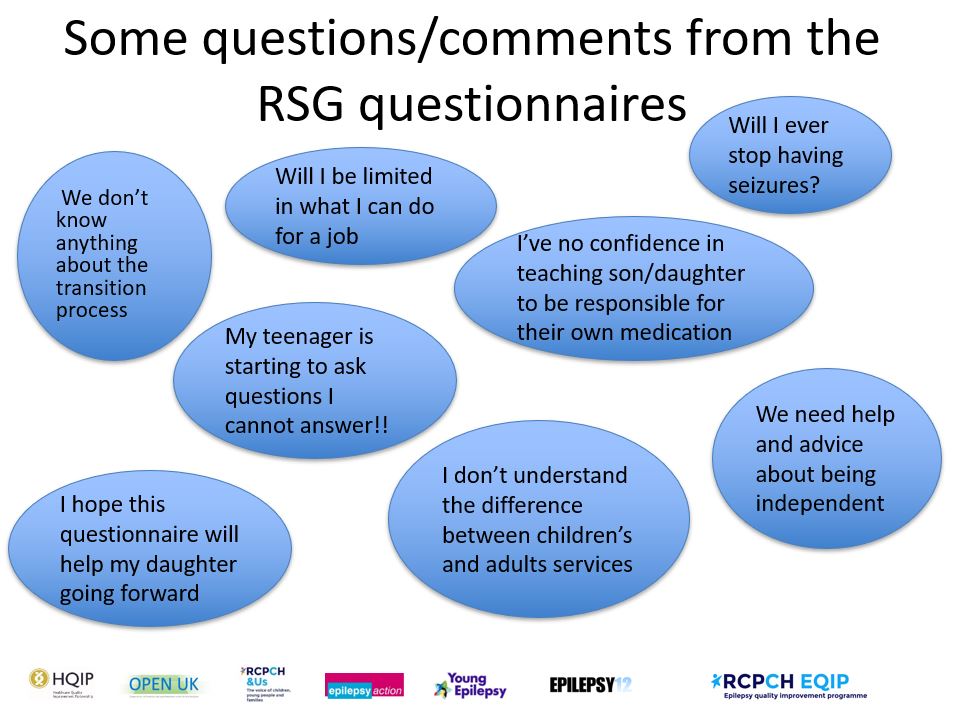 Challenges
Not all well known to current paediatrician
SUDEP discussion not always clear if been had.
No discussion regarding schooling/practical life advice
Knowledge regarding rights and supports they are entitled to.
Parents/ young people not ready to be transitioned ?
Worry about going to see someone new
No time to explore these worries especially in children with complex needs—we don't know what they are thinking or what they need to know.
Limited time to discuss things in clinic. Might need longer time to discuss and sign post them to info
Parental education level and multicultural area size fits all approach not sufficient
High level of LD and complex children in our cohort
We don't know what they don't know or what they would like to know (both parents and young people).
No feedback before/after clinic
LD patients are entitled to yearly GP reviews from age 13 years.
Summary of challenges
Different timing of transition
We don't know what parents/children know/don't know and what hey want to know
Different needs in Croydon pop- adapt process
Cohort with high disability/ culturally diverse background
Lack of time in consultant clinic.
Lack of structure/ knowledge for transition
Successes
Opening discussions with families
Children, young people and Families engagement – they want information.
Families acknowledgement that things are improving in Croydon – (but we still have more to do).
Families feel they are being listened to
Working with other teams in the trust. – Drama therapy team, adult Epilepsy team.
Results
Questionnaires were time consuming 

We thought this was going to be an easy and straight forward project to do with a questionnaire.
Very easy to make up a Google questionnaire form.
Technology failed us.
Google form set up from home but our work computers were not compatible.
Sent out by post and email – this is extremely time consuming.
Some parents very engaging – others not so much.
Questionnaires take up lots of time for little reward/answers.
Who is involved? – Parents and young teenagers age 14 and above both – mainstream and children with Learning needs in special schools.
How did we involve them? – By introducing the RSG questionnaire.
What did you change as a result of engagement? – We needed to change the way we shared information.
What feedback did you receive? – Very little from questionnaire's.
Next steps
The Trust aim to hold information sharing afternoons for all school age children
Croydon have created an abundance of epilepsy transition leaflets and information packs for different ages groups and for families and carers to empower the CYP with epilepsy, and their families to have a clear understanding of their condition, and to take ownership for their health.
Croydon aims to hold transition clinics to answer all families and young peoples questions
We are holding an information sharing afternoon for all school age children
We have put together lots of information packs/leaflets for different age groups
We will start holding transition clinics to answer all families and young peoples questions – to get them ready for moving on
We will constantly look to improve our systems of working together with our families and CYP.
---
Would you like to know more about these projects? If you would like to contact any of these teams about their QI work then please get in touch with the EQIP faculty at eqip@rcpch.ac.uk