Royal United Hospitals Bath
Project aim: To develop and implement a pathway for first paroxysmal events allowing review by paediatricians with special interest in epilepsy. We aim that 90% of new epilepsy referrals will be seen within epilepsy clinic within 6 weeks (and 50% within 2 weeks)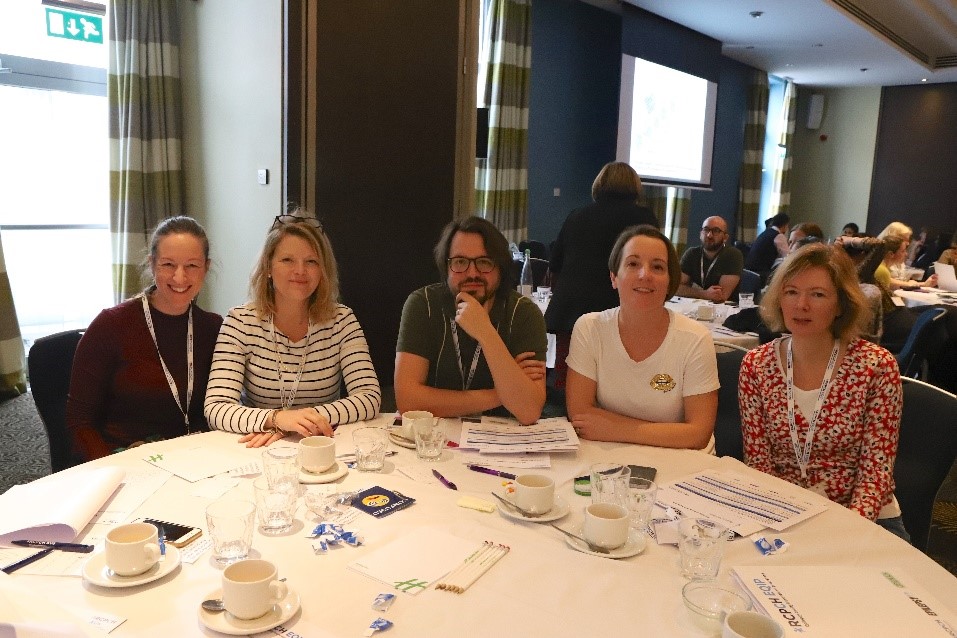 Project aim
To develop and implement a pathway for first paroxysmal events allowing review by paediatricians with special interest in epilepsy.
We aim that 90% of new epilepsy referrals will be seen within epilepsy clinic within 6 weeks (and 50% within 2 weeks) by May 2020.
Background
The nature of epilepsy means that it can be difficult to diagnose accurately. The joint epilepsy council (2011) reported that up to 40% of children that are referred to a tertiary epilepsy clinic do not have epilepsy. We also know that optimal management of epilepsy improves health outcomes and can help to minimise other, often detrimental, impacts on social, educational and employment activity. For this reason, a quality standard for epilepsy care, is that children and young people with epilepsy are seen by an epilepsy specialist and that children and young people presenting with a first unprovoked seizure are seen by a specialist in the management of the epilepsies within 2 weeks of presentation.
We work as part of a diverse consultant team with a range of special interests. This includes epilepsy specialists who hold clinics jointly with an epilepsy nurse. All patients with epilepsy are not necessarily seen within this service however, leading to a disparity in the quality of care provided to children and young people with epilepsy. In addition, new referrals for possible epilepsy could be triaged by any one of the consultant team and subsequently allocated an appointment in any clinic with a space, again contributing to inconsistency in the service received. As the Epilepsy 12 audit was completed for cohort 1, it became clear this lack of consistency was impacting on the quality of patient care.
The process map below shows the patient pathway before we embarked on EQIP. I think you can see why we chose this as a starting point for our epilepsy quality improvement!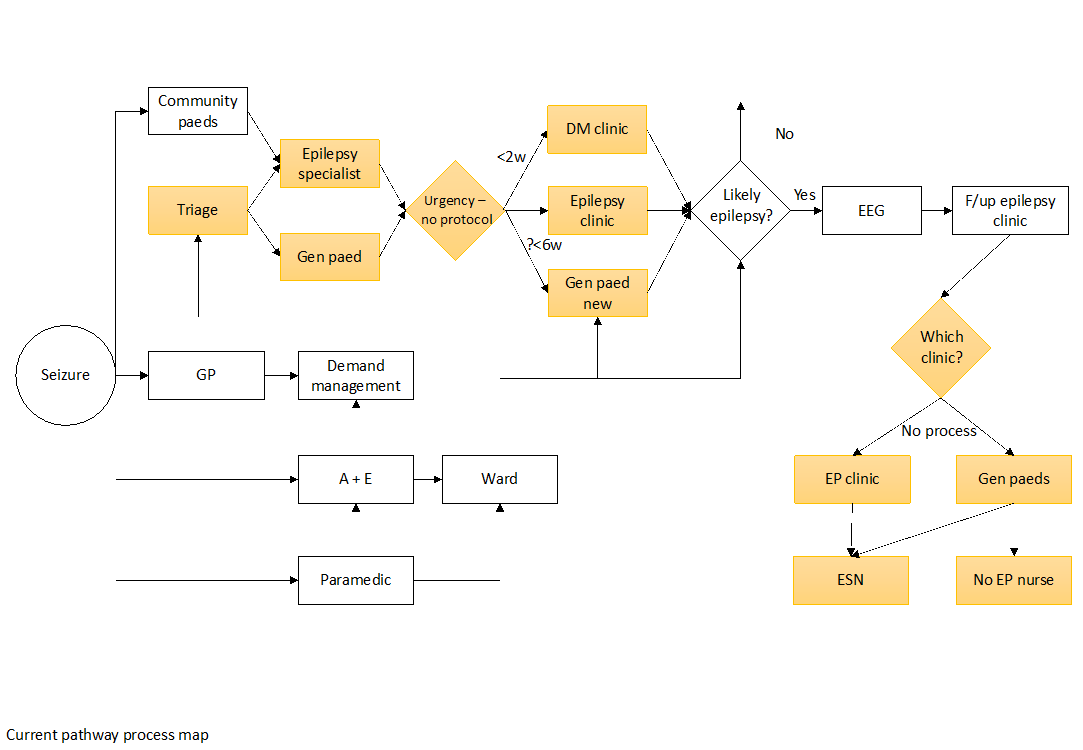 Tests, changes and what was learned in the process
December 2019
Will "Patient Story" help win "buy-in" of consultant colleagues?
As noted above, epilepsy patients are seen by all our consultant colleagues. Whilst many are delighted at the thought of the epilepsy team taking over the care of this patient cohort, some were reluctant to "hand over their patients" – we felt we needed to showcase some patient stories (identified by completing Epilepsy12) where transferring care from a general paediatric clinic (with a non epilepsy specialist) to the epilepsy service had made a difference to the patient pathway – this turned out to be quite a successful approach and so we felt able to progress with working on a new process map.
Process map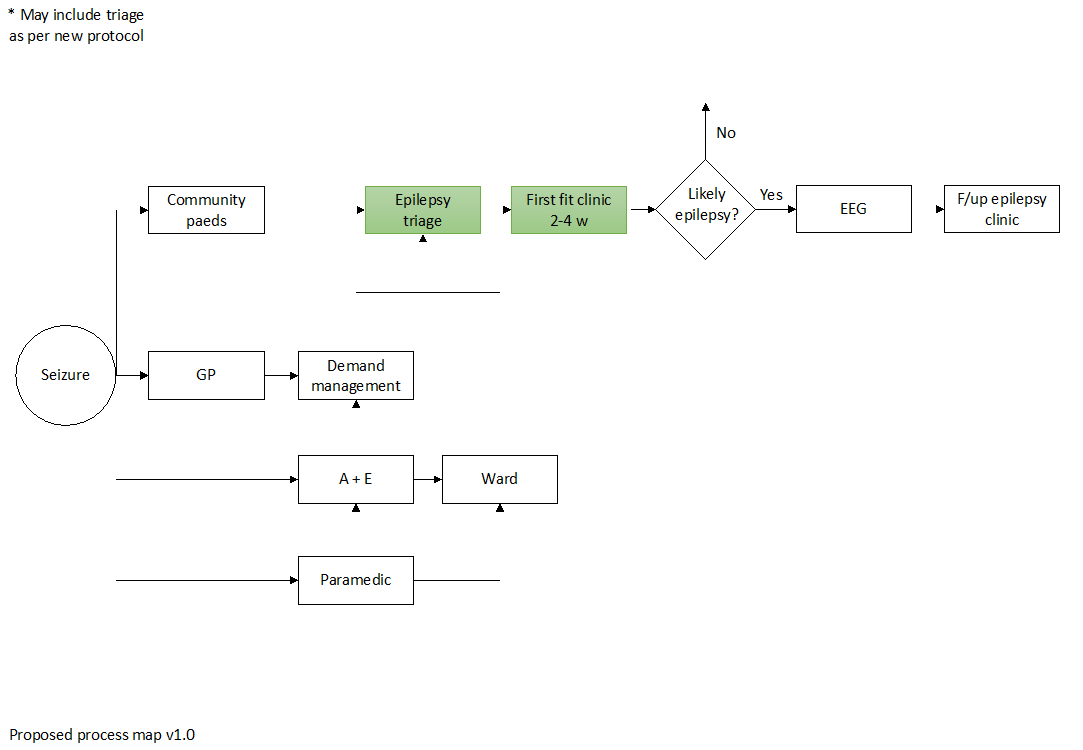 After our initial success selling our aim to colleagues, we presented a before and after process map as a way of cementing this as a good idea. The process maps were difficult to argue with meaning we had successfully brought all our colleagues on board with our QI project.
We explored ways to capture data… turns out we don't code our outpatients so there is no easy way to obtain baseline data – we used the Epilepsy12 audit as a way to capture data before our intervention.
We had to estimate demand for new epilepsy clinic slots – we anticipated that we would need 7-9 new epilepsy slots/month – this was obtained from our local referral database (DM spreadsheet) and Epilepsy12 combined: DM spreadsheet estimated 9.4 referrals/months and 7.6 referrals/month from Epilepsy12 (note slightly more complex to obtain clean data as new patient slots can also be occupied by new referrals into the service where epilepsy is not new plus ward referrals/follow up might not make it onto either DM spreadsheet or Epilepsy12).
January 2020
Epilepsy12 audit was presented at governance meeting to facilitate discussion regarding establishing the "first fit" pathway – governance meeting has a wider audience than just consultant body including trust audit and governance team members – way of raising the profile of the epilepsy service and the EQIP project to the rest of the department and beyond which will hopefully allow us greater autonomy to develop service and potentially access additional admin support (longer term).
Extracting data from Epilepsy 12 to ensure data drives service development. Revisions to the process map across Jan and Feb have allowed a new way to capture data in a more unified way – unintended consequence).
Refined the process in terms of step between DM and triage to include epilepsy triage with development of an epilepsy email to facilitate specialist triage of referrals.
Lots to think about in terms of responsibility for triaging.
How can we add in ESN to the pathway at an earlier point (got this idea from one of the other EQIP groups).
February 2020
Current and revised process map for first fit discussed at governance meeting. New process signed off and we could therefore officially get up and running.
Pilot feedback tool developed – awaiting colleague review before rolling this out and putting into practice. We aimed to have captured 10 patients/10 parents by end of QI project – this process did not go any further as a result of COVID but instead went in another direction (see COVID section below).
ESN call to families ahead of clinic for some specific pre-identified patients. This was added in to the process after hearing work done by another EQIP team. Not only did we feel we were offering a more specialised service for families at an earlier point in their journey, the addition of this step allowed for further stratification of appointment urgency, meant we could start some of the processes often initiated in first clinic earlier eg requesting videos of an event, need for EEG ahead of clinic (this was rarely done before COVID but pathway has evolved under new circumstances – see COVID section) – ESN phone call to new patients also went through a series of changes with the call agenda being tweaked as we "tested" the most suitable topics to cover and the most suitable order.
This detail needs to be added to the process map mentioned above – need to collect data from this aspect.
March 2020
Epilepsy email:
Realised we hadn't been capturing outcomes of triage by epilepsy team – developed a system of ordering triaged emails by sorting into folders for later data capture
Colleagues needed clarity on which patients to email us – need for SOP for "first fit pathway" identified – drafted SOP in process (started April 2020)
Peer review of referrals to ensure we were processing referrals in a similar way and providing consistency
Process streamlined after initial time taken to evaluate outcome of series of tests – the process map reflects these changes:
Triage process from 'referral into a common pool' to 'diverting to epilepsy triage' – learning came from triaging a few referrals and identifying where the pathway was unclear or data not captured or there was confusion as to the correct process
ESN phone call to family – added in with refinement of checklist after calling a few families and improving each time
Telephone consultations were initiated due to COVID.
Review of epilepsy waiting list to ensure safety of patients on to be scheduled list.
April 2020
Development of epilepsy resources:
Mental Health/Education/Behaviour/Sleep
Collection of resources pooled to write a booklet for CYP and families – all have gone through patient experience and have green light to distribute
Trust paediatric epilepsy webpage development (feedback box and link to formal feedback questionnaire built in)
Virtual consultations – the first attempt was a complete disaster but thankfully we were only trying it for 2 patients – plenty of learning! We have subsequently developed a system to allow for smooth running of an epilepsy clinic via virtual interface with everything running to time and even dictation completed after each patient.
Outpatient feedback questionnaire developed – still under way.
First afebrile seizure (in house) referral proforma developed – this came via a request from ED in a time of rapid turn around of patients safe to be discharged and an organisation aim to limit hospital footfall in the context of COVID – this is now live although we are yet to receive a referral via this route so have not been able to evaluate effectiveness.
Challenges and Retesting
Lack of accurate coded data regarding potential demand for service – data is not captured by the trust so we have had to be inventive to find the data – also we have had to do all this ourselves as no one in the trust is able to help because there is currently no system for coding in outpatients – this emphasized to us how important data capture was going forward so we can capture how we are doing and where we need to improve in the future
Time capacity for epilepsy nurse – we are adding in another role for her when she already does not have enough time for existing tasks
Room capacity for outpatients – this is a massive challenge
Geography of patient cohort – RUH serves a very rural population with patients travelling up to an hour to reach the hospital – we have a system of "patch consultants" who run clinics in the community but al epilepsy clinics are centralised at RUH meaning patients have to come to RUH to have the epilepsy service
Carving out time for EQIP – this was a real challenge over winter and then by February, everything became about COVID
Extracting data from Epilepsy12 is time consuming (we have recruited someone else to the team to facilitate this)
Patients being referred from so many different sources – reviewing process map has really helped identify all routes into the service with the aim of eventually streamlining this process via PDSA cycle method
Results
December 2019
"Patient Story" won buy-in from several consultant colleagues – we had a number of stories to demonstrate different learning points that those unfamiliar with most up to date epilepsy care may not be aware of. By making this about patients, this brought a different and powerful dimension to discussion and made it easier for colleagues to reflect on how the service is run pre-EQIP and how it could look different – definitely this was more effective than data in terms of persuading colleagues change was necessary. This tool has been effective in other circumstances so we were drawing on this learning.
Coding data to estimate demand for new epilepsy clinic slots failed as trust does not collect any diagnosis coding data for outpatients. However, met with data team at RUH and process map, stakeholder map and driver diagram completed in principle, but remains a work in progress at all times. Given this is not going to change any time soon, we have developed some "cheat" methods for capturing our data via email as well as colour coding the possible epilepsy patients of our referral database.
January 2020
Presenting Epilepsy 12 audit at governance meeting to facilitate discussion re: establishing "first fit" pathway.
Current and revised process map for first fit discussed at governance meeting largely successful. In this instance success meant getting buy in to go ahead with the EQIP aim we had developed – at this stage, this was all we needed.
Extracting data from Epilepsy12 to ensure data drives service development – more complicated than first thought! We have had to be more inventive about ways to capture data! See notes above to see what we did.
February 2020
Current and revised process map for first fit discussed at governance meeting. Lots of ideas generated by others to help streamline the Epilepsyp12 completion (need for admin support, everyone to complete their own patients etc). Process map has been through a number of revisions. Included development of an email to facilitate communication and streamline – process still in evolution as testing the process map has identified a number of different issues including a referral process which had not been thought about in enough detail to have been incorporated.
March 2020
Pathway from initial referral to epilepsy clinic up and running:
53 referrals in 6 months (in keeping with estimated 8 per month as per previous)
15 from GP
7 from community
15 at least from ward / ED
Acute referrals:
Vast majority within 6 weeks, and 11 (57%) within 2 weeks.
Of the 8 patients who waited > 2 weeks, 5/8 had ENS contact within 2 weeks. Of the 3 that did not, one was not a new epilepsy patient, and they were given contact details for the ENS
Shortest wait – 1 day
Longest wait – 3 months
Qualitatively – duration of wait matched severity of concerns well (i.e. those who waited longer were less likely to be seizures, longest wait for new GTCS 3 weeks and contacted within 2 weeks by ENS).
Telephone Consultations – 1 test done so far for a follow up patient
April 2020
Majority of patients are now managed via virtual consultation (Visionable)
First afebrile seizure referral proforma is now live – first referral using this tool awaited
RUH Paeds Epilepsy web page almost ready to go live with pooling of all resources to one location
Feedback tool imbedded – outcome of feedback awaited
Formal out patient experience questionnaires almost ready to go live
EEG info leaflet for children almost completed
Next steps
Re-evaluate available data using Epilepsy12 plus local database and convert to clinic capacity evaluation and new clinic template draft
Liaise with others across network to potentially make use of tried and tested pathways for first fit clinic and beyond
Formalise Support Guides for mental health, education, behaviour, sleep via Patient Experience team/governance team etc and add to pooled resources on webpage – almost done!
Test feedback tool
Need to evaluate the data for the few patients who have gone through the new process map and compare to pre-EQIP process
Need to find those epilepsy patients we are missing that have bypassed the new triage process – these are most likely to have gone via the ward
Expand our virtual clinics to allow YP to join from school to lessen impact on education
Present our work to the department
Impact of Covid-19 on our service and team
Different ways of working that were introduced
Reorganisation of rota meant focus on cute care at expense of out patient cohort – i.e. juniors lost to support adult services so consultants had to fill registrar shifts and cover nights etc.
Unable to identify time for service development projects as all focus on COVID planning.
Inevitable knock on effect on clinics which had to be cancelled. Therefore TBS follow up lists evaluated to clarify timing and urgency of follow up as well as identifying which children needed f2f and who could be managed by phone/virtual consultation.
Rapid introduction of virtual consultations which is the way the majority of clinics now run – all clinic lists evaluated in advance to identify the few patients that need to attend for face-to-face.
Investigations for more complex patients put on hold, in particular GA MRIs for non urgent cases postponed indefinitely – facilitated greater discussion with radiologists to ensure the right children were being scanned urgently and those that could safely wait were doing so.
Epilepsy clinician review of all pending EEGs to triage urgency and clarify those that should attend and those that could wait for lockdown to be lifted.
Outreach service from tertiary neurologist no longer taking place – clinic re-imagined : patient story and results of investigations discussed, video of patient watched by local and outreach tertiary neurologist, plan made and patient/family telephoned and informed of outcome – concern that this model is not sustainable and outreach clinic needs reinstating as soon as possible to limit impact of patient care.
Consideration for "one stop shop" i.e. virtual consultation and decision for further investigations made then patient attends for EEG/ECG/bloods/face-to-face all on same day to limit hospital attendance – we have done this for 3 patients.
Consideration given for epilepsy care in BANU – i.e. parent at home/young person at school/doctor and ESN at hospital/home all linked to virtual consultation – limit impact of OPD on time away from work/school.
COVID has enabled a prompt EEG service with a quick report turn around so thinking about "protected" slots and practicalities of this with resumption of routine clinics.
Impact on staff, patients, and families
Anxiety and general pressure on team significantly increased – external pressures also playing a part with concerns for unwell/elderly relatives, home schooling, social isolation etc.
Many families reluctant to attend hospital.
Parents unwilling to wean or commence new AED during COVID in case precipitated hospital attendance.
Many families have said how much better virtual clinics are than coming to the hospital – this has been particularly the case for children with complex neurodisability.
Latterly some additional headspace to facilitate a lot of EQIP work particularly regarding resources, proformas, SOP, web page, feedback tools etc.
Changes made
New (specialist) triaging process for new possible epilepsy patients
All new possible epilepsy patients now being seen in epilepsy clinics (we think!)
New in house referral form for first afebrile seizures
New SOP for first fit pathway
Introduction of ESN phone call ahead of clinic review for majority of patients
New patient/family guides for common comorbidities written (mental health/behaviour/education/sleep)
New RUH Paeds Epilepsy Web page developed to allow all resources to be easily located in one place
NPF staff joined the team to support Epilepsy12
Feedback from staff, patients, and families
Colleagues have been very positive about the amount of work that the team has achieved in a short space of time.
Feedback form families has been positive in terms of virtual clinics.
Formal feedback is awaited.
Team personal reflections and learning
November was a challenging time to start process as entering winter pressures – COVID added to limitation in time for EQIP.
Generally difficult to carve out time – learning from COVID re: virtual meetings would mean that we could be more efficient and set aside team meetings even when we are not all  able to meet face-to-face.
EQIP was a catalyst for change and brought individuals together as a team. Monthly calls brought focus and the deadline made us get on and do things – an opportunity to build relationships and improve joint working.
An opportunity to critically assess processes and service with access to tools and strategies that were new. Providing a more evidence-based and measurable approach.
An opportunity to recognise good practice and compare with other teams doing the same kind of work. Also to learn from other teams and share best practice.
What tips/experiences can you share with other teams that describes your paediatric epilepsy service 'new normal'? 
Start small and go from there
Take the opportunities to make change where they exist for example, while everyone is thinking about a global pandemic, write a SOP and formalise it!
Take the time to think about the finer details of any process as sometimes this is where things fall down – testing any new process will identify issues hence why there is no pressure to come up with the perfect process from the off. It has to be a process of evaluation and learning
How do you envision using your Epilepsy12 audit data to inform future QI initiatives?
If we can work out how to extract the data in a timely fashion, it will show us how our service has evolved over time to meet quality standards in epilepsy care.
---
Team presentations
Dr Eve Bassett, Consultant Paediatrician with interest in Epilepsy & Neurology at Royal United Hospitals Bath NHS Foundation Trust shares their EQIP team journey.
Royal United Hospitals Bath's team presentation for the EQIP celebratory event describing their journey and improvement project based on developing and implementing a pathway for patients with first seizure events:
---
Would you like to know more about these projects? If you would like to contact any of these teams about their QI work then please get in touch with the EQIP faculty at eqip@rcpch.ac.uk