Aneurin Bevan University Health Board
Project aim: 90% of all 14-16 year old young with epilepsy will have been sent 'Ready, Steady, Go' forms by May 2020.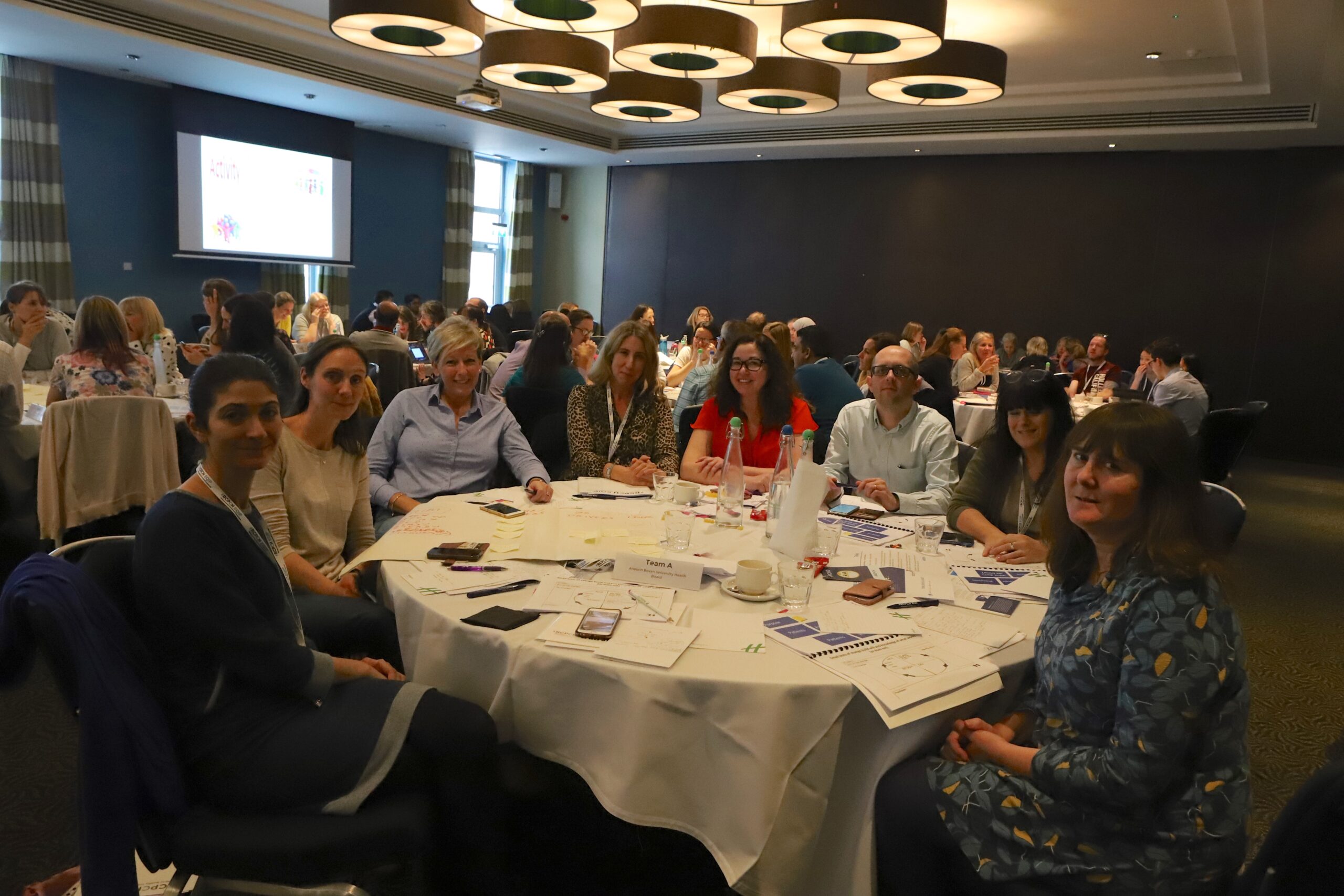 Project aim
90% of all 14-16 year old young with epilepsy will have been sent 'Ready, Steady, Go' forms by May 2020.
Background
Up to March 2020, paediatric patients with a diagnosis of Epilepsy reaching the transition stage from paediatric services to adult neurology, were simply been offered one joint "handover clinic". The patients and their families had little or no preparation at all for this transition. Likewise, there was little preparation by clinicians for what issues where to be discussed. An urgent need for facilitating this and improving the transition of our patients to adult neurology services, was identified by both teams.
The widely known and nationally used transition programme 'Ready Steady Go' developed by the Southampton Children's Hospital, was chosen. This programme uses 3 sets of questions designed for young people at different stages in their development or 'readiness' for transition, in order to guide discussion at appointments and set the agenda for the next appointment. The aim is to incrementally educate teenagers regarding their condition and help them develop the necessary skills required for managing their Epilepsy independently as young adults. We want to safely hand over control to them and at the same time making sure they are informed about potential risks associated with their condition.
Finally, we would like to manage expectations of how the adult epilepsy service functions, help them engage with the adult health care team and answer any remaining questions regarding the diagnosis, medications, or prognosis of their condition.
Tests, changes and what was learned in the process
December 2019
Cycle 1: Establish how patients and families would like to receive information about their healthcare i.e. surveys and appointments, using pasta voting.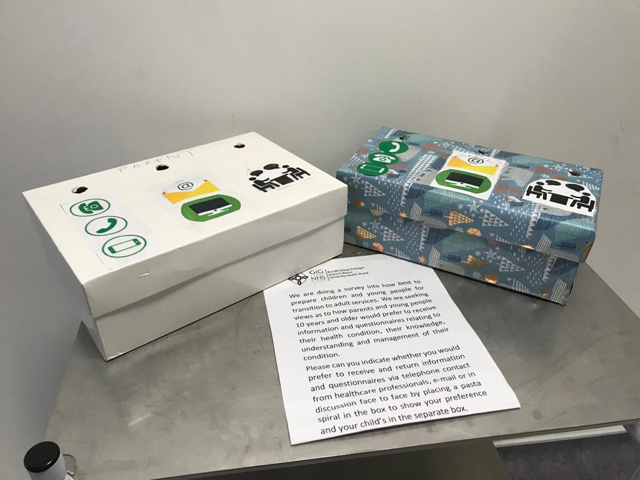 The successful pasta voting in December 2019, showed the clear preference of patients and their families to receive information regarding their healthcare electronically via email or via text. However, as we were not yet in a position to do this reliably, we had to temporarily continue sending them by post whilst exploring alternative options such as email and text through IT services. The original plan was to collect the completed questionnaires at face-2-face clinic appointments, together with mobile numbers and email addresses to enable future alternative methods of sending out questionnaires. The individuals preferred method of receiving their questionnaires would also be determined and documented at face to face reviews.
The Children's Epilepsy Specialist Nurse CENS paperwork has now been adapted to record the patients e-mail address with their consent, for those who wish to use email. Whilst there was a preference for email or text message online questionnaires, the spread of preferences shown in the pasta voting clearly demonstrated we needed to maintain flexibility to be able to offer any mode of sending the forms to patients. This includes post, email, electronic online completion, and completion only in person at face-2-face appointments.
Cycle 2: Begin testing the efficacy of the process by completing questionnaires with one patient in clinic, and another different patient over the phone.
Cycle 3: To setup shared secure network folders for storing/sharing questionnaires and patient lists.
Cycle 4: Create a 'Watch list' of all transition patients that enable us to track when to send transition forms
Cycle 3 & 4 were completed in the 2 months after the initiation of the project, and cascading of training of the use of the tracking mechanisms, in particular the watchlist function in our Health  Boards patients record system, took place in our EQIP progress meetings locally.
Cycle 5 – May 2020 – Due to CoVID-19 we had an additional  task of piloting a video-clinic with 2 consultants, 1 specialist nurse and patient and carers all in separate locations, using the 'Attend Anywhere' software platform (results below).
Outcomes and adapting to virtual clinics instead due to the COVID-19 pandemic
Approximately 80% of the transition questionnaires sent to patients with a postcode in the North of our catchment area were done via email. The CENS for this area, contacted the families one week prior to the telephone clinic appointment to explain the transition meaning and process, and afterwards send the relevant transition questionnaires via email. Parents were asked to complete and return the questionnaires either by email or by post within one week. Only 4 patients did not complete the transition questionnaires that were sent via email or post. The plan for these patients is to be rescheduled in a Nurse Led Clinic.
It was noted interestingly that all questionnaires completed needed nurse led direction. The completed documents were then uploaded (as scanned pdf files) to the patient's electronic medical records to enable universal viewing by team members, and patients were added to the "Watch List" to document where they were at in their transition journey and what the next task is.
In the South, most of the questionnaires up to 80% were send via post initially. Since lockdown although repeat forms have been sent via email, to be completed during a nurse led telephone call. About 6 questionnaires, approximately 15% of them were completed face to face.  A similar process to the above described, was used for collecting the completed questionnaires and uploading them to the electronic medical records of the patient.
Lessons learnt
Almost all patients and their careers needed to complete the questionnaire over the phone with a CENS and the time required is not sustainable for the CENS. It significantly increased the workload for the CENS.
Patients and their careers needed prompting to complete the questionnaires send via email or post.
We have as a team made a decision to prioritize the 'Green Go' forms for the time being. This will be until such a time that patients and families are reliably completing and returning these forms independently. We are currently not using the "Amber & Red" questionnaire as much.
Feedback regarding the questionnaire content and process from young people with epilepsy and their carers:
The Complex Needs questionnaire has been redrafted 4 times, in response to feedback received from families. Some parents felt the initial form was confusing, as they were not clear if they should be answering questions as a parent or from the child's perspective. This is very difficult for some families as many of our complex needs patients have no verbal speech and cannot clearly indicate preference. We now have a section where families can answer from parent plus child perspective. The format of the "Ready, Steady, Go" questionnaire is for mainstream children and young people. It is important to have a version of a transition document for young people with Complex Needs, as significant proportion of our patients with Epilepsy have learning difficulties from mild to more severe. Keeping only one version of the transition document risks disenfranchising those with additional needs.
The questionnaires are lengthy.
Some parents noted that the form was written in first and third person and asked that this was amended, which has been done.
Three parents could not complete the forms easily on their phones, which resulted in the questionnaire being completed by nurse in telephone consult.
There are easy read versions of the Ready, Steady, Go Questionnaires. In one occasion a child could not complete the easy read form even with support as did not understand the questions and could not read the form. This alerted the CENS to the fact that this child will need more structured help to achieve independence in the future and has more severe learning difficulty than what was initially thought. Planned to switch to a complex needs document.
After each nurse led telephone appointment each family were asked for feedback.
How easy was it to complete the forms on a scale of 1-5. 1 being very easy – 5 being very difficult.
How helpful was it to complete the forms with the nurse? 1 being very helpful – 5 unhelpful.
The majority of responses have been very positive with most families scoring 1, for both questions. Most families have commented that they have a better understanding of transition process and what to expect in adult services. It was noted although in some feedbacks that despite the fact that the families have given a score of 1 or 2 for the paperwork being easy/useful, they often added the comment that only with a CENS going through the form with them, otherwise they would find the form much more difficult to complete/understand.
February 2020 – aims achieved
To set up clinic space and availability for joint consultant led epilepsy transition clinic, and joint nurse-led clinic to occur simultaneously alongside consultant clinic.
To gather feedback on how YP and parents/carers feel about the transition clinic after their first appointment.
Challenges and retesting
Difficulty obtaining feedback about 'Ready, Steady, Go' questionnaire content and the best method to complete transition questionnaire i.e. over the phone or in clinic. For that reason, we created a simple smiley faces feedback form.
Developing electronic delivery method of questionnaires and collecting phone numbers/email addresses to facilitate this process.
Finding an optimal way to maintain the Watch list, so that all necessary forms get sent and completed when a patient reaches transition age. ESNs currently confirm and check the Watch list.
Ascertaining a return rate for the 'Ready, Steady, Go' questionnaires.
We have been extremely fortunate to secure clinic space for adjacent nurse and consultant clinics in a geographically very central and quiet adult clinic space in our Health Board. The drawback is that this is on a Friday afternoon. Unfortunately, we will have to go with this – though we held a transition face-to-face clinic in December on a Friday PM and all patients attended.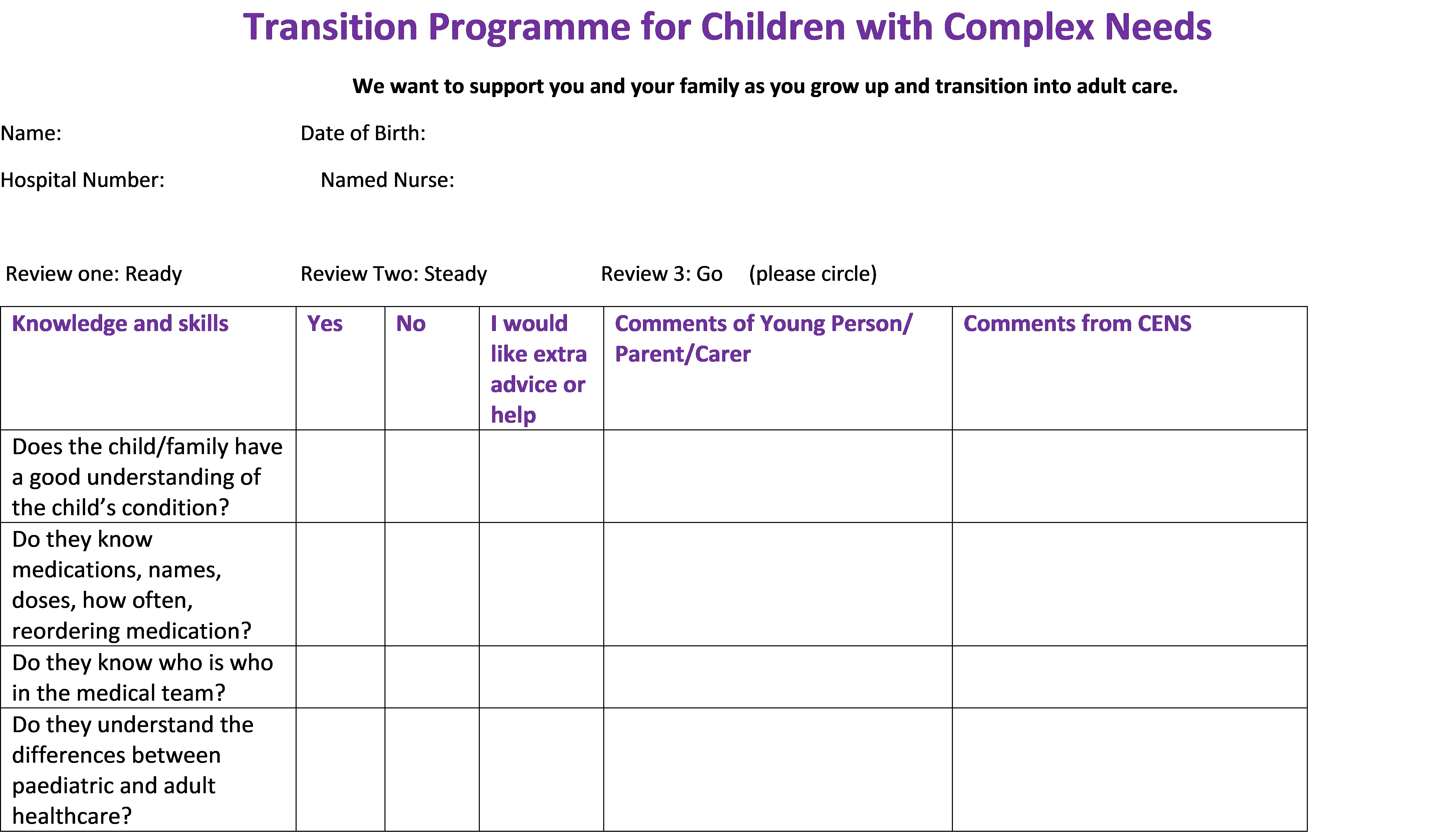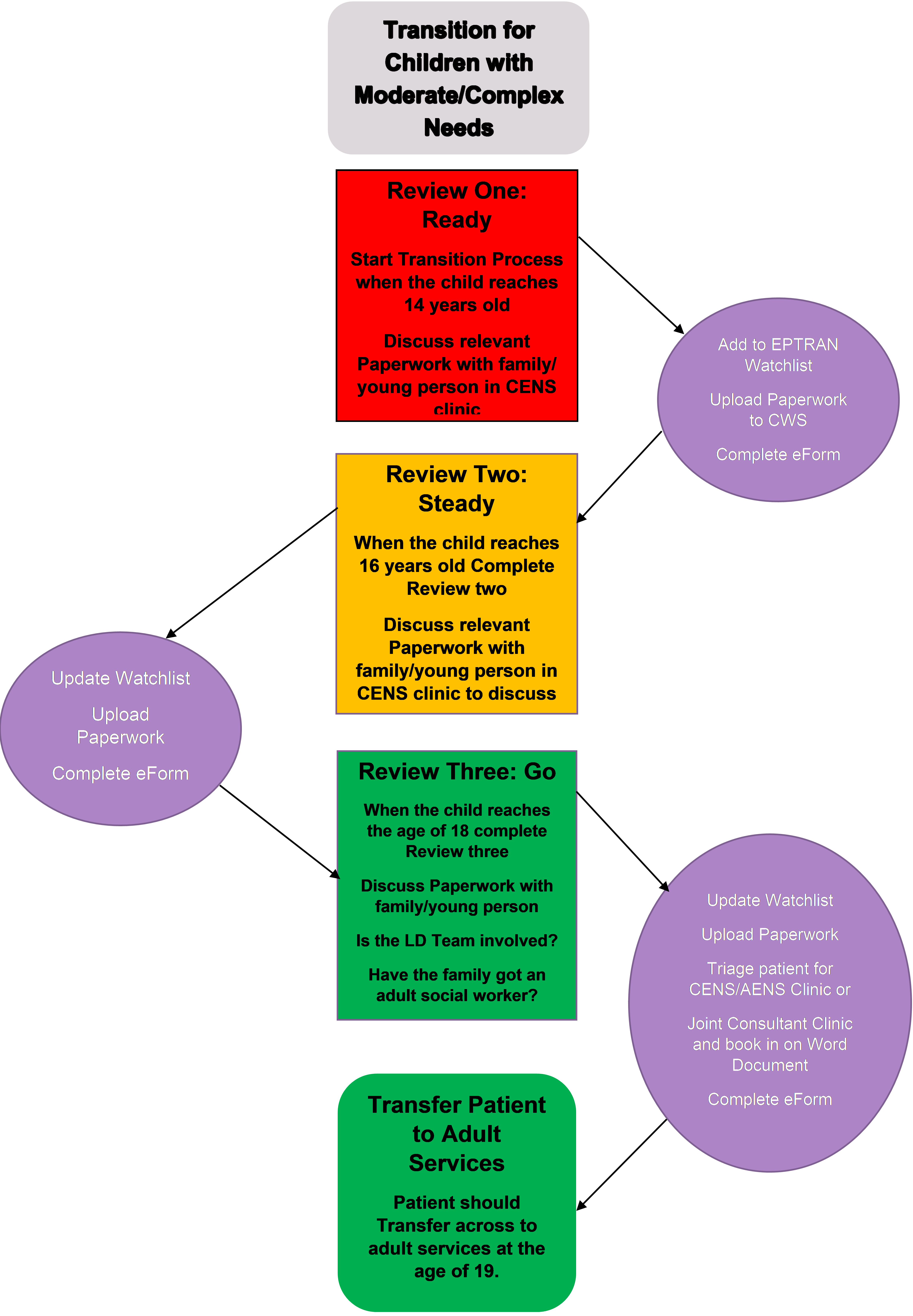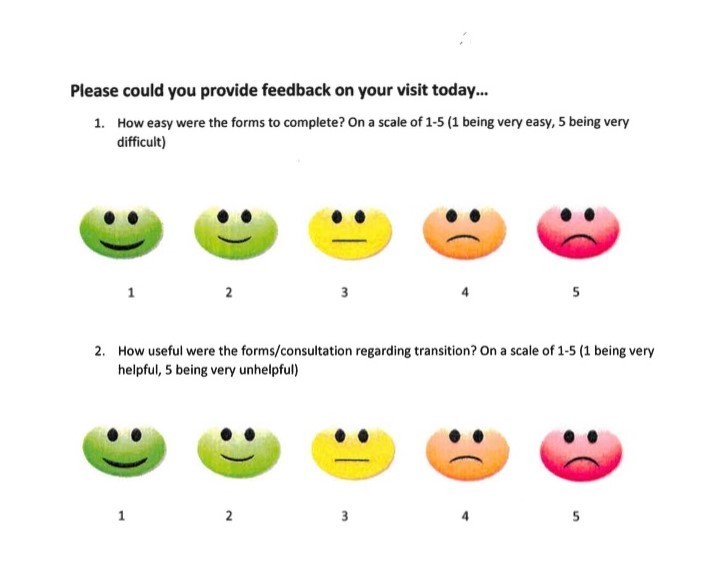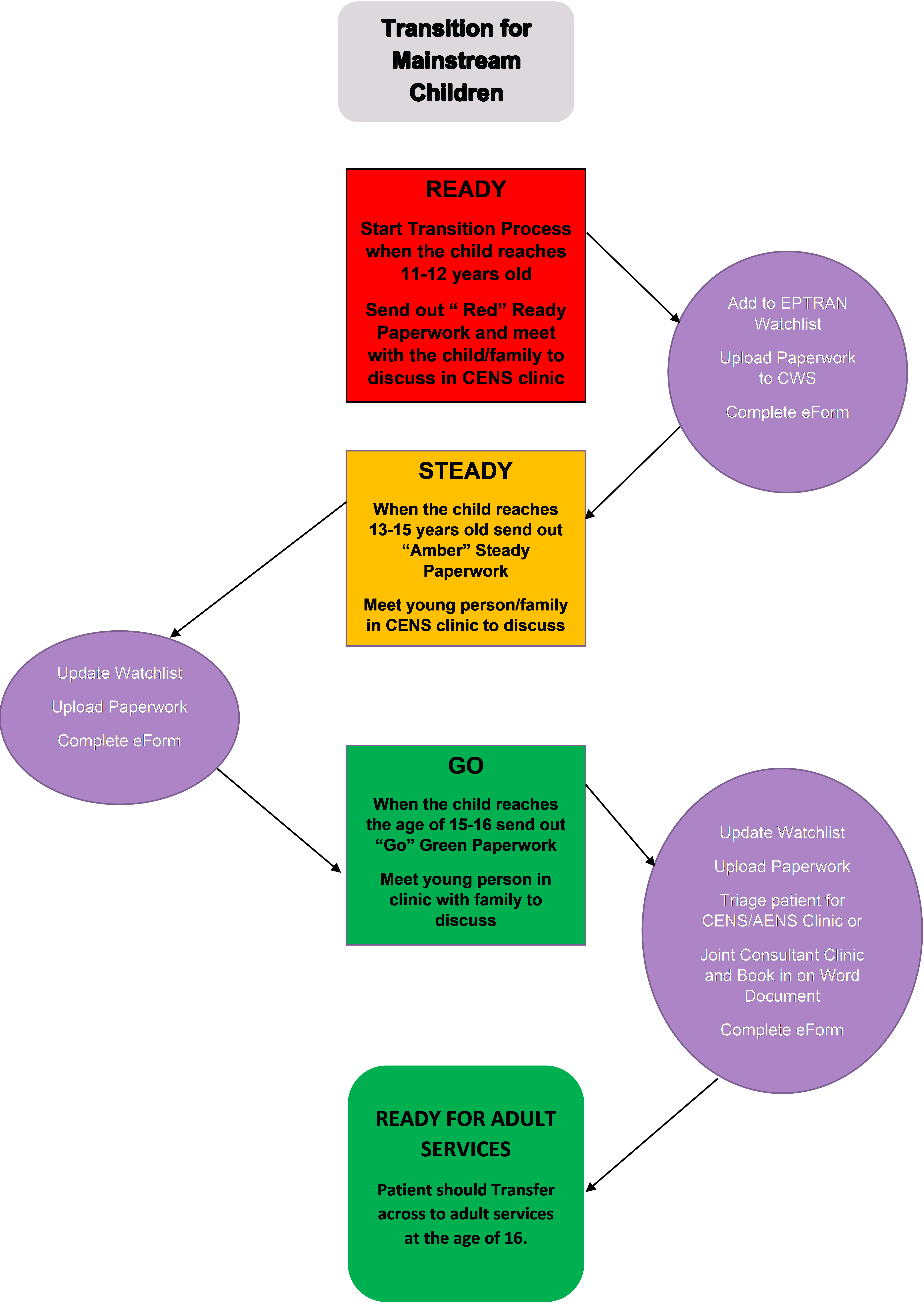 Results
December 2019
Pasta Voting Results – Clear Winner – EMAIL OR TEXT. Face to face 17 votes, Post 28 votes, Email or text 56 votes.
All IT solutions and the Watch list are completed and working well.
May 2020
From all the 197 patients identified, 194 have received the "Ready, Steady, Go" transition questionnaire. Our project aim was 90% of all young people 14-16 years with Epilepsy will have been sent the initial transition questionnaire by May 2020, but we have managed to achieve 98% instead!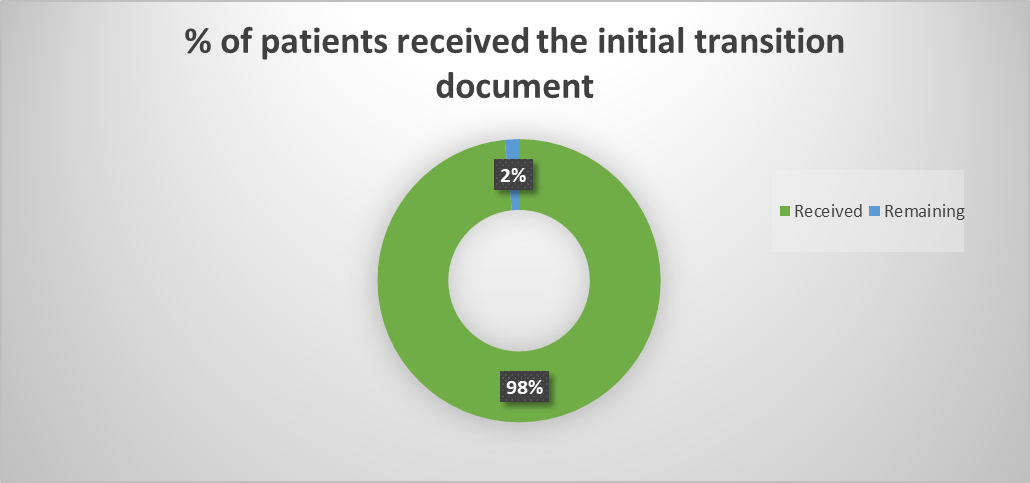 Now we have setup transition clinics as planned, a nurse led clinic and a consultant led clinic running side by side in the same outpatient department. Each clinic has its own waiting list. These will be on a Friday PM every 2 months and commence on 3rd April 2020.
The plans to commence adjacent consultant-led and nurse-led transition clinics has been hampered by the CoVID-19 pandemic, and so we utilised the Health Board's introduction of the Attend Anywhere video consultation software to pilot a virtual video transition clinic with 3 clinicians (in separate locations) and patient/carers. We kept this to only 3 patients as none of us had used the software before. Patients were sent a pdf information sheet about the clinic and how to use the software on their phone/tablet/computer in advance of the appointment.
As clinicians we felt the clinic was technically quite difficult to run, especially with 4 different devices signing in. It was difficult to appreciate who was needing to speak next, and difficult to judge any non-verbal communication or develop rapport (given that the adult clinician is a new face to the patient and carer). Whilst we could have this method in reserve, and it might work better for follow-up appointments, we did not feel it is suitable for future initial new patient transition appointments.
So far, 19 nurse-led clinics have taken place almost all of them via telephone except for very few at the beginning before lockdown.
Patient feedback from first Virtual transition clinic (due to covid-19) – text from a Mum and 17yr old daughter 'thanks very much for all you have done for my daughter. We have been truly blessed with wonderful clinicians. From start to finish. Video was difficult especially when (professionals) joined. But you are all doing a wonderful job. Thanks again'.
Next steps
To continue embedding the routine collection of this iterative transition information on patients into regular clinical practice.
To establish how we are going to resurrect the face to face transition clinics and still maintain social distancing. We are looking at clinic spaces and arrangements currently.
To set up the delivery of 'Ready, Steady, Go' questionnaires to patients via Doctor/ Doctor emails and texts alongside paper versions of the form (with pens) to be completed in clinic Hard copies will be posted to those with a preference for post. There will also be a version of the questionnaire created in MS Word if respondents do not want to access the Dr/Dr webpage. They could complete this on a computer and email it back to the team if they wish.
Impact of Covid-19 on our service and team
Different ways of working that were introduced
'Hospify' app – network of paediatric neurologists and paediatricians with epilepsy interest set up to ask questions about management from tertiary specialists in a confidential format, approved by the health boards, anticipating potential sickness in staff and teams providing care for epilepsy patients.
Telephone advice line for Children's Epilepsy nurse specialists, set up Monday to Friday, to phone with information on seizures, for advice.
In our hospital a rota of alternate weeks from secondary care paediatricians to offer advice about new first seizure patients and in-patients to colleagues. This was already established, however with ward changes and COVID acute paediatric rotas this had to be revised and re-established, with the reduced team, following re-redeployment of trainee doctors to adult wards.
Epilepsy clinics were set up to be telephone clinics, for reviews, also triaging of new patients, and information sharing following new diagnoses. To avoid bringing children young people and families out of lockdown unnecessarily or repeatedly, histories were taken over the phone and clinical information reviewed on electronic records.
Children requiring urgent neuro-imaging were brought for CT's and later MRI's if deemed urgent. We are trying to advocate through management for our G/A list for MRI to continue although only prioritising urgent requests. During COVID anaesthetists were obviously redeployed to intensive care services and other areas, now we are in a slightly less busy period they are much in demand for catch-up in other areas of service. We need to make a strong case for our G/A list for children with epilepsy and other neurological conditions at this time.
EEG and blood tests at a site away from the hospital during the lockdown where possible. New diagnoses were made and a few children and young people started on anti-epilepsy medication either on the ward at the time of investigation or in telephone consults, making prescriptions available through the GP or from the Children Centre off the site of the hospital.
EEG service was impacted significantly, due to shielding of staff, and sickness, however urgent EEG was still possible to request.
Specialist nurses participated in clinics alongside consultants, reviewing those with established diagnosis, and sharing planning of management in discussion afterwards. This seems to have been well-received. Patients are being brought back for face to face appointments with easing of lockdown, or would be seen on ward where possible. Components of annual structured review shared from previous piece of work with medical undergraduate working on a project with the team.
Specialist nurses led the transition work, but due to time pressures agreed to complete only the third, 'Go' forms in telephone consultation with families and YP.
Evaluation of telephone clinics to be undertaken.
An 'Attend Anywhere' transition clinic was undertaken with Consultant Neurologist, Paediatrician, specialist nurse and 3 young people in a clinic, during this time. This was gratefully received by the families, although from a professional perspective not entirely successful. There were issues with technology, the connection and sound quality as well as picture were glitchy, especially where safari was used as a browser, rather than google chrome. We felt it was difficult to establish rapport and we would prefer to do this work face to face, especially for the very first appointment, which is so important going forward for young people.
Impact on staff, patients, and families
Detailed evaluation of the work would be helpful, both of telephone clinics and video consultations, to inform on service delivery in the future. We plan to do this.
Novel ways of working were invigorating, if tiring, however patient centred services and choice should be drivers for change. We do see a role for offering virtual (telephone/video) appointments, especially structured reviews of epilepsy. There is scope for offering these flexibly and in the evenings, with less impact on schooling, and potential for involving both parents if wanted.
The Consultant Psychologist on our team, shared useful information to the team on supporting transition back to school after COVID19, also on preparing for telephone or on line consultations which we can email to children, young people and families before their appointment. This will be useful in supporting the psychological well-being of our patients.
There has also been advice shared from 'Sparkle', the charity in partnership with agencies in our Children's' Centre locally, that we can use to support parents of children with learning difficulties and autism spectrum disorder, experiencing difficulties during the lockdown.
Changes made
Time pressures meant the Children's' Epilepsy Nurses completed only the final ''green' Go form of the 'Ready Steady Go' questionnaires.
Team personal reflections and learning
The pace of change of service delivery and testing of new ways of working has been exciting and invigorating. We need to pause and undertake detailed review of the work during this time to see what we can take forward and implement more permanently in our service. There is a potential to give young people and families more choice in their mode of interaction and advice seeking of the team in managing their epilepsy, moving through transition, and encouraging more active engagement of our young people with their management. 
What tips/experiences can you share with other teams that describes your paediatric epilepsy service 'new normal'? 
We would encourage others to try out different ways of service delivery, modes of interaction with children young people and families, to test, evaluate, look at outcomes, and re-evaluate going forward. Keeping young people and family central is key to their engagement and shaping of the epilepsy service that works for them in the future.
Clinical nurse specialists are integral in this service development, and inter-disciplinary team working, with sharing and development of roles within the team.
How do you envision using your Epilepsy12 audit data to inform future QI initiatives?
Transition of our young epilepsy patients will always be a challenge, tailoring services to their very individual needs and addressing co-morbidity and how that impacts on transition also. However, Epilepsy 12 has been energising in our endeavours to improve experiences for young people, as has the COVID19 impact in shaping our use of technology, affording choice, and new ways of service delivery. The pace of change has been very rapid indeed. Now is time for a pause, evaluate and decide how to move forward as a team to continue the quality improvement. Both the public and professionals are on a learning curve with this.
---
Team presentations
Ms Louise Capeling, Children's Epilepsy Nurse Specialist at Aneurin Bevan University Health Board presents: 'Establishing a Transition Service.'
Aneurin Bevan University Health Board's team presentation at the EQIP celebration event describing their journey and improvement project based on sending 90% of all 14-16 year old children and young people with epilepsy a 'Ready, Steady, Go' form:
---
Would you like to know more about these projects? If you would like to contact any of these teams about their QI work then please get in touch with the EQIP faculty at eqip@rcpch.ac.uk