Epilepsy12 audit new patient engagement resources!
The Epilepsy12 team are pleased to share with you two key new resources using the 2021 annual analysis, as well as a complete information pack containing useful RCPCH outputs.
Epilepsy12 Patient and Parent Guide 2019-2020
The Patient and Parent Guide describes Epilepsy12 results in an easy to read format and was designed as a useful resource for families accessing paediatric epilepsy services in England and Wales. We encourage clinical teams to please share this booklet with children and young people and their families accessing your services.
More information and the full guide can be found on the Epilepy12 website .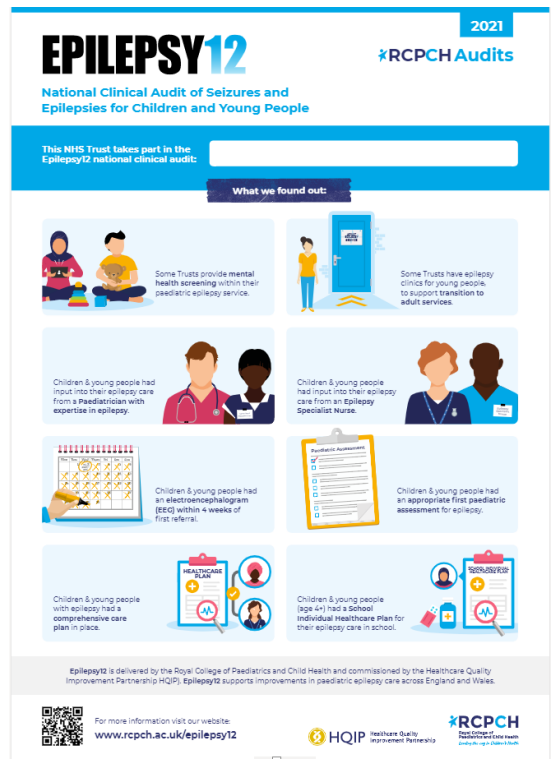 Epilepsy12 Trust/Health Board posters
Trust/Health Board posters were created to display how services were performing on eight Epilepsy12 indicators, compared to national averages. The A3 posters can be displayed in clinics for inform patients, families and staff of the quality of epilepsy care provided within the Trust/Health Board.
You can find the posters here: Epilepsy12 Trust/Health Board Posters.
In addition to the digital versions, each Trust/Health Board should also soon be receiving an Epilepsy12 information pack in the post. This will contain the patient and parent guide, your service specific A3 poster, the RCPCH&Us emoji card and our updated privacy notices.
The Epilepsy12 team are proud to share these projects with NHS services and hope they contribute to improving the quality of care provided to children and young people with epilepsies.
Please display and share these resources with patients and families visiting your clinics, as well as disseminating within your networks.