Salisbury NHS Foundation Trust
Project aim: Improve first seizure pathway with key aim to ensure 75% or more of first seizure patients are seen within 2-4 weeks.
Project aim
Improve first seizure pathway with key aim to ensure 75% or more of first seizure patients are seen within 2-4 weeks.
Background
Salisbury is a DGH with a 16 bed inpatient unit and a paediatric epilepsy service with approximately 150 patients.
We are resubmitting business case to further develop our service to improve ESN funding, clinical psychology support and specific epilepsy service administrative support.
We have a fledgling transition service to adult care locally and at tertiary level to Southampton which our service is keen to further develop.
Having made improvements in the last few years with our ESN support and activity within clinic we remain (pre-covid block tariff) as a service that is not claiming epilepsy BPT and are keen not only to attain an appropriate standard of care to do this, but also to improve our patient-voice, deliver improvements in the clinical pathway for newly referred patients,  improve psychology and general support for our patients including information packs.
We are active within our Epilepsy 12 data submission with data returns that are well above the regional and national average.
Epilepsy 12 data- Quality statement 1 – are patients with suspected seizure seen within 2 weeks? –
2019- 50% seen in 2-6 weeks 25 % >16 weeks
2020- 30% in <4 weeks, 40% 6-12 weeks, 25% >14 weeks
Tests, changes and what was learned in the process
November 2021
Continue giving the questionnaire to all follow up patients attending secondary and tertiary level epilepsy clinics and ANP clinics.
Capture the data on how many questionnaires are handed out vs how many are returned and to try to capture the data on when the questionnaires are handed out (i.e. before clinic by reception staff or during clinic by clinicians) to determine the most successful way to get a good response rate.
Perhaps test other methods as the questionnaire might not be the best tool for these areas.
Those children currently missed when attending for EEG may be captured when they attend epilepsy clinic. The paediatricians agreed to try to capture those children missed due to forgetting the questionnaire or didn't fill it in completely, by telephoning the families to ask if they would participate, and then posting the questionnaire with a stamped addressed envelope for return.
March 2022 
Improvement pathway
1. create clinic space – add extra patient(s) as needed to clinics
2. alter referral review/ case triage – electronic referral system done by 2 consultants – pathway altered for new seizure referrals
3. Poster and information for paediatric and ED team to email referral to admin/ESN team
4. review data
5.develop new first seizure pathway
6. develop improved parent information
Patient engagement 
Challenging
Learning from EQIP regarding simplicity of approach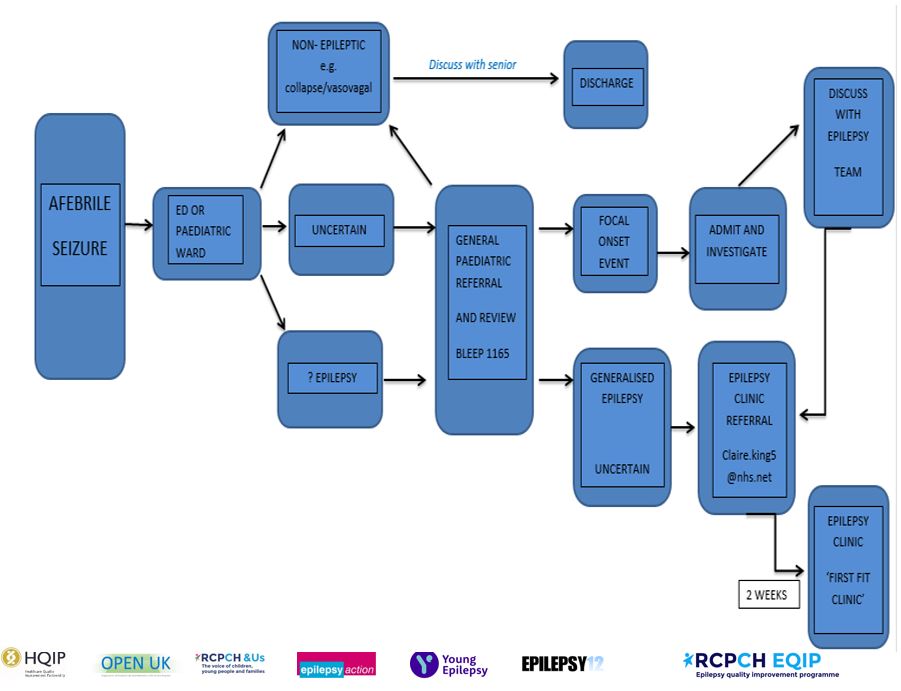 Challenges
No funded lift up in service (yet),
Need to improve clinic efficiency,
Staff illness,
Challenges to find team time to plan activity/ engage in EQIP events,
Patient engagement we could have done better.
Successes
Improved first seizure / initial referral review times,
Practically have seen 1 extra patient (or 2) per clinic,
Epilepsy team will take on booking process for all patients,
Improved (standardised) information pack for patients and families.
Results
Simple data collated by the epilepsy specialist nurse.
Simple data collated by ESN,
Monthly data review,
October – march – 33 new patients,
All seen within 7 weeks,
Approx 80% seen within 4 weeks.
Between the October- march, the team added 33 new patients and 80% were able to see them within the aim of 4 weeks. 100% of new patients were seen within 7 weeks.
Next steps
Embed first afebrile seizure referral pathway within paediatric ward/ DAU and ED
Present project to trust governance board, alongside epilepsy 12 audit data
Pending Epilepsy business case funding use QI skills and borrow from other EQIP projects) to improve our transition process and our mental health/psychological support for epilepsy patients
Continue to develop our patient engagement using simple approaches and activities
---
Would you like to know more about these projects? If you would like to contact any of these teams about their QI work then please get in touch with the EQIP faculty at eqip@rcpch.ac.uk