Royal Berkshire NHS Foundation Trust
Project aim: Children and young people presenting in A+E with a first fit will have telephone contact from an Epilepsy Nurse within 2 weeks of presentation. This is to be in place 50% of the time by the end of January and 95% of the time by May 2020.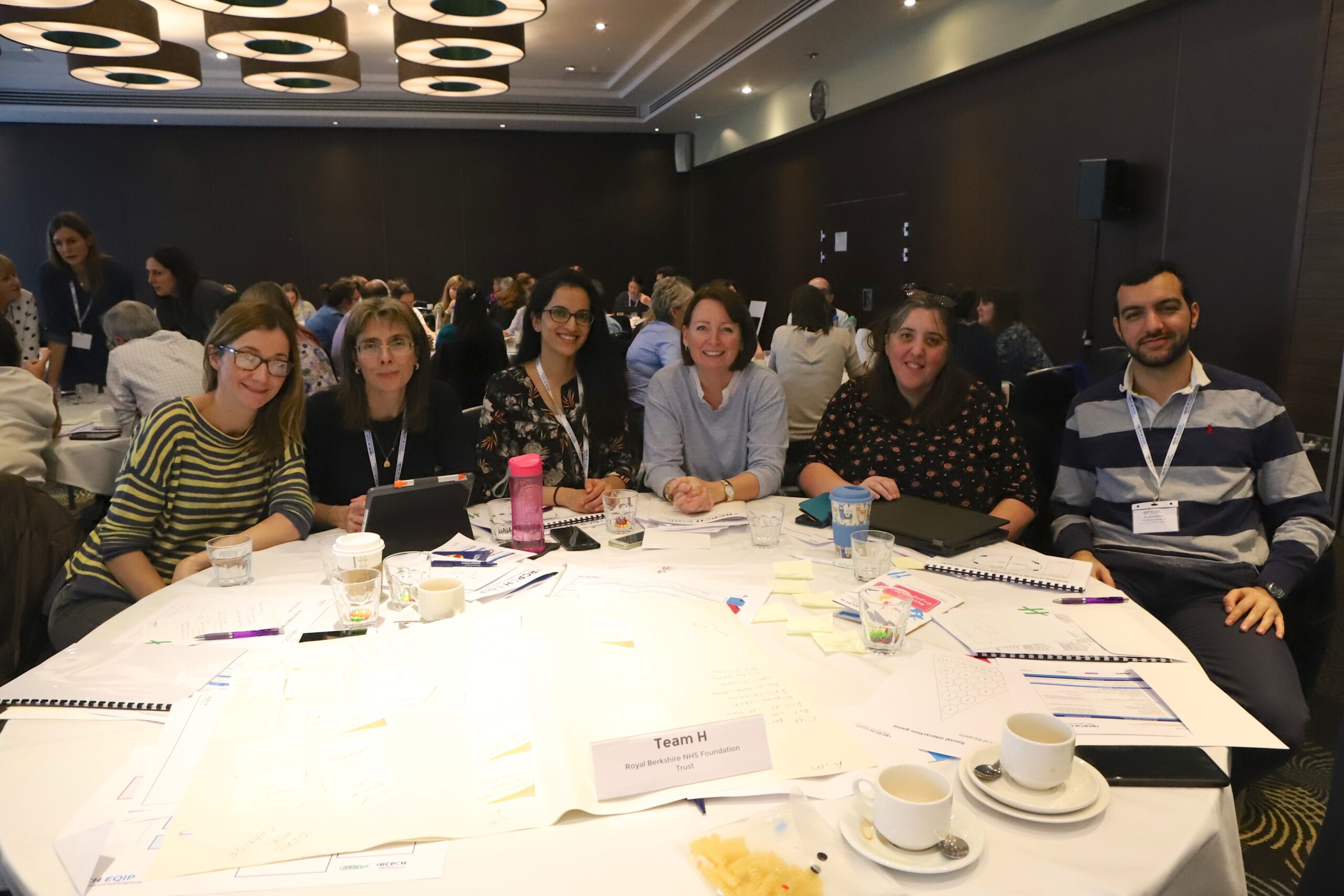 Project aim
Children and young people presenting in A+E with a first fit will have telephone contact from an Epilepsy Nurse within 2 weeks of presentation. This is to be in place 50% of the time by the end of January and 95% of the time by May 2020.
Background
Currently children presenting with first fit presenting to A+E are not seen for follow-up in the majority of cases. A first fit information sheet is given by the reviewing trainee. A first fit clinic is not in place in RBH and there is not currently a clear view on the number of CYP presenting with seizure via GP.
National recommendations NICE 2014 Quality standard 1: Children and young people presenting with a suspected seizure are seen by a specialist in the diagnosis and management of the epilepsies within 2 weeks of presentation. This project will be a stepping stone to having a first fit clinic in line with NICE guidance, by way of:
establishing numbers of referrals and therefore capacity required;
will confirm good safety advice is being delivered in A+E;
will provide a point of contact between patients/families and the Epilepsy CNS.
will be an additional safety net by checking for other types of seizures being reported by parents which could have been missed in A+E for example myoclonic jerks, thereby ensuring the child is fed back into a medical appointment, potentially with an EEG being ordered if the history is convincing.
Additionally, this project will also add information to the business plan to increase to a full time CNS Epilepsy.
Tests, changes and what was learned in the process
December 2019
Initial process map and establishing stakeholders
Forward test patient to admin team and request follow up appointment.
Test completed successfully, realised it would be a new process for the A&E team, identified the two lead sisters for paediatric A&E as stakeholders in the project, and emailed them the details, and asked for support for the referrals. Stakeholder map created (see resources list).
Trainee shown how to send three messages to CAT7 community pool for booking from the ward.
Messages received, highlighted need to have the clinics set up, so admin team to complete the process of booking patients into clinic.
Epilepsy nurse to call a sample patient with the test template.
First test call highlighted the information we wanted to include in the audit and the data we would need to produce a useful dataset, created discussions between the team on what was useful to collect and what to discard.
Epilepsy nurse to organize clinic date and time.
Organisation of the clinic involved learning the management process and producing the correct documentation to formally request the set up correctly.
Further test phone call to be made on 11/12/2019.
Useful in testing the changes we had made to what information to collect and ensure all data needed / wanted was included. Template of the questions completed.
Test patient to be transferred by A&E staff with AA.
Face to face teaching of A&E staff, useful feedback gained regard the poster and the process.
Epilepsy Nurse to investigate how we audit the data to ensure all patients captured.
Admin lead contacted to discuss how we can extract data from the EPR system, to audit that all first afebrile patients attending A&E had been referred. Informatics request process explained and formal request placed. Liaised with informatics team, and decided on monthly reports to come to the Epilepsy Nurse to audit, in Excel format.
January 2020
EQIP poster created with information about how to make a referral, embedded in A&E and paediatric wards with posters and face to face training (see resources list).
Telephone calls made to multiple families as follow up from referrals.
Feedback from these initial calls was very positive, parents appreciated having a contact number directly for the epilepsy nurse in case they had any further queries. The data collected also highlighted that parents did not always remember receiving the verbal safety net advice, but did when given a written leaflet, and always retained the leaflet.
Epilepsy nurse organise set up of regular clinic dates and times which began in Jan – June.
Formalising the clinic added structure to the process, enabled the admin team to slot patients in time order, and gave patients the confidence of a time and date thy would receive support and guidance.
February 2020
Follow up on efficacy of telephone clinics established in mid-January 2020.
Clinics were set as 30 minute slots with up to 4 slots per clinic to satisfy demand. This proved sufficient given the subsequent rate of first fit attendances and time was tight but sufficient calls lasted between 10 minutes (shortest) to 1 hour (longest).
Audit data to be compiled in a spreadsheet for month of December to allow for analysis.
This we were able to achieve following provision from informatics department and collating of data by epilepsy nurse. Various discussions on how to collate the data, after discussions round access databases and excel spread sheets, opted for excel, due to ease of use / set up / manipulation of data.
Template set up and dispersed to the team for input, various suggestions on information that would be useful to collect, and some not needed to ensure we stuck to our initial pilot scheme
Presentation of data and audit so far at departmental meeting for awareness and feedback.
This provided us with an opportunity to present our findings thus far, and remind colleagues of the purpose of the project. Valuable and constructive feedback from colleagues in terms of their understanding of the issues and to raise issues they had e.g. how to refer, when to refer, how it effects their day to day practice for managing children with first seizures.
April 2020
Introduction of new simpler referral system electronically to ensure speedier referrals and not missed with training of relevant ED staff to do (paediatric nursing staff).
The initial referral process was dependant on the Dr seeing the patient making the referral. We recognised with movement and rotation of ED and Paediatric Medical staff this would mean a constant cycle of training.
Having already identified and worked with the two Lead Sisters for Paeds A&E a new, simplified, referral process was organised so that any member of staff could refer, and the emphasis was put on the predominantly long term permanent nursing staff in the department. A training poster was produced and redistributed to various stakeholders in both A&E and Paeds (see resources to download below).
Challenges and retesting
December 2019
Need to consider how to log the details into electronic notes.
This involved recording telephone calls, decided to identify in notes with First Fit Telephone Call Header, so they can be identified quickly in the notes, recorded with the Epilepsy Nurse Title to ensure grouping of all nurse led contact.
Clinic request form had not been completed and CCM raised. Despite voicemails being left with both families, one family did not realise it was a telephone clinic.
Learning curve on how to arrange a clinic officially to ensure payment / coding etc all correct. Completed and clinic set up correctly, ensuring the right paperwork and details were sent out to patients.
We need to ensure the correct information is automatically generated for a telephone clinic. Despite telephone messages one family attended clinic, due to the clinic being set up quickly and the correct administration processes were not in place. This was rectified through the formal setting up of a telephone clinic in liaison with admin and service manager and electronically, with appropriate letters sent.
January 2020
Safety info being given to families of children was insufficient. There's a perception of, or lack of concrete info given.
The telephone conversations highlighted that because of the stressful situation with a first seizure and the amount of information that has to be gathered by medical professionals and then imparted to parents, the details of the verbal safety information is often forgotten by parents. We identified how important the written safety leaflet was, to ensure long term safety of the child. The epilepsy nurse had updated the information leaflet, and attended A&E to ensure the new leaflets were available, and nursing staff were aware of when to give to parents.
After every clinic call, parents emails are taken and the safety information is emailed directly, and any other information that is requested by parents.
Some children seen by A and E and not paediatrics do not have a clear provision for follow up if needed.
As all children presenting with a first afebrile seizure are not routinely offered a follow up appointment, the team discussed when it would be appropriate after the first fit call to follow up, and how this would happen.
For children who were referred to the Paediatric Team, the consultant in charge would be requested to follow up, if the Epilepsy Nurse felt it was necessary on receiving further information from the clinic, or a further episode had happened.
If the child was seen by ED medical staff only and it was felt a follow up was appropriate, the Epilepsy Nurse contacted the GP to make a referral to the Epilepsy clinic and an appointment was booked.
Bi-weekly clinic was onerous on follow up and sometimes parents called in before their apt as they wanted a quick answer.
With clinics booked from 09.30, 8 slots every two weeks. It became apparent after the first couple of weeks, that in order to get a call to patients within the two week target, we needed short weekly clinics.
Introduced weekly 4 slot clinics every Tuesday morning.
February 2020
Delay in obtaining full data of referrals made in a timely manner despite continuous liaison with allocated person. Further thought is needed around how to overcome this.
The monthly data is requested directly with the informatics team, this works well, and allows for extra information to be requested if needed. We previously identified that a child had been coded as collapse instead of seizure, so we were able to request all collapses be added to the audit dataset, and this was done immediately.
This flexibility is useful, however, the formal production of the data means that it often is received later in the month, due to other work pressures, including Covid, and then by tie the data is checked for missing patients, the clinic call is a few weeks after the event. This hinders our achieving the telephone call within 2 weeks of admittance goal.
When the hospital is running in a more normal fashion, this process can be revisited, to look at automated data that is received on the 1st of the following month for example.
April 2020
Improvement in written information given to children admitted with first afebrile seizures, less so in A&E. Audit shows the improvement in written information being given to patients.
Improvement in obtaining full data of referrals made in a timely manner following liaison with allocated person – drop off in last month due to Covid-related pressures.
Results  
December 2019
The test patient arrived with admin. There was some difficulty in booking OPD, but it was booked.
Two patients have been booked into clinic. One is missing with no way to find them.
The Epilepsy nurse called the patient who attended in Sept 2019 as a trial. Details recorded in notes and email with details sent via email to EQIP team.
The CAT7 team emailed to advise clinics Wednesday 11th and 18th December, 9-13 with half hour slots. Advised from Jan, Friday am clinic session TBC.
Two first test calls made, one family turned up at Dingley and I was working from home.
Message received from ED Dr re a new patient. I will contact the patient on the 18/12 but NOT make a clinic appointment yet, until we are sure the families will receive the right information.
January 2020
Poster placed in ED, Registrars. office and given to clinic nurse to put up in community clinic rooms.
10 calls made over last month – good feedback received in terms of information given at point of presentation. This expedited the patient being seen in one case.
Discussions during the telephone clinic with one patient's parent, identified that the child had one previous episode with the GP, a further episode out of county with the school, and the third episode resulting in A&E attendance at Royal Berks. Patient expedited to Epilepsy Clinic and subsequently commenced on AED.
All parents report call useful and relief that they have a contact number and contact name for any further events, or queries.
Clinic dates given to admin from Jan to June 2020. Tuesday mornings 9.30 – 11.00, 4 slots per week to allow time for admin and follow up actions.
February 2020
10 calls made over December.
Clinics running now every Tuesday. Now, fully established.
Uptake of patients coming through ED 50% Dec, Jan awaited.
Still not on target re calls within 2 weeks.
On-going process of finding the most efficient way to source the information needed, hindered presently by pressures from Covid. Work in progress.
Safety advice at first contact can be improved.
Written info (leaflet) only given in half.
Triaging through epilepsy nurse has helped identified issues which may have otherwise been missed.
4 patients have been expedited into Epilepsy Clinic due to discussions with parents, and either subsequent occurring events, or episodes parents had not thought epileptic in the past, including eye flickering, hand clasping. Through asking about funny movements and tics, this has led to parents reporting more correctly episodes that were not disclosed in A&E. This has been learning that is being disseminated throughout the medical staff.
April 2020
24 patients participated in calls since beginning of process in December – 8 children were sent back into the service with comments from the acute team on how obvious the posters were and how keen they were on the service.
To date 8 out of the 31 telephone clinic contacts held have resulted in patients being brought into the epilepsy clinic with Dr Aldouri and Dr Hughes.  Several of these had had other seizure types not identified in A&E and are under investigation for possible or likely epilepsy.
Nursing staff have highlighted the process to medical staff, and also backed up the referrals with direct emails to the Epilepsy Nurse to ensure patients were captured.
Improved referral rates overall. However, there's a noted drop off in number of direct referrals made in March (60%).
Covid has reduced paediatric A&E numbers considerably, and whilst we would expect a drop off due to lack of vehicles on the roads, no sports being played and reduced child to child contact spreading illness, the reduction in attendances of first fit is worrying.
Nursing staff are aware that epilepsy patients have been kept at home with seizure activity and verbal advice sought where previously they would have attended A&E. This may also be the case for first afebrile, with parents reluctant to attend a hospital setting,
Average number of days to making first call falling although still not within target range (23 days) – patients referred directly seen within 14 days but those not referred or referral went missing and missed target.
June 2020
31 calls made in total resulting in:
8 referrals to Epilepsy Service
Time from attendance to telephone call down from 40+ days to 21 days
Safety advice documented on EPR  -77%
Written advice reported received from parents – 55%
Verbal advice reported received (not always remembered)  – 74%
Epilepsy Action website information – 10%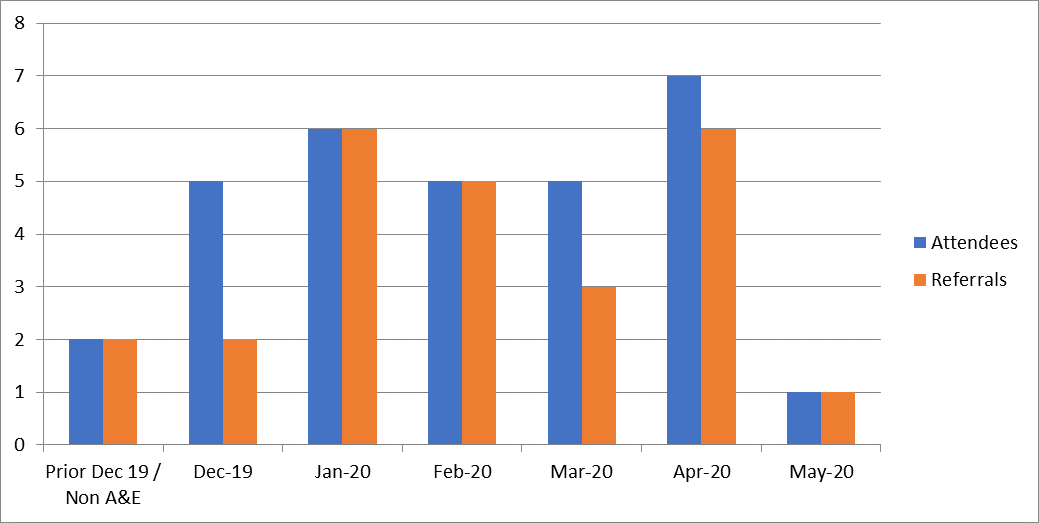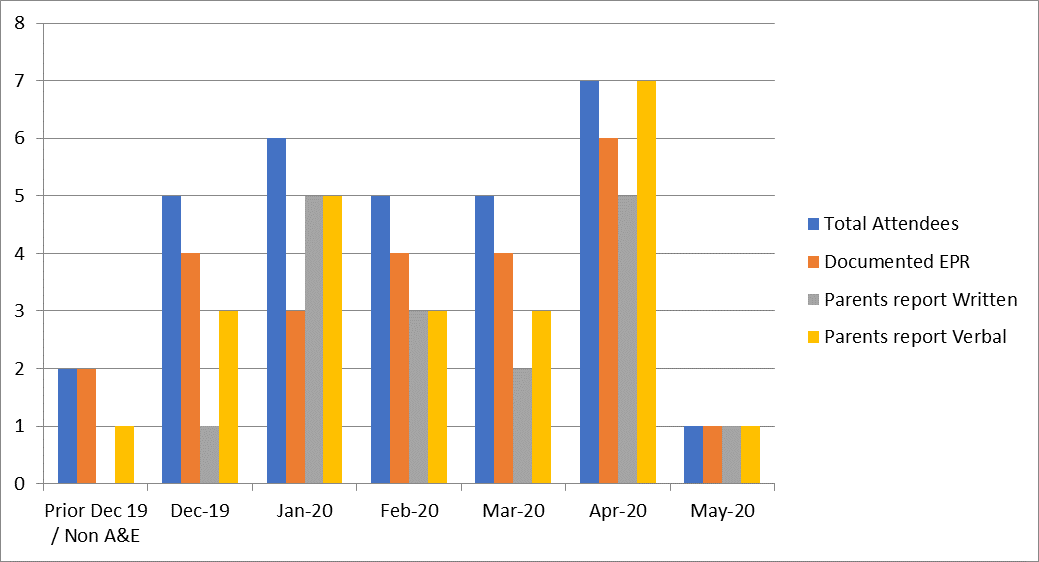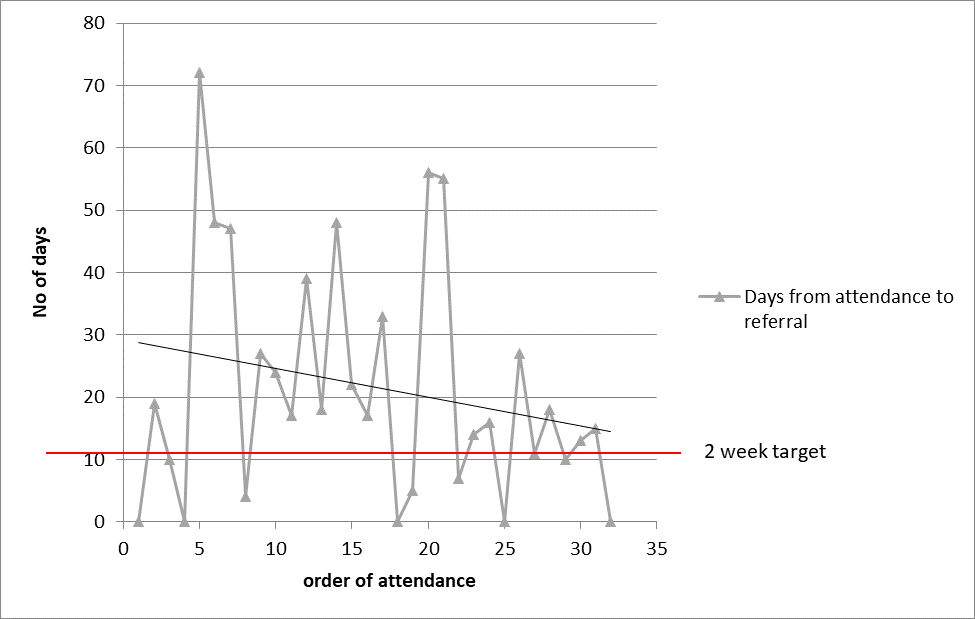 Next steps
Focus on simpler referral system with training of ED nurses to make direct referrals themselves when children are being triaged.
Speed up receipt of audit data from informatics to ensure reduced length of time from attendance to telephone call.
Education regarding giving written safety advice, as parents report receiving verbal advice but do not remember what it was.
General promotion and education surrounding the first fit telephone clinic, to enhance understanding and general awareness in the hospital of children with epilepsy.
Collate further feedback – all parents reported it was useful to have the contact details, and some had further feedback.
Impact of Covid-19 on our service and team
Different ways of working that were introduced
It has forced us to make conscious changes to how we operate – the use of technology not previously relied on has become more prominent – the use of video consultation platforms has been a primary change. This has been used for various purposes – patient contact, team meetings, neurology outreach clinics. Whilst not without technical difficulties at times we have found that it has been a positive experience in being able to reach out to patients and families.
Impact on staff, patients, and families
The direct effect of the current descaling of services from late March onwards has led to the following:
Cancellation of face to face OP clinic appointments
Inability for members of the team to have regular communications (particularly face to face) as previous
Restriction in supplementary investigations apart from in exceptional circumstances e.g. EEG, blood tests and MRI brain, reduction in genetic lab testing
Restrictions to audits and QI projects already in place (including EQIP)
Changes made
We have had to take a pragmatic approach given current restrictions when having to assess new patients and without access to investigations and/or direct patient contact, and in some cases make diagnostic and treatment decisions. We have endeavoured to highlight these in our consultations of patients and their families while discussing management plans and this generally has gone well. This could also have a lasting effect in terms of how we manage patients with epilepsy, immediate feedback is that the patient experience is maintained or enhanced with video consults although we will look to better capture this with more qualitative feedback to see how well we are doing and where things could be improved.
Feedback from staff, patients, and families
In being able to see patients and speak to them we are able to have better interactions than none or even telephone consultations, and even from an examination perspective there was some value in using the video interface. From a service provision perspective it opens up opportunities for expanding our service with the possibilities of ad hoc consults and evening clinics (e.g. teenagers with epilepsy) which we are now considering.
Team personal reflections and learning
The following comments were made in a reflective discussion:
Regarding the training:
"The programme was really useful and we have built on our generic QIP skills"
"It has demistfied the process for me"
"Taking on a QIP is much less daunting now than I used to think it was, changing things as you go"
The process of PDSA has taught me the usefulness of trying something on a small scale and then embedding that process as it expands out
Regarding the team and services:
"We feel like a team"
"This has helped move our team forward and is helping improve the services for our children"
"Communication is better in the team".
"I enjoyed the increased meetings and team work that the project generated"
This brought me into contact with stakeholders I have never worked with previously, which means I have a useful network of colleagues throughout the trust.
Spreading the word:
"I used these methods in another QIP I am involved with, looking at developing a hospital passport with our tertiary centre"
How do you envision using your Epilepsy12 audit data to inform future QI initiatives?
We are still awaiting the data from cohort 1. We anticipate reviewing this as a team and building on our next ideas for QIP from there.
The Trust data submission 2019 highlighted two main areas for improvement:
Slightly lower ratio of Epilepsy expertise than nationally or regionally, which might reflect the joint Community/Paed/Nicu hospital. However we recognise that not all children are seen by a Paediatrician with expertise in Epilepsy.
There are 3 centres out of 7 in the deanery offering EEG (59% nationally) but the RBH is not one of them. An adult led business plan was submitted 2019 to include children and agreed in principle.
It confirmed that we were in the national 77% of trusts with an Epilepsy Nurse but did not share the ratio of patients to Epilepsy Nurse.
Next steps
First Fit EQIP project:
We are anticipating ensuring First Fit Epilepsy Nurse calls as an embedded part of the service at RBH which will include a handover to a returning Epilepsy Nurse.
Firm up data to ensure we are capturing information
Need to look at patient safety – do we need additional ways to inform families as they don't take the information in at the time, even if they are given the information?
Longer term we will plan to develop into paediatrician-led 'First Fit Clinic' as per national guidelines.
QI as part of standard practice:
Embed service development meeting as routine and service development ½ day annually
Next QI project:
In light of the gains made from the "new normal", a teenage evening remote access clinic is planned for our next QI project.
---
Team presentation
Royal Berkshire NHS Foundation Trust's team presentation from the EQIP celebratory event describing their journey and improvement project focused on providing telephone contact with an Epilepsy Nurse within 2 weeks of presentation for children and young people presenting in A&E with a first seizure:
---
Would you like to know more about these projects? If you would like to contact any of these teams about their QI work then please get in touch with the EQIP faculty at eqip@rcpch.ac.uk